[su_spacer size="20″]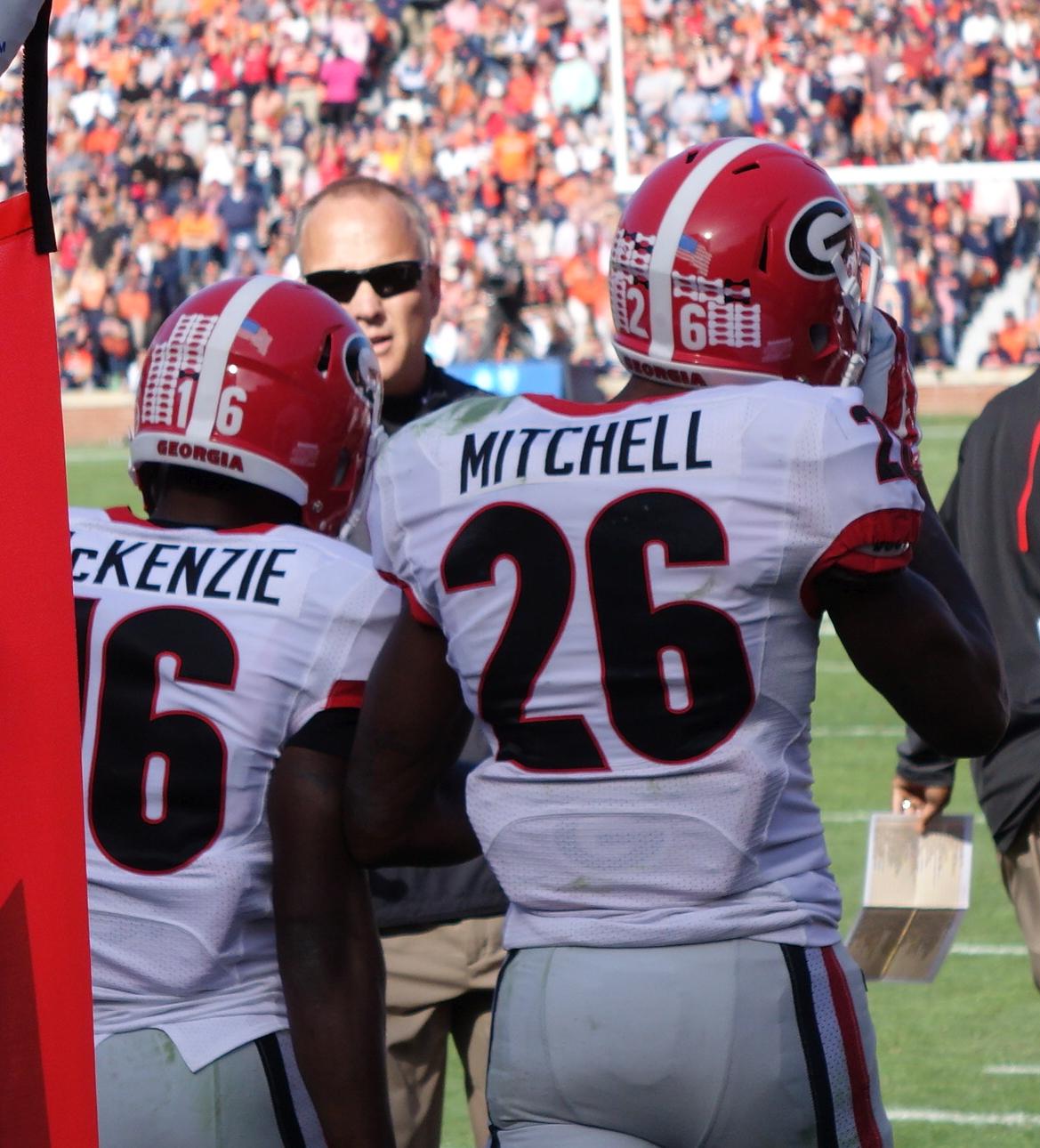 [su_spacer size="40″] AUBURN, Ala. – All the statistics in this one weren't pretty but thanks to the flying feet of sophomore kick returner/wide receiver Isaiah McKenzie, the final tally on the Jordan-Hare scoreboard this past Saturday was indeed beautiful for everyone in Bulldawg Nation.
[su_spacer size="40″]
Georgia 20, Auburn 13.
[su_spacer size="20″]
Taking the lead at 56-55-8 in this ancient, 119-game series, the Bulldogs improved to 7-3 on the season and have posted a final 5-3 record in 2015 Southeastern Conference standings. And, best of all, they now have an opportunity to cap the regular season with a four-game win streak, with Georgia Southern and rival Georgia Tech dead ahead in the final two outings.
[su_spacer size="40″] Trailing Auburn by 10-3 at halftime and frustrated completely on several attempts to score touchdowns, the Bulldogs got a 4-yard touchdown scamper from McKenzie late in the third quarter to gain a 10-10 tie with the Tigers (5-5, 2-5) and then used McKenzie's school record-breaking 53-yard punt return for a touchdown with 9:28 left in the game to take the lead for keeps. Marshall Morgan's second field goal of the day less than three minutes later boosted the Bulldogs' advantage to 20-10 and Auburn's late field goal – the Tigers'only points of the entire second half against the sticky UGA defense – came too little, too late for the War Eagles as Georgia senior Malcolm Mitchell put the cap on the victory by recovering Auburn's expected onside kick with just over a minute to play.
[su_spacer size="40″] In the end, the Bulldogs won this football game with simply outstanding defensive play, good special teams play and an offense that, although showing only 243 yards total, still did some good things, especially in the time of possession where Georgia bested the Tigers 35:49 minutes to 24:11.
[su_spacer size="40″] No question, a good win for Mark Richt and his staff on an afternoon when another defeat would have had the wolves, alias Dawgs, all howling once again for coaching changes.
[su_spacer size="40″] That said, let's look at this week's Stats That Matter even though, as mentioned, the only statistic that truly mattered on the plains of Auburn was Bulldogs 20, Tigers 13:
[su_spacer size="40″]
Plays of 20 plus yards (offense/defense)
[su_spacer size="40″] Lambert had a 20-yard pass to fullback Christian Payne to the Auburn 11 only to see the Bulldogs' drive stoned by the Tigers at the 2-yard line. In the fourth quarter, Brendan Douglas had a 20-yard run after the Bulldogs were backed up in a ridiculous 3rd-and-41 situation. Otherwise, Georgia's only 20-plus yards play was McKenzie's eventual game-winning punt return. Auburn was held to just one play that netted over 20 yards, Jovon Robinson's 33-yard jaunt from scrimmage.
[su_spacer size="40″]
Untimely mistakes (turnovers, penalties, clock management miscues, etc)
[su_spacer size="40″] The Bulldogs had to burn all three timeouts in the first half, two coming on defense. Then, there was another called in the third quarter when Georgia had a 3rd-and-3 at the Auburn 45. In the fourth, after reaching the Auburn 44, the Bulldogs were slapped with an inexplicable four penalties … an offensive pass interference call on Mitchell, an illegal procedure, a holding call and then a delay of game. That put the ball all the way back at the Bulldogs' own 29-yard line and left the Bulldogs with a that third-and-37 yards to go,
[su_spacer size="40″]
Special teams wins vs. miscues
[su_spacer size="40″] Richt thought it was maybe the Bulldogs' best overall special teams performance of the season. In addition to McKenzie's return, Morgan was true on both his field goal tries of 40 and 38 yards, while batting tough wind conditions and Brice Ramsey again punted extremely well, averaging 46 yards on his three kicks with one punt backing the Tigers up at their own 7-yard line. Collin Barber, punting after the Bulldogs bogged down in Auburn territory, had two kicks die at the Tigers' 16 and 12-yard lines. And, as Richt duly noted, the Bulldogs had excellent kick coverage all afternoon.
[su_spacer size="40″]
Missed Tackle
s
[su_spacer size="40″] There were a couple of whiffed tackles on Robinson and Peyton Barber's carries, enabling the Tiger backs to run for extra yardage but, on the whole, the Bulldog defense was a gang-tackling, sure-stopping bunch, as evident by Georgia allowing Auburn's lone touchdown on the opening drive after the game's kickoff.
[su_spacer size="40″]
Yards after contact
[su_spacer size="40″] Both Sony Michel (77 yards on 26 workman-like carries) and Brendan Douglas (25 yards on just four carries), and McKenzie himself (26 on four including the TD), broke away for good gainers following initial contact.
[su_spacer size="40″]
Turnovers (gained/lost)
[su_spacer size="40″] Sophomore cornerback Aaron Davis recovered two Auburn fumbles, one late in the game at the Georgia 1-yard line to prevent a touchdown, while Malkom Parrish, the other sophomore corner, had the lone pass interception on the day. The Bulldogs fumbled twice but fell on both of them, and QB Greyson Lambert, though passing for only 97 yards total, was 12-of-17 with no picks.
[su_spacer size="40″]
Red Zone (offense/defense)
[su_spacer size="40″] Georgia was again a good 3-of-4 scoring on red zone opportunities while the Tigers drove inside the 20 only twice, getting their only touchdown on the game's initial drive.
[su_spacer size="40″]
Third down conversions
[su_spacer size="40″] So-so here for the Bulldogs as they converted 5-of-14 third down chances but did convert on 1-of-2 fourth down tries. Auburn was just 4-of-14 on third downs and 1-of-1 when going for it on fourth down.
[su_spacer size="40″]
Run/pass attempts (total plays)
[su_spacer size="40″] The Bulldogs ran the ball 45 times and could muster but 146 net rushing yards total against the also tough Tiger defensive unit. As mentioned, Lambert threw it 17 times with the 12 completions for 97 yards.
[su_spacer size="40″] [su_spacer size="40″]