[su_spacer size="20″]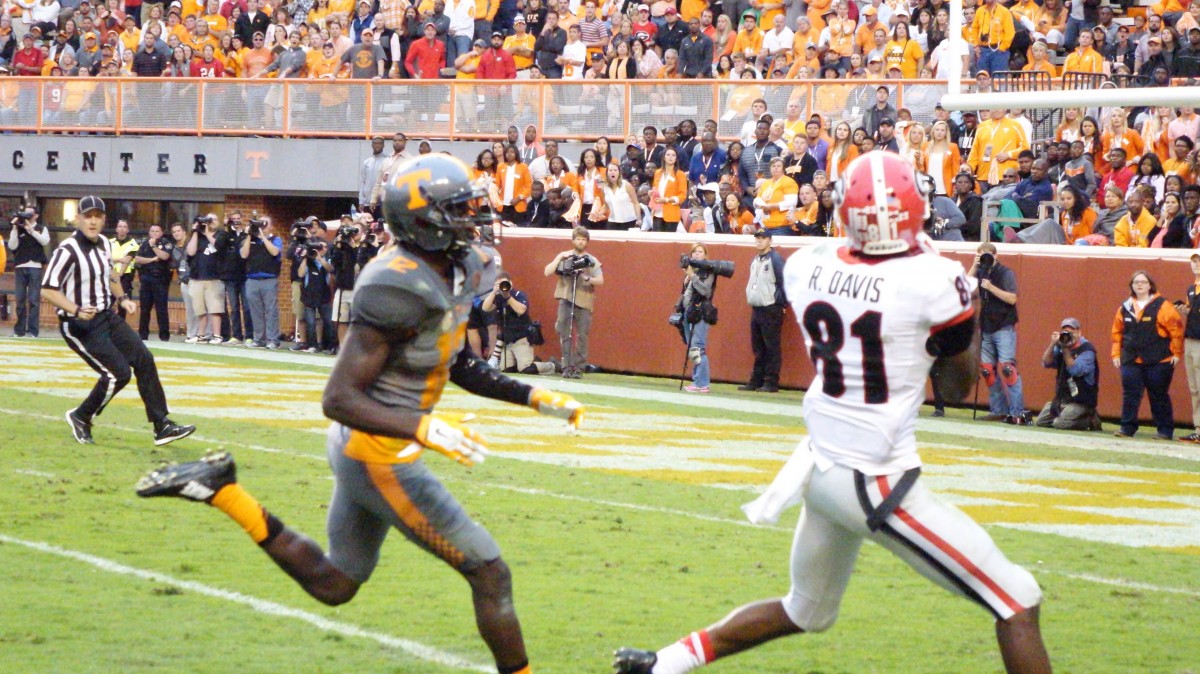 [su_spacer size="40″] KNOXVILLE, Tenn. – All week, after the blowout loss to Alabama, the Georgia Bulldogs said they had put the crushing by the Crimson Tide squarely in their rearview mirror and were focusing strictly on their key SEC division battle with the Tennessee Volunteers here Saturday.
[su_spacer size="20″]
And when 19th-ranked Georgia built up a 24-3 lead on the home team late in the second quarter, it appeared the Bulldogs were indeed taking care of business on Rocky Top and on their way to a decisive bounce-back victory over the struggling Vols.
[su_spacer size="40″] But, much to the dismay of the team, the UGA coaching staff and all Bulldawg Nation, these Bulldogs couldn't keep their foot on the gas, allowing Tennessee to punch in two quick scores in the last two minutes of the half to whittle the Georgia advantage to 24-17 and then, inexplicably, letting the Vols dominate the second half by a 21-7 tally to deal the reeling Bulldogs with a 38-31 bitter pill to swallow. And of course it was a double blow for Georgia in this game as All-American tailback Nick Chubb suffered an undisclosed left knee injury on his very first carry of the game.
[su_spacer size="40″] Bottom line, as head coach Mark Richt said in his post-game comments, the fired-up Vols, fueled on by the partisan crowd of 102,455 in sold-out Neyland Stadium, simply made more game-winning plays than did Georgia.
[su_spacer size="40″] The Bulldogs, fact of the matter is, made another big plays on offense, defense and special teams to win most football games but they also gave up too many big plays to Tennessee to win a high-scoring battle such as this one.
[su_spacer size="40″] So as we peruse over this week's Stats That Matter, it's pretty easy to see why Georgia is now at 4-2 for the season and 2-2 in the SEC while turning its thoughts to Saturday night's homecoming tilt against the Missouri Tigers.
[su_spacer size="40″]
Plays of 20 plus yards, offense and defense
[su_spacer size="40″] First of all, the Bulldogs got that 96-yard fumble recovery touchdown run from junior linebacker Leonard Floyd, which was caused by Davin Bellamy's hit. It gave Georgia a 7-0 lead with 6:14 left in the opening period. Then there was Sony Michel's 66-yard run from scrimmage plus another 29-yard run by Michel. Greyson Lambert had a 48-yard touchdown strike to Reggie Davis – Georgia's only second half score – and also threw a 28-yard scoring pass to Malcolm Mitchell. Mitchell also caught a 23-yard Lambert pass. Lambert and Davis also hooked up on a 35-yard pass and he hit Kenneth Towns with a 23-yard toss when the Bulldogs were trying to drive for a late game-tying score. Of course, maybe the best pass Lambert threw, a 56-yard strike to Davis that could have tied the game at 38, was dropped by Davis as he crossed the goal line. But all of Georgia's big plays were more than offset by all the plays Vols quarterback Joshua Dobbs made in throwing for 312 yards and running for 118 more, accounting for five touchdowns in the process. The Georgia defense allowed Dobbs to either throw or run for nine plays of 20 yards or more.
[su_spacer size="40″]
Untimely Mistakes (turnovers, penalties, clock management miscues, etc)
[su_spacer size="40″] Some killers here for the Bulldogs. There was an early pass interference call on freshman DB Jonathan Abram, three costly false starts, a substitution infraction on the coaching staff, and an untimely holding penalty called on wide receiver Mitchell. Just enough things, in other words, to keep drives from being sustained.
[su_spacer size="40″]
Special teams wins vs. miscues
[su_spacer size="40″] The good things on special teams included Reggie Davis' brilliant 70-yard punt return, a 52-yard punt by Collin Barber and Marshall Morgan's 37-yard field goal and his booting several kickoffs out of the end zone. But again, the good things were offset by Morgan misfiring on an early 41-yard field goal, a Barber punt that was kicked into the end zone from the Vols' 46 after Jake Ganus had picked off a Tennessee pass and Georgia failed to take advantage, thus netting only 26 yards on the punt, then later a mere 21-yard punt by Barber, the UGA kick coverage team allowing Georgia native Evan Berry to return three kickoffs for a total of 103 yards and, maybe, the most costly special teams blunder of all when Sony Michel fumbled his kickoff return just before halftime, which enable the Vols to recover and quickly score in the final seconds to chop Georgia's intermission lead to 24-17.
[su_spacer size="40″]
Missed Tackles
[su_spacer size="40″] The Georgia defense, which seemed to wear down as the game went along, allowed Dobbs time and again to pull away after the first hit and run past the first down marker. Also, even though the Bulldog defenders stopped UT tail-back Jalen Hurd on many occasions at the line of scrimmage, he too was able to plow over several Georgia would-be tacklers in rushing for 80 yards on the night. Truly, Georgia simply hasn't played winning defense these past two Saturdays.
[su_spacer size="40″]
Yards after contact
[su_spacer size="40″] With Nick Chubb sidelined for the game, it remained for Michel to step up and he did throughout by rushing for 145 yards on 22 carries. Not only did Michel break tackles on his inside runs but he faked a number of Volunteers out of their shoes, especially on his 66-yard gallop down the left sidelines.
[su_spacer size="40″]
Turnovers (gained/lost)
[su_spacer size="40″] Georgia fumbled three times but lost only one of them. Lambert, in passing for 279 yards, didn't have any interceptions but completed just 15 of his 32 attempts. Tennessee lost the one costly fumble that Floyd picked out of the air and set sail on his 96-yard touchdown while Bulldogs' linebacker Ganus, who recorded 12 tackles in the game, picked off a Dobbs defected pass.
[su_spacer size="40″]
Red Zone (offense/defense)
[su_spacer size="40″] Georgia scored on its only trip inside the red zone while the Vols hit paydirt five of the six times they drove inside the Bulldogs' 20-yard line.
[su_spacer size="40″]
Third down conversions
[su_spacer size="40″] Not good here as the Bulldogs were just 4 of 14 on third down tries while Tennessee converted eight of its 18 chances.
[su_spacer size="40″]
Run/pass attempts (total plays)
[su_spacer size="40″] The Bulldogs ran the ball 29 times for 165 yards and passed it 32 times for the 279 yards by Lambert. The Vols ran the football 48 times for 207 yards and threw it 42 times for Dobbs' 312 yards.
[su_spacer size="40″]
---
[su_spacer size="40″] Make sure to check out
Bulldawg Illustrated's
latest print edition:
Don't Jump Ship
, digital issue available for free online click
HERE
.
[su_spacer size="80″]