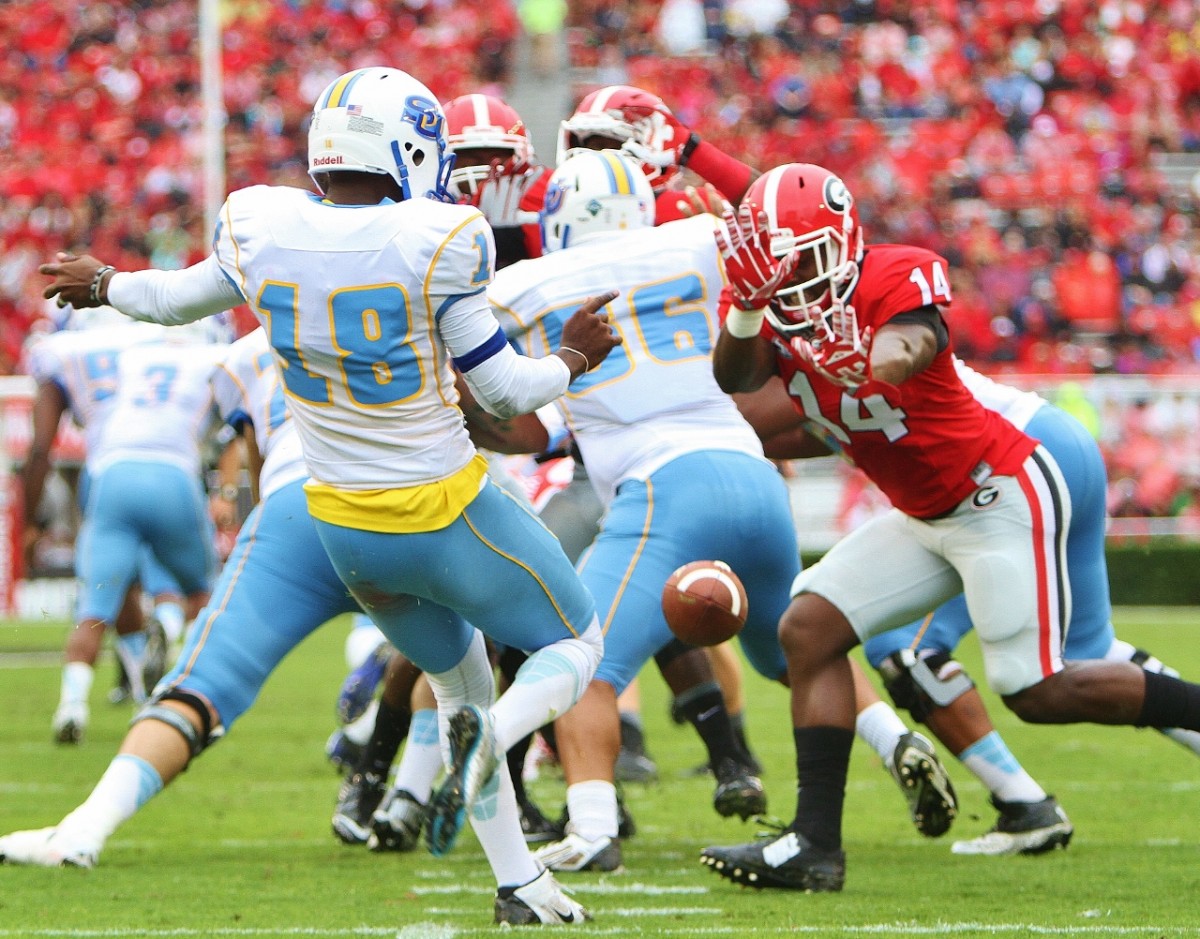 Malkom Parrish blocks a punt Q1
[su_spacer size="20″] There were a whole lot of positives in Georgia's 48-6 waltz over FCS foe Southern University this past Saturday at rain-soaked Sanford Stadium, things the Bulldogs can take into this Saturday's monumental battle against the invading Alabama Crimson Tide.
[su_spacer size="20″] Conversely, however, a number of negatives also crept into the Bulldogs' performance … occurrences that Georgia can hardly afford to duplicate if it plans to still be undefeated at 5-0 come Saturday night in Athens.
[su_spacer size="20″]
Before we delve into the weekly Stats That Matter, it's very evident that the Bulldogs' touted offensive front can't have another blocking performance like it did in the first half against Southern … when Georgia could manage just a puny 35 yards net rushing against the Jaguars and Nick Chubb was limited to 31 yards on the ground. Mark Richt readily admitted he vocally challenged the O-linemen at the halftime break and to their credit, from the very opening minutes of the third quarter, it was a different bunch that began to open gaping holes for Chubb and Sony Michel.
[su_spacer size="40″] Finishing with 261 yards rushing to couple with Greyson Lambert and Brice Ramsey's combined 271 passing total, the Bulldogs hammered Southern for 226 yards on the ground over those last two quarters when a 28-point third stanza turned the game into a rout. Chubb ran for 100 yards in that third quarter before retiring to the sidelines and his 131 yards on 15 carries marked his 12th straight game over the century mark … pulling the sophomore tailback within one game of matching Herschel Walker's school record of 13 consecutive games with 100 rushing yards.
[su_spacer size="40″] But even though the Bulldogs led only 20-6 at halftime because of the offense's sluggishness, the game's outcome never really seemed in doubt. That's because of another sterling showing by Jeremy Pruitt's Georgia defensive unit, which allowed the Jaguars offense just a lone touchdown in the second quarter, along with only 105 yards net rushing and 79 passing. The Bulldogs' stop-em gang also got a huge individual play from sophomore cornerback Malkom Parrish, who blocked a Jaguar punt to set up a 24-yard scoring pass from Lambert to Chubb.
[su_spacer size="40″] All that said, let's now swing into those Stats That Matter, to see what the Dawgs did well, and didn't do well, as Georgia awaits the visit of one of college football's legendary teams between the hedges Saturday afternoon.
[su_spacer size="40″]
Plays of 20 plus yards (offense/defense)
[su_spacer size="40″] With Lambert going 9-of-10 for 146 yards and two touchdowns, he hit Chubb with the 24-yard scoring pass, Malcolm Mitchell with a 23-yard TD strike, a 33-yard pass to Mitchell and a 21-yard pass to Isaiah McKenzie. Ramsey had passes of 28 and 21 yards to McKenzie. Chubb had a 49- yard touchdown run in the third quarter and Michel also reeled off a tackle-breaking 58-yard touchdown jaunt in that quarter. Meantime, the Jaguars had only one play for 20-plus yards, via a 23-yard pass completion by quarterback Austin Howard.
[su_spacer size="40″]
Untimely mistakes (turnovers, penalties, clock management miscues, etc)
[su_spacer size="40″] Here are a few in this area that can't exist in the Alabama game. Lambert actually had another 39-yard touchdown pass to Mitchell in the third quarter but an illegal motion call (actually illegal formation) on tackle Kolton Houston erased the score. An offsides penalty against Jordan Jenkins wiped out a pass interception by defensive lineman Sterling Bailey, and then there were the special teams miscues one can see in the category that follows.
[su_spacer size="40″]
Special teams wins vs. miscues
[su_spacer size="40″] First of all, on the plus side, Marshall Morgan booted field goals of 47 and 25 yards, as well as six extra point kicks and except for one 32-yard return, the Bulldogs' kick coverage team was excellent on the Jags' ace kick returner, little Willie Quinn. And, as mentioned, Parrish had the huge block of the Southern punt. But on the bad side, there was just a 24-yard punt by Collin Barber on his only kick of the day, a fumbled punt by McKenzie in the final quarter, which allowed the Jaguars to recover at the Georgia 41 and, also, on his only attempt backup kicker Patrick Be- less misfired on a 40-yard field goal in the final period.
[su_spacer size="40″]
Missed Tackles
[su_spacer size="40″] Nothing to complain about here due to the way the Bulldogs' defense shut down the Jaguars' attack, although Lenard Tillery did pull away from several Georgia defenders on his 16-yard, second-quarter touchdown run … Southern's only score of the day.
[su_spacer size="40″]
Yards after contact
[su_spacer size="40″] Several times, while being hit at the line of scrimmage, Chubb and Michel pulled away from would-be tacklers and bulled on past the first down marker. And Keith Marshall and Brendan Douglas did likewise when they ran the ball in the final period.
[su_spacer size="40″]
Turnovers (gained/lost)
[su_spacer size="40″] Georgia fumbled the ball twice and lost one while the Jaguars enjoyed a turnover-free day, as the one interception by Bailey of course was nullified due to the penalty on the Bulldogs.
[su_spacer size="40″]
Red Zone (offense/defense)
[su_spacer size="40″] For a second straight week, the Bulldogs were most efficient inside the red zone, scoring on three of their four penetrations. And the Jaguars were 1-for-1 on their trips inside the Georgia 20.
[su_spacer size="40″]
Third down conversions
[su_spacer size="40″] Georgia was just 1-of-5 on third down conversions while Southern went a miserable 4-of-16 in this category against the suffocating Bulldog defense.
[su_spacer size="40″]
Run/pass attempts (total plays)
[su_spacer size="40″] Following the paltry first-half rushing performance, the Bulldogs kicked it in high gear in the second half of play, totaling 261 yards on the day on 33 carries. Lambert and Ramsey were razor sharp through the air lanes, combining to drill 20-of-24 passing attempts for 271 yards. Again, the kind of total balance this team will need to conquer Alabama come Saturday evening.
[su_spacer size="40″]
---
[su_spacer size="40″] Make sure to check out
Bulldawg Illustrated's
latest print edition:
Saban vs Richt – Only one man will be smiling after this one
, digital issue available for free online click
HERE
.
[su_spacer size="80″]