[su_spacer size="20″]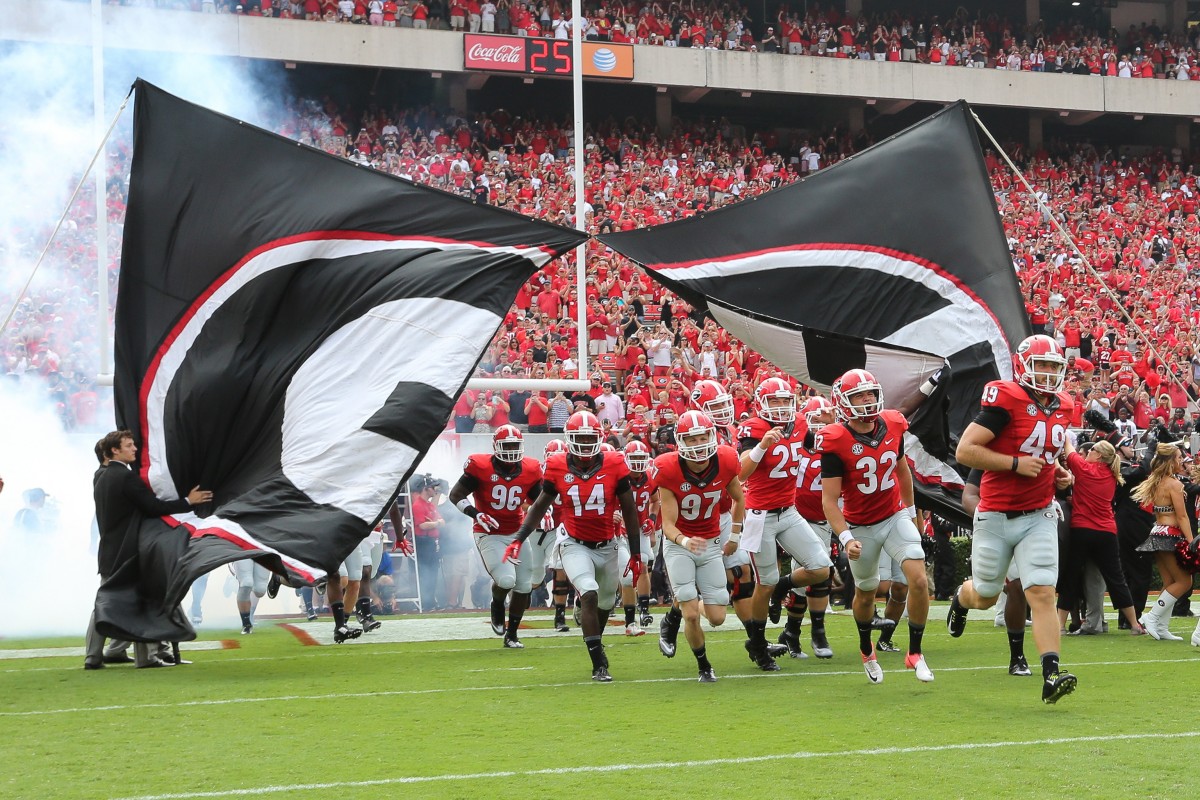 [su_spacer size="20″] Georgia's 2015 football debut had a little something for everybody … big plays all over the field, an outstanding performance by the new starting quarterback, big gainers by all of the Bulldogs' running backs and, for the most part, excellent defense by Jeremy Pruitt's gang-tackling unit.
[su_spacer size="20″] Georgia's 51-14 romp over Louisiana-Monroe this past Saturday at Sanford Stadium even had a couple of things hardly anybody wanted. That came in the form of two lightning delays (within 8 miles of the stadium), one in the third quarter which suspended play for a full hour and the other with 9:54 left in the game, which officially terminated the contest after both head coaches and athletic directors agreed to stop it.
[su_spacer size="20″]
Virginia transfer Greyson Lambert, named as the Bulldogs' new starting quarterback by Mark Richt at the beginning of game week, nailed 7-of-9 passes for 113 yards and a touchdown to spark the Bulldogs to a commanding 35-7 halftime advantage and went on to finish his first game in Georgia red with 8-of-12 completions for 141 yards and two touchdowns, his second scoring toss being a perfectly-thrown 28 yard strike to Malcolm Mitchell in the right end zone corner.
[su_spacer size="40″] Heisman hopeful Nick Chubb romped for 120 yards and two touchdowns and got ample help from his two backups as Keith Marshall shook off his injuries of last season and zipped for 73 yards on 10 carries while Sony Michel added 41 yards rushing and had two receptions for 79 more yards.
[su_spacer size="40″] And Pruitt's defensive unit, led by eight tackles each from Leonard Floyd and Quincy Mauger, shut down the Warhawks with the exception of one touchdown drive in the final seconds of the first half and then another ULM scoring march on their opening possession of the third quarter. The Warhawks were limited to 45 yards net rushing and 206 passing by the crashing Bulldog defenders.
[su_spacer size="40″] So, as the Bulldogs now get ready to face a 0-1 Vanderbilt team Saturday in Nashville in both teams' SEC opener, it's time to look at the Stats That Mattered the most in Georgia's opening waltz this past Saturday.
[su_spacer size="40″]
Plays of 20 plus yards, offense and defense
[su_spacer size="40″] Georgia had a bunch of these. a 48-yard pass from Lambert to Michel, a 23-yard TD jaunt by Chubb, a 20-yard strike from backup QB Brice Ramsey to freshman Terry Godwin, a 31-yard Ramsey-to-Michel screen pass for a score, a 27- yard run by Chubb, a 20-yard burst by Marshall, and finally, Lambert's pretty 28-yard touchdown toss to Mitchell. Most of ULM's 20-yard or more plays came from quarterback Garrett Smith as he had a 24-yard run, two TD strikes of 29 and 23 yards and another 26-yard pass completion.
[su_spacer size="40″]
Untimely Mistakes (turnovers, penalties, clock management miscues, etc)
[su_spacer size="40″] Not a bad day for the Bulldogs in this category. There was a costly chop block committed simultaneously by O-linemen Brandon Kublanow and Isaiah Wynn, a substitution infraction by the coaching staff on the very first offensive series, a false start by Wynn and one other motion penalty on the offense.
[su_spacer size="40″]
Special teams wins vs. miscues
[su_spacer size="40″] There were the big punt blocks by Lorenzo Carter and D'Andre Walker (which resulted in a Bulldog safety in the third quarter), two kick returns by Reggie Davis for 53 yards and another punt return for 21 yards, Collin Barber booming the ball into the end zone four times on kickoffs and also having a 50-yard punt, the Bulldogs covering kicks extremely well and Marshall Morgan making all seven of his PAT kicks to tie the school record for career PATs made with 184, held by former kicker Blair Walsh. That tally ranks third in SEC history.
[su_spacer size="40″]
Missed Tackles
[su_spacer size="40″] Who can complain here? There were a few whiffs by Georgia defenders after Warhawk receivers caught balls but overall, Pruitt's defense put the ball carrier down on initial contact most all afternoon.
[su_spacer size="40″]
Yards after contact
[su_spacer size="40″] Nick Chubb, Sony Michel, Keith Marshall, and even Brendan Douglas late in the game . . . all these guys aren't going down on the first hit and continually added on a few more yards after being initially tagged by the Warhawk defenders.
[su_spacer size="40″]
Turnovers (gained/lost)
[su_spacer size="40″] The Bulldogs didn't get any ULM fumbles but did have a key 26-yard interception by corner- back Aaron Davis. Georgia fumbled once but recovered its own bobble and QBs Lambert and Ramsey didn't throw any picks.
[su_spacer size="40″]
Red Zone (offense/defense)
[su_spacer size="40″] Georgia fans have to love this stat on opening day as the Bulldogs scored touchdowns on all four of their excursions inside the ULM 20-yard line. The Warhawks also converted points on their only trip inside the Red Zone.
[su_spacer size="40″]
Third down conversions
[su_spacer size="40″] The Bulldogs were 5-of-9 in this vital category while Louisiana-Monroe could convert on only five out of their 13 third-down opportunities.
[su_spacer size="40″]
Run/pass attempts (total plays)
[su_spacer size="40″] Georgia ran the ball 38 times for a total of 243 yards and completed 10-of-14 pass attempts for 192 more yards. So, very good balance by Brian Schottenheimer's offense on opening day, 2015.
[su_spacer size="40″] For more articles like this, including player and fan photos as well as videos, check out
Bulldawg Illustrated's
latest issue online:
[su_spacer size="40″]
Bulldawg Illustrated
[su_spacer size="80″]