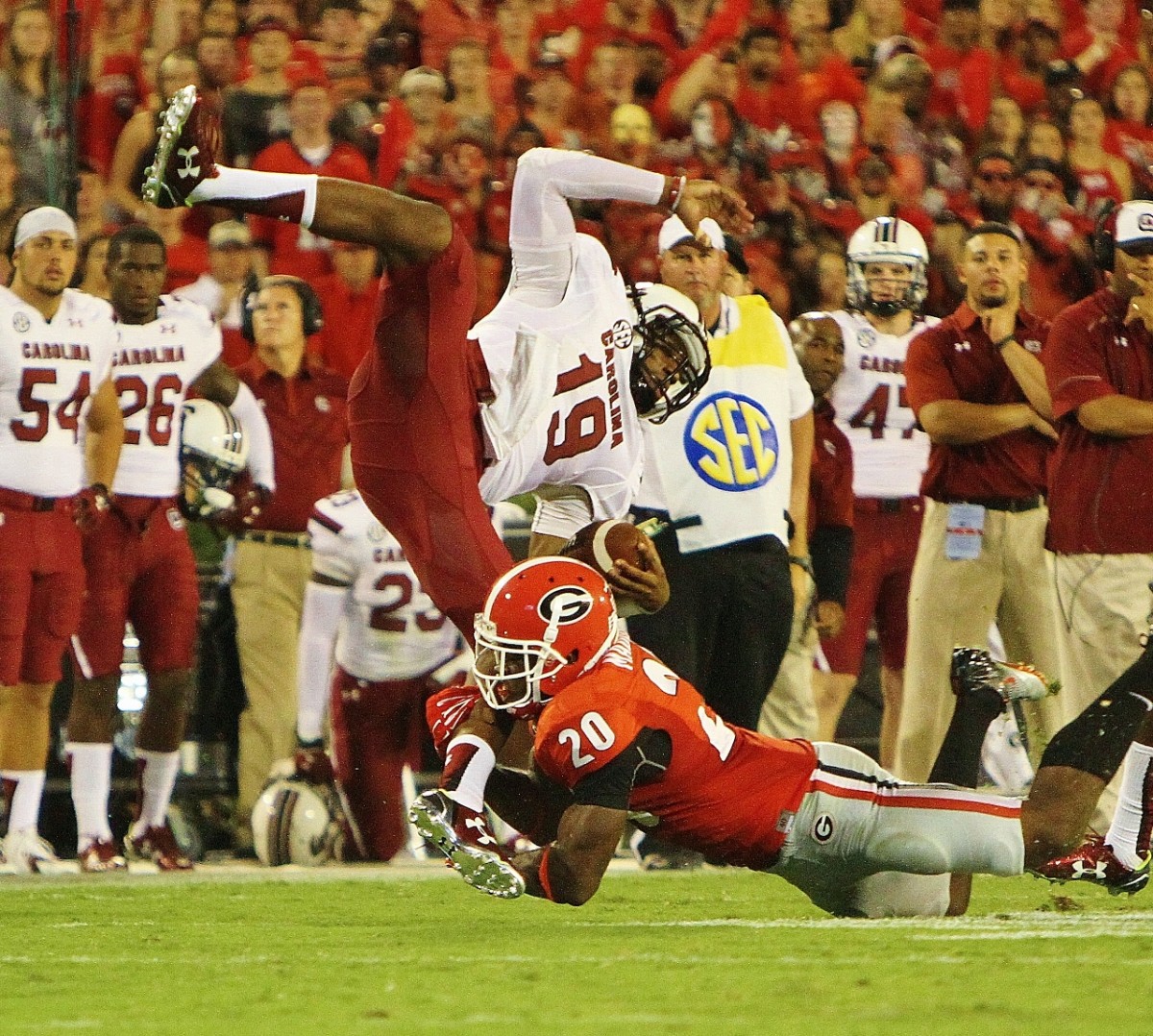 [su_spacer size="20″] Of course, without question, the biggest statistics that came out of Georgia's 52-20 barnyard whipping of Steve Spurrier and the South Carolina Gamecocks this past Saturday night were all those passes junior transfer quarterback Greyson Lambert completed while rewriting the NCAA, SEC and UGA record books.
[su_spacer size="20″]
After a shaky performance the previous Saturday at Vanderbilt when he misfired on his first seven passes Lambert drilled 14-of-15 attempts in the first half for 190 yards and went on to finish his sizzling evening with an incredible 24-of-25 passes completed for 330 yards and three touchdowns.
[su_spacer size="40″] Lambert set an NCAA, SEC and Georgia record for Best Completion Percentage at 96.0 percent with a minimum of 20 completions. The old mark was 95.8% as Tee Martin (Tennessee vs. South Carolina, 1998) and Geno Smith (West Virginia vs. Kansas, 2012) were 23-for-24 respectively. The previous Georgia mark was 86.9% by David Greene (20×23) against Vanderbilt in 2002.
[su_spacer size="40″] Also, Lambert completed his last 20 in a row, also a Georgia record, which topped Mike Bobo's mark of 19 straight at the 1998 Outback Bowl in a win over Wisconsin. Lambert's three touchdowns matched his career high set against Florida State in 2014 while suiting up for Virginia. On Saturday, he connected with nine different receivers, including senior Malcolm Mitchell who caught eight balls for 122 yards and a touchdown. Mitchell's last 100-yard game came when he had nine catches for 103 yards at Kentucky in 2012.
[su_spacer size="40″] And in addition to Lambert's aerial circus, another pleasing stat to the Georgia fans was the 52 points the Bulldogs rang up against Spurrier's team. It was the same amount of points Spurrier hung on the Georgia defense 20 years ago at Sanford Stadium, when he coached his then Florida Gators to a 52-17 romp over the Bulldogs. Payback is sweet, indeed!
[su_spacer size="40″] But in a 32-point win over a rival like South Carolina, there were many other things the Bulldogs did well in pushing their season record to 3-0 and their SEC mark to 2-0 with little Southern University coming into town this Saturday before you-know-who arrives between the hedges on Oct. 3.
[su_spacer size="40″] That said, let's look at the Stats That Mattered on this glorious Saturday night in old Athenstown:
[su_spacer size="40″]
Plays of 20 plus yards, offense and defense
[su_spacer size="20″] Lambert had a bunch of these … a 25-yard pass to Mitchell, a 20-yard strike to tight end Jay Rome, another 20-yard pass to freshman tight end Jackson Harris, still another 25-yard pass to Mitchell and a 28-yard pass to Reggie Davis. And there was that man Nick Chubb. While running for 159 yards on 21 carries and two touchdowns, he reeled off a 31-yard run. And Sony Michel chipped in with a 21-yard touchdown jaunt. On defense, sophomore safety Dominick Sanders raced 33 yards with an interception.
[su_spacer size="40″]
Untimely Mistakes (turnovers, penalties, clock management miscues, etc)
[su_spacer size="20″] It may be picky to point out these things in a victory the magnitude of the Bulldogs' pasting of the Gamecocks but, there were a few that maybe Georgia doesn't want to repeat in the game in two weeks. There was a face-mask penalty called on Reggie Davis after the Gamecocks' Shon Carson returned a Georgia kickoff 51 yards. Devin Bowman picked up a personal foul penalty at the start of the final quarter, freshman DaQuan Hawkins also was slapped with a personal foul following South Carolina's second touchdown in the fourth quarter when things started getting a little testy between the two teams, and Mitchell, in his big receiving night, also was tagged for offensive pass interference. Also, an off-sides penalty on the Georgia kickoff team nullified a fumble recovery by Kirby Choates on a pooch kick deep in Carolina territory.
[su_spacer size="40″]
Special teams wins vs. miscues
[su_spacer size="20″] Marshall Morgan booted his only field goal attempt, a 30-yarder for Georgia's first points of the night, and also was true on all seven of his PAT tries. And quarterback Brice Ramsey, seeing action at the position only in the game's final five minutes due to Lambert's extraordinary night, actually reverted back to his high school kicking days by getting off a 42-yard punt as the Bulldogs had to punt only twice the entire night. On the negative side for the special teams, there was the long kickoff return by South Carolina and the aforementioned off-sides on the kickoff team that nullified the Choates fumble recovery and likely prevented still another Georgia score.
[su_spacer size="40″]
Missed Tackles
[su_spacer size="20″] Nothing substantial to mention here as anytime you hold a Steve Spurrier-coached offense to two touchdowns, 174 yards rushing and just 84 yards passing, you can't be missing many tackles. Jeremy Pruitt's defensive continues to grow fangs each and every game.
[su_spacer size="40″]
Yards after contact
[su_spacer size="20″] This is akin to a broken record every game. Chubb and Michel bounce off would-be tacklers nearly every time they run the football to turn maybe a 3-yard gain into a 7-or-8 yard burst, or more.
[su_spacer size="40″]
Turnovers (gained/lost)
[su_spacer size="20″] Georgia fumbled twice and lost one of them while the Gamecocks coughed it up twice but recovered each time. While Lambert didn't throw any picks, misfiring on just one intended pass to Jeb Blazevich in his 25 throws, Dominick Sanders had his 33-yard run with his interception off SC quarterback Perry Orth.
[su_spacer size="40″]
Red Zone (offense/defense)
[su_spacer size="20″] The Bulldogs were clicking on all cylinders down near the South Carolina goal line as they scored seven out of eight times when reaching the red zone. The Gamecocks advanced inside the Georgia 20 just twice but got points both times.
[su_spacer size="40″]
Third down conversions
[su_spacer size="20″] The Bulldogs, getting one big play after another, weren't confronted but with four third down opportunities and converted just one time. And the Gamecocks could make a first down on only four of 14 third-down chances.
[su_spacer size="40″]
Run/pass attempts (total plays)
[su_spacer size="20″] The Bulldogs ran the ball 38 times for their 246 yards rushing and as everyone in the college universe ought to know by now, Greyson Lambert nailed the record 24 of his 25 passing attempts for the 330 yards and three touchdowns as the Bulldogs pummeled the Gamecock defense for 576 total yards
[su_spacer size="80″]