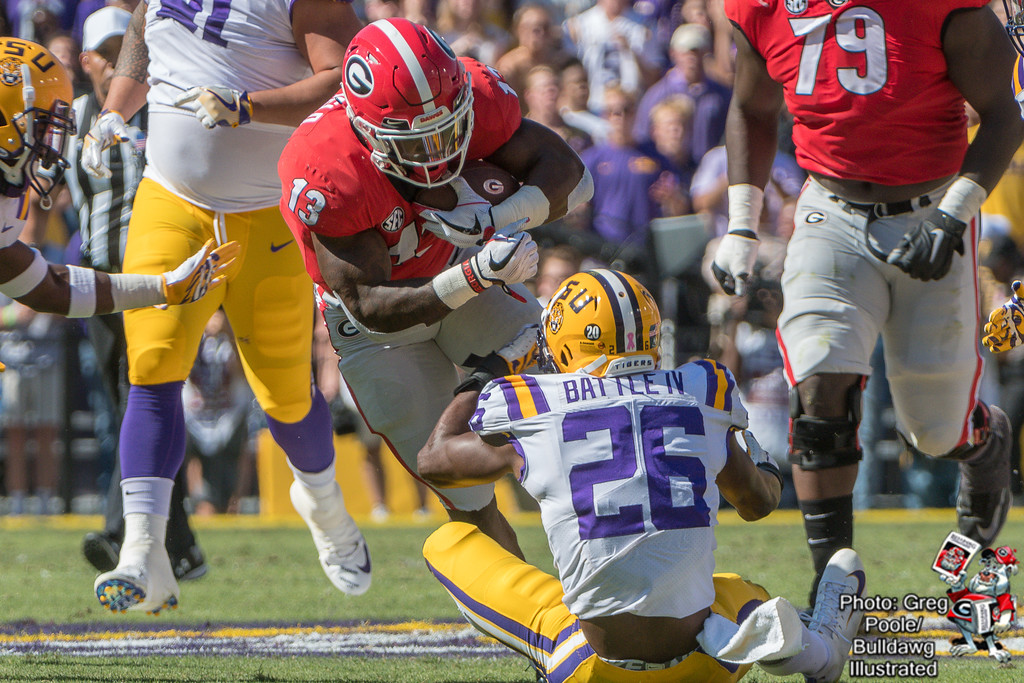 Han Vance on Georgia football: While I grew up playing wide receiver and deeply admired the passing offenses at BYU and the San Diego Chargers for their inventiveness, the facts are the facts. Running-based POWER FOOTBALL is the best system of operations if any team can do it. Seeing both the pass-happy Sooners and now Buckeyes removed from the ranks of the unbeaten only illustrates: teams that get caught throwing too much will inevitably, eventually get beat. Sooner (sorry Boomers) or later, the protection won't hold up, or guys will not be getting open and making the catches, or the quarterback will have an off day. The interceptions or quarterback fumbles come. They get outscored.
Here is Georgia's only potential advantage over the #1 (Alabama) and to a lesser extent #2 (Clemson) teams, other than perhaps revenge factor versus the Tide. They both throw it all over the yard. Georgia can and should become a true power football team. Smashmouth football wins.
Coming into LSU, Georgia were untested to a man, as far as this season goes. The team's all stars only seeing the ball situationally, as kicker Rodrigo Blankenship looks to have a great year, while D"Andre Baker is one of two top SEC corners (with Greedy Williams of LSU) in the nation. Young guys and new starters aplenty spread throughout the starting ranks, it was literally a brand new year when the Dawgs teed it up against Austin Peay for me to see. Coming in as defending SEC champions certainly does not make it any easier, although there was confidence galore against inferior competition. The schedule now strewn with Georgia victims, like battlefields, four sides from the state of Tennessee alone in submission of Georgia's might. ESPN's Adnan Virk described: "What a juggernaut."
To see all Georgia vs. LSU 2018 galleries
CLICK HERE
As I was saying, Georgia was leading the SEC in team rushing and facing a Bengals bunch that had been beaten up physically at the Swamp – it's GEORGIA-FLORIDA week. Some Floridians and other foolish sorts will call it "Florida, Georgia" which is just inaccurate in that we have a better record than them in the series no longer referred to as the World's Largest Outdoor Cocktail Party. It's "Georgia-Florida."
Lived in Florida, down there in Orlando in 1995, the season Robert Edwards came on the scene versus Carolina and at Tennessee and got hurt, and Bobo was playing well then got injured. Traveled to Athens by car after Atlanta by plane to watch the Gators hang "half a hundred" (Steve Spurrier) on my beloved institution and favorite sporting team. That kind of crap really stings the fans and alumni of any football school, but it being the only Gators trip to Athens in forever…it was rough. Little brother Johnny Vance and I'd barked plenty in the first quarter, and all.
The Gators would win it all, Donnan would be brought in to replace Goff. I got back in-state after my longtime girlfriend (who ran cross country for UGA and earned her Bachelor's and Master's) and I split. Bartended at a restaurant in the burbs and hung around nightclubs and bars and such, during the Olympics era. I went back to Ol' Georgia, to fulfill my degree, after initially going 1990-1993.
1996-1998 was when my same brother and I were in school together, we went down to Georgia-Florida. The Bulldogs got smoked, but at least we made it down. Recall my brother left our tickets in his room at our house in Athens off Boulevard, and we had an extra. We ended up having to scalp tickets, so we actually paid for five total tickets and a motel room. Pretty pricey for such an ignoble experience.
The next trip down was my best time in Jacksonville, partying went great except the early Saturday hangover, we had a party bus full of Gators and Dawgs on Friday night, and the trip in total was just so well-planned out and fun. Georgia lost a heartbreaking game we should have won, though, our only loss of Mark Richt's second year.
I was going to all the big Georgia games in that period, definitely every single home game Saturday in Athens. Dave Freas and Mike Reeves (who I've both known since high school, I went to Lassiter with Mike, and Dave was one of my best friends in the world, from neighboring Sprayberry, in Cobb County) and my friend Mark Johnson (RIP – also of Lassiter, but went to Georgia State) and my brother Johnny I had a very solid tailgate crew. For years, Dave and folks hosted a big tailgate every single home game in a beautiful area other side of the stadium. Then, we'd walk in the backside together and leave via the perimeter highway. Good times, man.
Anyway, Dave and Mike and I went down with Dave's wife Theresa (an alumna from south Georgia who has Gators and Dawgs in her family, mostly Gators). We stayed with her Gators alumni brother and his family. That was the game that Terrence Edwards had the drop, David Pollack got flagged for a phantom forward lateral on a takeaway return – he seemed to always get his hands on the ball his magical sophomore year – and D.J Shockley came off the bench cold to throw the key pick-six at the end of the first half. It was a harrowing experience.
Only overshadowed in horror by my horror that would follow, when I tried to tough it out and go to the game with my friends Tom Bailey (a big fan, he went to Sprayberry then Kennesaw) and Scott Brown (P O T 3000, who went to UGA), staying with Mike Byrne (of UGA) and drinking per normal Cocktail Party, on pain medication from a major skateboarding accident, which included amongst many injuries, concussive head trauma. Bad decisions, I was all bandaged up like a mummy, y'all, and it didn't go well on Saturday, after Amelia Island was fun enough on Friday night…Dawgs lost, too.
We'd basically never beat the Gators, me entering UGA at the start of the Spurrier era at Florida, Richt had it best of any Georgia coach getting 5-of-15, while Goff and Donnan each beat dreaded UF only once (Goff came in a year before Spurrier). I wrote a poem about it called "Cocktail Party," one of the ten poem submission that won the Harriette Austin Poetry Award, at the big writers' conferences that used to be in Athens at the Georgia Center, in the summers.
Georgia got out rushed on the road versus a ranked opponent in its last game. As you see around the college landscape, it's tough on the road against any quality team. But the real problem was that Georgia did not force the issue by repeatedly hammering them.
Considering the huge size of the offensive line, which can struggle in pass protection but could also just go downhill on teams, and the talent of Elijah Holyfield (leading in yards per attempt) and D'Andre Swift (who has shown patience and cutting instincts and soft hands on pass plays), Georgia should be straight up hammering the living hell out of teams all the time. Run the ball. Run the ball. Run the darn ball.
Still throw, but throw on first down more to keep teams off balance against obvious runs. Three and outs featuring pass after pass won't cut the mustard at the University of Georgia, period. Kirby talks about physicality like he invented the term, line recruiting by Sam Pittman is all about power running.
Run it effectively enough to minimize obvious passing downs on 3rd downs, and Fromm will be plenty effective. Like last year. While we, as fans, can't count on Georgia bucking national trends like the team did last year, and being able to successfully run draws for the needed yardage on 3rd and long, the key to the team's ultimate success is moving the sticks or getting it to 3rd and shorter often, on 1st and 2nd down. A mixture of 1st down runs and key short completed passes will push any defense back on their heels, when the guys should be able to then effectively run, and should run right at them often.
When the run is working, do not go away from it. One final flashback to the bayou, Holyfield hammered them and Georgia, briefly, got back in the game. Instead of a versatile attack, it featured just one three-yard run by Justin Fields and no passing attempts. While Fromm was too often throwing to unopen guys that were not attacking the football, with poor pass protection, he was in a funk. Running was there.