By Coby Serina and Clay Watkins
Preparation for Oregon was evident yesterday as we could observe multiple players along the defensive front were numbers different than their own indicating that the scout team was being deployed. It made things more complicated to observe on the defensive side of things, but the offense appeared the same.
Coby Serina's observations:
Special teams were practicing inside the facility, Earnest Greene (possibly) was in there too
Arik Gilbert was seen at practice at full capacity despite his car accident earlier in the day; he was placed at the 4th string as a formality
Oscar Delp continues to take valuable reps towards the top of the depth chart (2nd and 3rd team)
Coach Diribe had his outside linebackers practice defending zone-reads
Nolan Smith was seen communicating back and forth with his position coach to make sure his position group had a good understanding of the drill
Mykel Williams was taking reps with the outside linebackers today
Coach Diribe gets on to Mykel Williams and asked him to do a rep over again
Marcus Rosemy, wearing his new number 1, cuts on a dime after catching an out, turns immediately up field, no defenders on this drill though
De'Nylon Morissette made an impressive sideline catch, toe drag and all
"Part of your conditioning's now," said Coach Smart as he encouraged his players to run when transitioning through drills.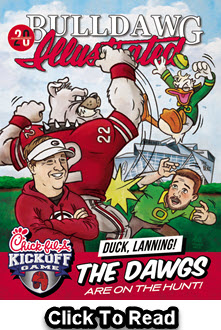 Clay Watkins' observations:
Marcus Rosemy is wearing number 1. The big wideout looks a bit like George Pickens with the same helmet setup the current Pittsburgh Steeler wears. He received praise from Coach B-Mac for his acceleration past a defensive back on an over the shoulder catch.
Ladd McConkey high-pointed a ball on a 25-yard go route, was a similar grab to the touchdown he scored in the right corner of the end zone against Vanderbilt last season. He might not be the biggest receiver on the field, but Ladd is one of the most talented. 
Kearis was talking a lot today, yelling things like "It's game week, let's go!" The 5th-year senior is proving to be a vocal leader on the offensive side of the ball.
Darnell almost knocked over a coach creating separation on a route. He continues to improve catching the ball and certainly is one of the most physical tight ends in the country. 
The starting offensive line remained the same with Jones, Truss, Van-Pran, Ratledge, and McClendon taking first-team reps. Expect them to be your starters come game one.
Kendal Milton looked fully fit and practiced fully. Expect him to be at full go and create a significant impact out of the backfield come Week 1.
The wide receivers also remained the same with AD Mitchell, Kearis Jackson, Ladd McConkey taking the first team reps with Bowers at tight-end.
Second-team wide-receiver reps consisted of Dominick Blaylock, Jackson Meeks, and Marcus Rosemy. Darnell Washington, Oscar Delp, and Ariq Gilbert rotated in at tight end with the second team.