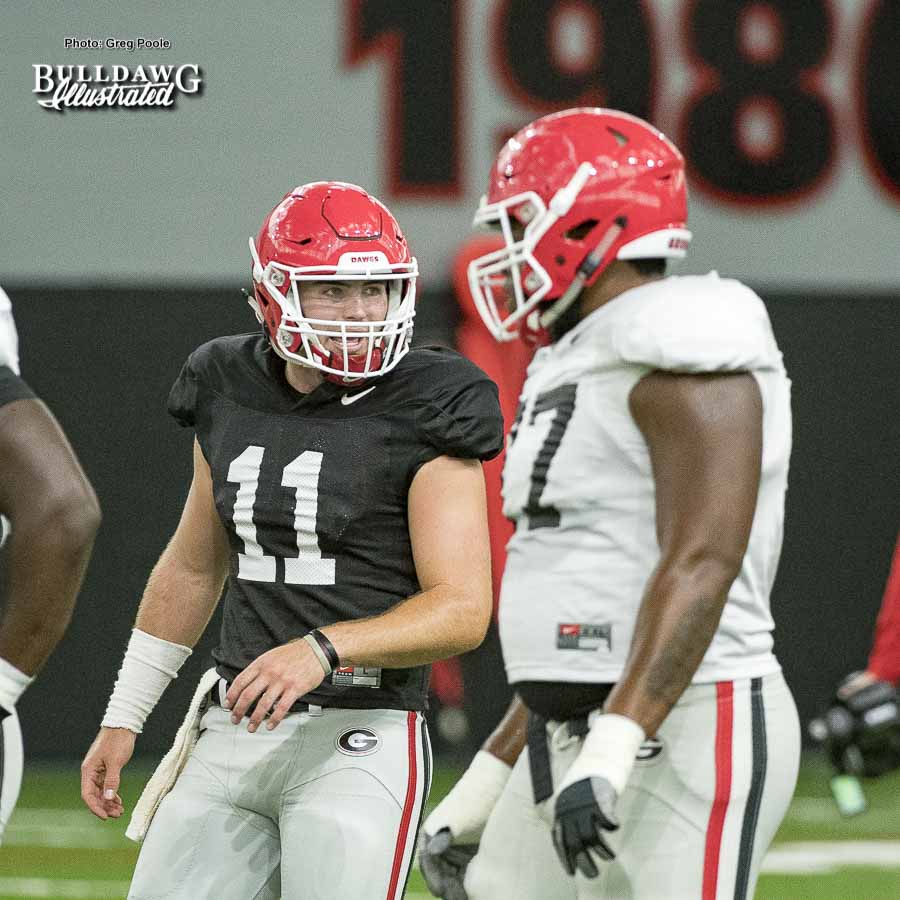 Georgia continued preparing for Notre Dame on Wednesday in the Indoor Athletic Facility. Head Coach Kirby Smart utilized noise machines through out the period and they had the volume so loud it seemed like it went up to 11. I thought this was interesting because it allows the team to practice in a similar environment they will play in on Saturday. The offense kept a high intensity while the media watched, and here are my takeaways from Wednesday's practice. 

O-Line: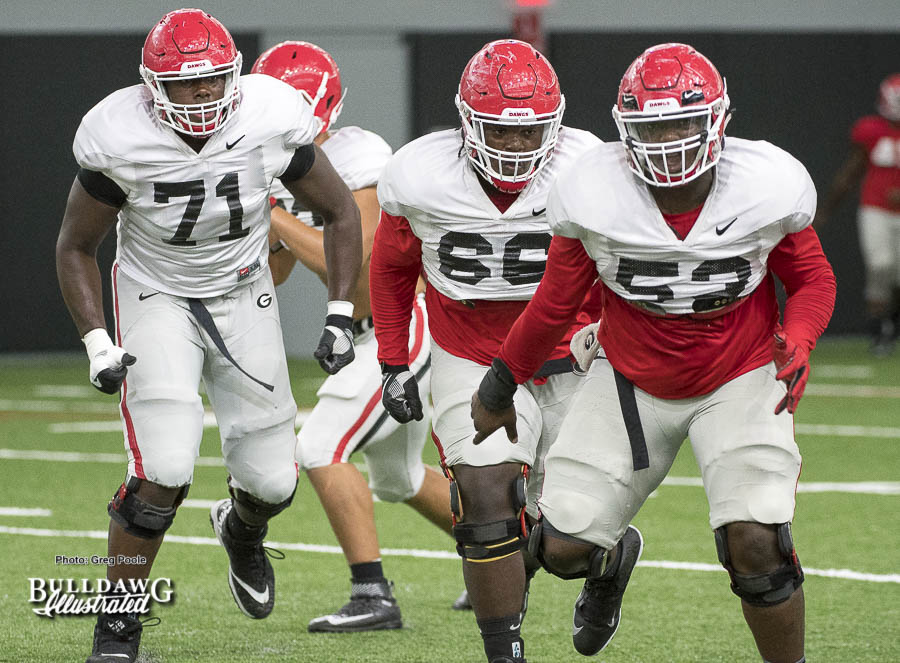 The offensive line started the media period with the other positions on the offense. The unit ran various schemes with Jake Fromm and other players. Jim Chaney and Sam Pittman praised the line loudly and made sure they let everyone know what they did that they liked. Pittman yelled, "yes! Good Good Good!"


After the offense broke into position groups, the line worked on blocking fundamentals. Then, Pittman had them work on double team drill, where once they blocked the first defender, the guard would swing and pick up the next player.


Georgia's ones went as follow, (RT)Andrew Thomas, (RG) Solomon Kindley, (C) Lamont Gaillard, (LG) Kendall Baker, and (LT) Isaiah Wynn. Kindley seemed to practice without any hesitation and stayed with the ones while the media watched. If the unit stays this way for Saturday, the game would mark Baker and Kindley's first career start.

Quarterbacks:


Fromm worked on the various schemes for the upcoming game and Chaney seemed pleased with his progress. While he threw to the wide outs during another drill, his passes were crisp and on point. The young quarterback looked confident and he appeared to pick up everything Chaney and coaches showed him.  Even with the noise machines echoing crowd noise, the quarterback made his quick throws and seemed unphased.


Fromm looks like he is continuing to improve and each player we talk to about him, have nothing but compliments for the true freshman. The youngster gets his first career start in South Bend on Saturday, and hopefully, the preparation he had this week will help him lead the team to a win.

Tight Ends/Wide Receivers: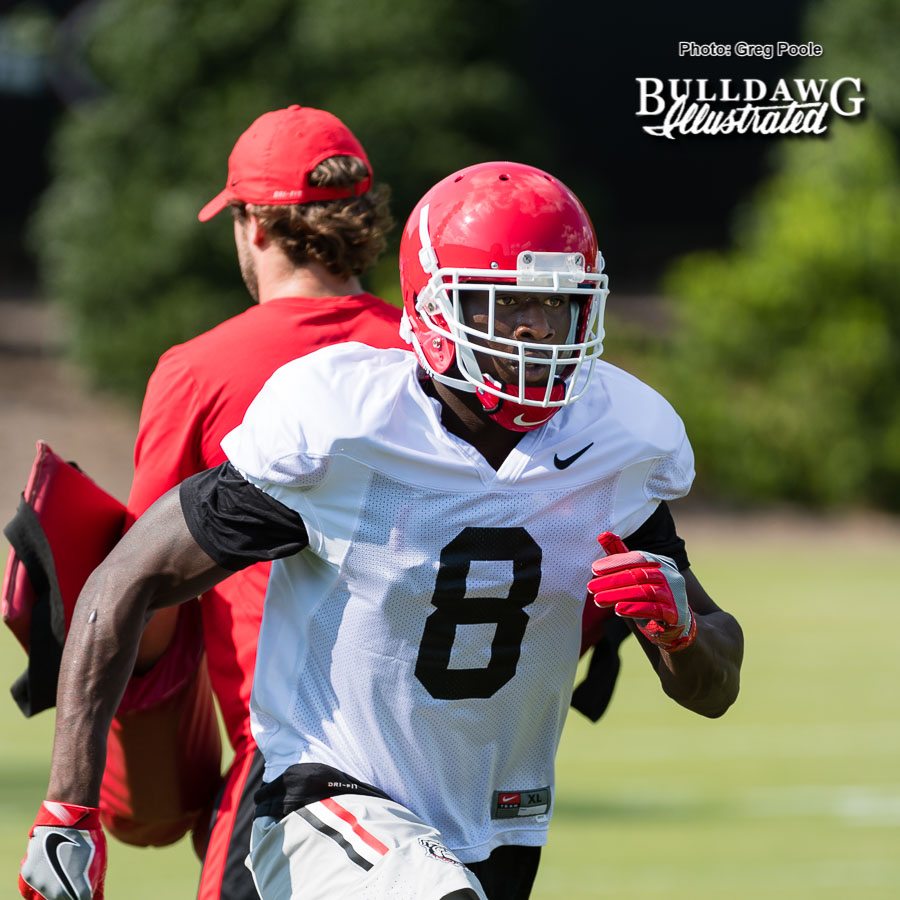 Isaac Nauta and Jeb Blazevich showed their leadership in their position group as they went first in every drill. They pumped up the other tight ends and made sure each guy knew the drill to perfection. Nauta's size just stood out to me. Every time I see him in practice I just think wow, he's a big target. I'm excited to see how this season plays out for the sophomore tight end.


As for wide receivers, James Coley praised Ahkil Crumpton, Javon Wims and Riley Ridley for their strong routes. I didn't see any of them drop a pass while the media was out there. Wims made a nice grab where he tip toed the side line and made sure he was in bounds. Crumpton made a catch that was a tad behind him but made sure he caught it as he fell.


Jeremiah Holloman continued to be limited in practice with his hamstring, and a trainer stretched him out while we were there. He has no limitations when he runs the drills but staying loose is a key for him.

Bits and Pieces:

Georgia utilized the noise machine through out practice, and boy it was loud. Even after the media period, I could hear the noise in the main building as we waited for practice to end and players to come in for interviews. NFL scouts from the Bengals and Rams were there and they watched the offensive line and wide outs. As Georgia continued preparation for Notre Dame, handling the noise seemed to be the main focus. Coach Smart made sure to have them work with the noise and wanted to see them play with ease like there was nothing going on around them. With only a few days left until the game, Kirby has his team preparing for every conceivable situation that the Bulldogs might face up in South Bend.


Check out Wednesday's Gallery Below:

After clicking on one of the thumbnails below you may:

1. View a full-size version of the image by clicking the top left corner of the photo.
2. Start a slideshow of the gallery by clicking in the bottom right corner of the picture.
3. Share with your favorite social media outlets by clicking the icons along the left side of the photo.
4. Download (free) or email the image by using the bottom two icons on the left of the picture.


[foogallery id="111423″]



Recent Articles by Savannah Leigh Richardson


[pt_view id="8722077nva"]