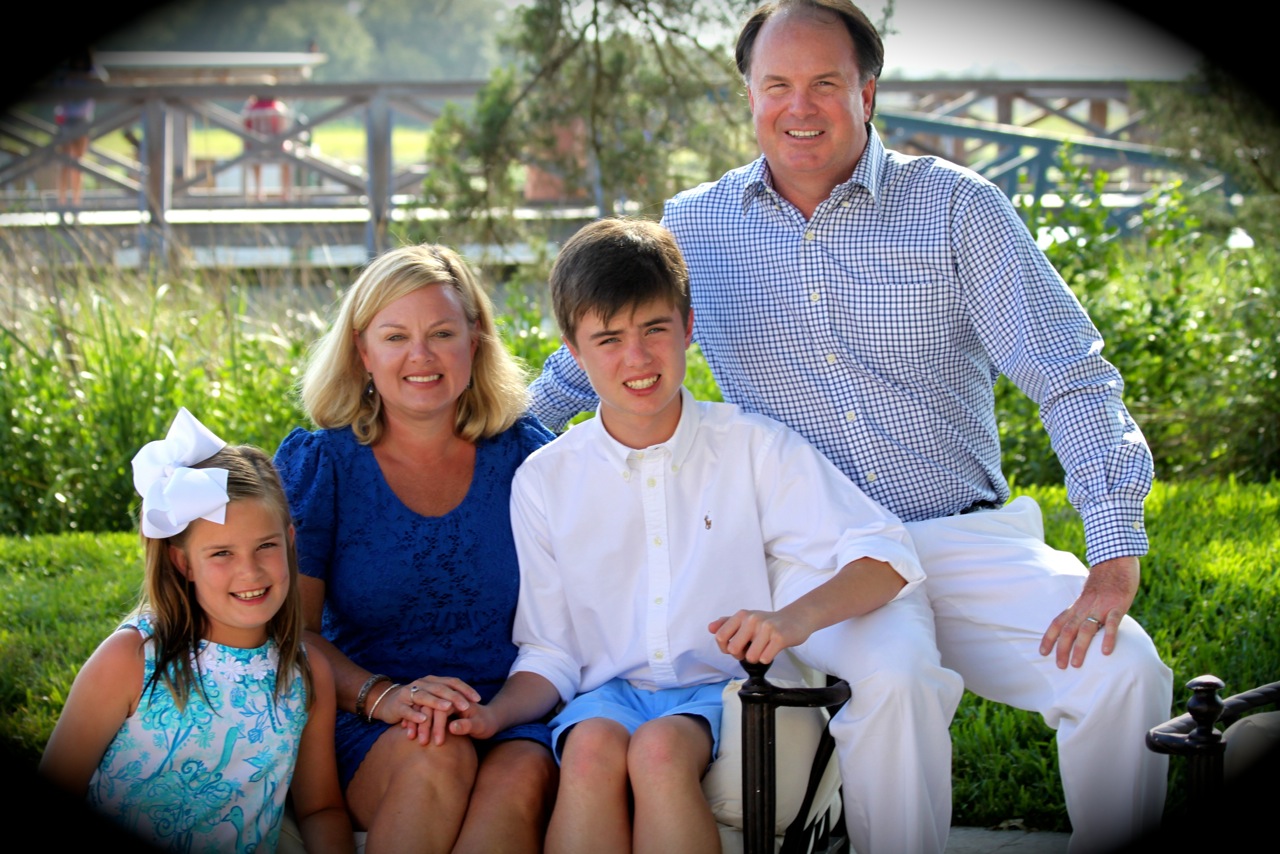 Name: Chip Champion
Family: Caroline (bride), Max (15), Mary Wallace (10)
Hometown: Saint Simons Island, Georgia        Current Town:   Saint Simons Island, Georgia
What Years at UGA: 1988-1992
School: Franklin
Profession: Financial Advisor Raymond James Financial Services/ Partner Champion & Magbee Financial Services
Accolades: 
– I was the first, last, and only (to this day) Teen King of Sea Island (1985).Trust me I have never lived this down, yet has given me great enjoyment to be able to laugh at myself.
-Most Likely to Succeed Frederica Academy (1988)…My mother is still in a depression I did not receive "best dressed".
-Best beard 1991 Kappa Alpha Order Old South
What life lessons did you learn while at UGA?
I owe a great deal to my time at the University. I met my wife, received a great education, and established some lifelong friendships. The University of Georgia and Athens really taught me self-reliance and to enjoy every moment of life to the fullest.
What professor did you most admire (and why)?
The very popular Dr. Charles Bullock. He had an ability to get to the point and breakthrough the rhetoric. A much needed trait in today's political world with the lack of leadership and vision to get things done in our nation's capital.
What do you consider your greatest achievement?
-Having my daughter Mary Wallace. Don't get me wrong. I love my children equally and boys are awesome but you know what I am talking about if you have raised or raising a young woman. Look out world!
-Loving what I do professionally by helping people achieve their financial goals.
-Raising a fifth generation of Champions in my hometown of Glynn County. A place I love dearly.
Which historical figure do you most identify with?
Two categories:
Bulldawg- Erk Russell DGD. I identify with his spirit and the love of Georgia football and the scars on his forehead from butting heads to fire up his players.I guess from my point of view hitting my head against the markets on a daily basis.
Political- President Ronald Reagan (ideology), Senator Paul Coverdale (heart), and Senator Sam Nunn (his ability to compromise and keeping his principles).
Who are your heroes in real life? 
My son Max. The kindness and positivity he exudes every single day makes me and everyone around him a better person and I am so proud to be his dad.
My wife Caroline of 20 years and counting.  Raising our children and putting up with me takes a lot.
My momma- She was Garden way before Garden was Gun.
Quotes to live by:
"If you wake up every day with a positive attitude you will be a successful person" – Roy Hodnett
"Wine is constant proof that God loves us and loves to see us happy" – Benjamin Franklin
"Always remember there is nothing worth sharing like the love that let us share our name" – The Avett Brothers
What is your idea of perfect happiness?
Waking up to a perfect Saturday fall morning to prepare for a day with family and friends.
Lighting up the Green Egg with racks of ribs, butts, and briskest in the early morning for later game day use or just calling Southern Soul for later pickup.
Head over to play my favorite golf course Sea Island Sea Side (home of the RSM Classic) for a morning round following pre game cocktails in the Men's Locker room.
Returning promptly to watch our Bulldawgs beat the Lizards … progressing onward to celebrate into the evening by cracking oysters and steaming shrimp while dancing on table tops on our way to a National Championship.
What is your most marked characteristic?
-I bleed Red and Black
-I wear my heart on my sleeve, but I am comfortable in my own skin.
-Having the natural abilities to hook a golf ball thirty yards off target and still at times get up and down for par or birdie on rare occasions. If you ever want to go on a safari on the golf course ride with me.  It is better than Disney.
What do you most value in your friends?
Honesty, loyalty, most of all kindness towards others and the willingness to have a damn good time when it is much needed.
If you could change one thing about yourself, what would it be?
I would have a head full of hair as thick and lustrous as my friend and UGA alumnus Gordon Strother.
Who are your favorite writers (and why)? 
One of the greatest southern humorist and writer of my youth, Lewis Grizzard. He was our Mark Twain.
Lewis's words could make you laugh out loud, think about old times, and feel as if you were at a Georgia tailgate on a crisp, fall afternoon drinking a bourbon and coca cola. You can't write any better than that!
Fave social media and who to follow (and why)?
I am on Facebook but I prefer Instagram. I do enjoy keeping up with friends past and present, but I wish we had more time in life too actually see everyone in person.
I follow just about every financial link out there but really enjoy following our local restaurants here on St. Simons Island. Southern Soul BBQ, Brogens, Marshside Grill, Halyards, Delaney's and Nazzaro's to name a few. For my college football fix, bar none my favorite is your own Bulldawg Illustrated. If you love the University of Georgia, you will always get the best game day coverage and true insight to how it feels to be a true DAWG.
-VIEW DIGITAL ISSUE HERE–
FOR RECENT POSTS BY CHERI LEAVY – click here