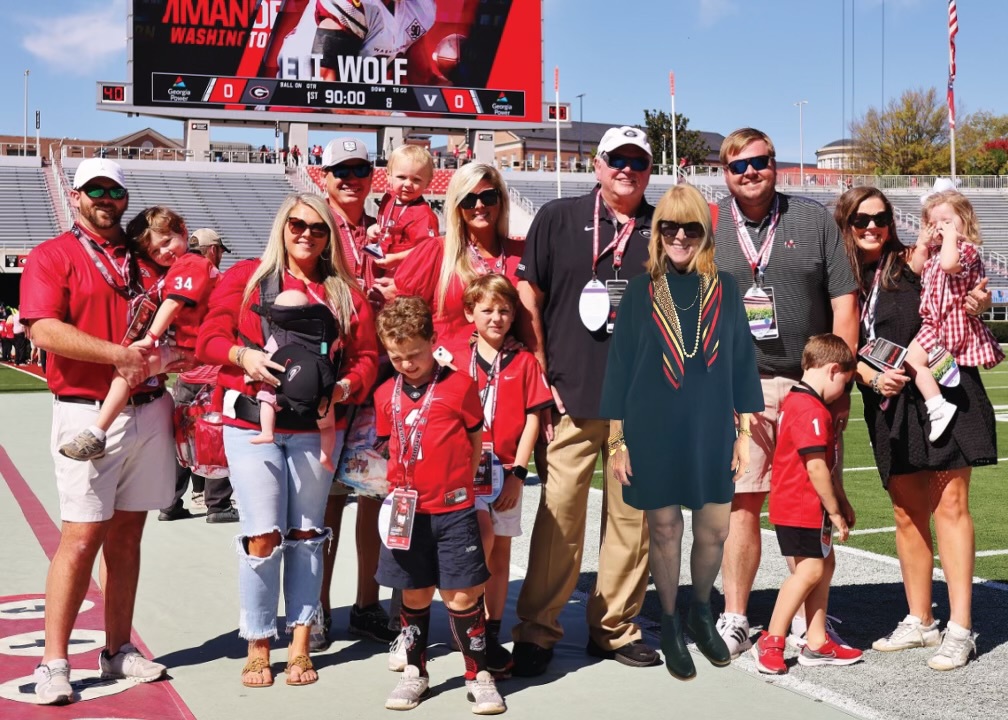 Name: Kevin "Catfish" Jackson
Family: Wife Libby; children: Elizabeth and Tyler Sumner, Kev and Kate Jackson and Mary Margaret and Thomas Cone; grandchildren: Jackson Sumner, Baker Sumner, Will Sumner, Trip Jackson, Sara Collins Jackson, Field Cone and Luke Cone.
Hometown: Cartersville, Georgia
Current Town: Savannah, Georgia
What Years at UGA: 1979-1983
School/Degree: Business Ed
Profession: Founder and CEO of Envirovac (since 1999)
Accolades: 
Three SEC Championships, one National Championship, Wally Butts Award.
Opportunity Award Man of the Year (Savannah Technical College 2020), Entrepreneur of the Year ( Savannah State 2020), Dancing with the Stars Peoples Champion (2013).
Currently sit on the boards of United Community Bank, SEDA (Savannah Economic Development Authority) past chairman and Savannah Technical College.
Past Board member of The Georgia Port Authority and The Georgia Lottery Board.
What life lessons did you learn while at UGA? Work ethic, punctuality, and communication skills.
What professor did you most admire? 
My coaches, Vince Dooley and Erk Russell were definitely the men I admired and respected the most. They role-modeled every day with leadership, tenacity, respect and love.
What do you consider your greatest achievement? 
My children.
Which historical figure do you most identify with? 
It is hard to select one, but I'll go with Theodore Roosevelt. He was one of the most remarkable presidents the US has had. His character was tough and brave. He led a charge against the Spanish in Cuba. He busted up monopolies that were hurting the common people, he built the Panama Canal, signed into law legislation that created 150 national forests, 51 federal bird reserves, four national game preserves, five national parks and 18 national monuments on over 230 million acres of public land. We need more men and women like him today.
Who are your heroes in real life? 
Police officers, firemen, doctors, nurses, emergency personnel and the military because these are the people that do for others every day.
Quote to live by: 
Success comes with hard work and determination! Do not be ordinary; be extraordinary! God gives us direction with His love, patience, joy, and forgiveness in our every step, and for this, we give Him all the glory. – Catfish
What is your idea of perfect happiness? 
All my family thriving and being happy and healthy.
What is your most marked characteristic? 
Determination and tenaciousness.
What do you most value in your friends? 
Trustworthiness and loyalty.
If you could change one thing about yourself, what would it be? 
Should have taken better care of my health.
Who are your favorite writers? 
No real favorite writers; not much time for social reading, busy reading current business articles, journals and community events.
Fave social media and who to follow? 
Instagram because it allows you to keep up with all your friends and your family