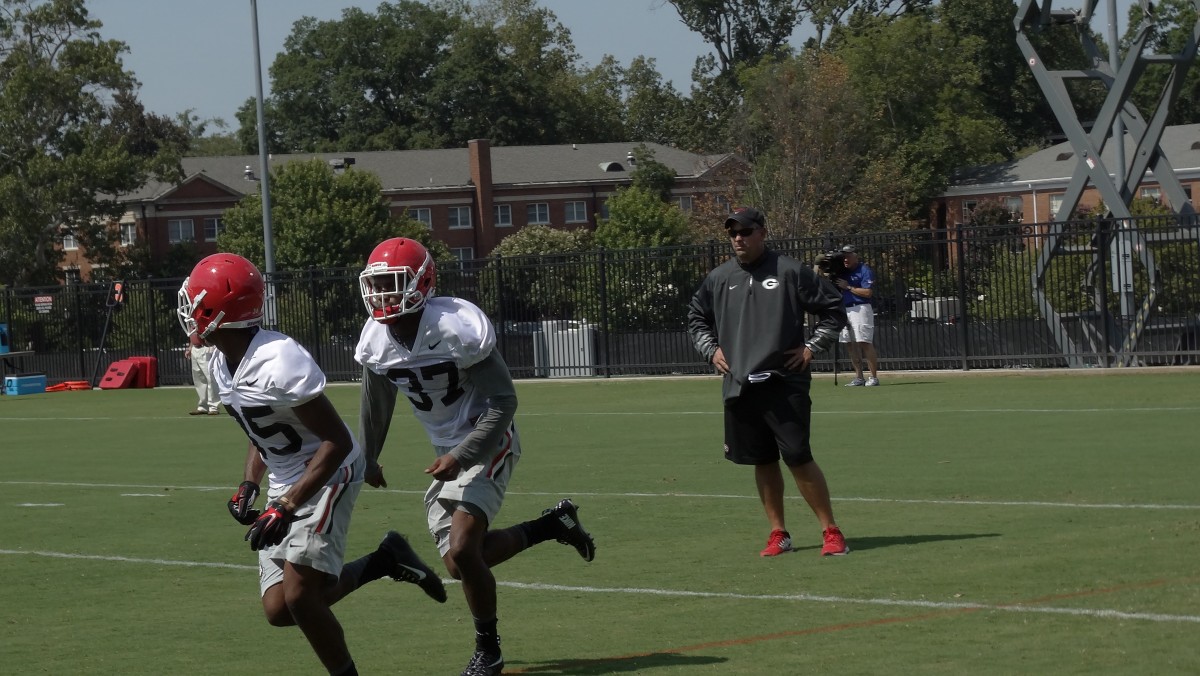 [su_spacer size="20″] Jeremy Pruitt made considerable improvement to the Georgia defense in his first season as defensive coordinator and, now, as Pruitt embarks on his second year of guiding the Bulldogs' stop-em gang, many in Bulldawg Nation think Pruitt is about to field his own version of mean, unyielding Junkyard Dogs.
[su_spacer size="20″]
But as Georgia gets ready to take the field for Saturday's high noon 2015 opener against the Louisiana- Monroe Warhawks, Pruitt says the Bulldogs have a long way to go before becoming one of the nation's top defensive units.
[su_spacer size="40″] "We have 17 new guys, 16 freshmen and one junior college guy and probably in the two deep there's going to be several of those guys so every day is kind of a Monday for them," said
Pruitt
following practice this past week. "But they've got good attitudes and are working hard at it."
[su_spacer size="40″] Although the Bulldogs return six defensive regulars from last season's 10-3 team, there will be new starters at the vital inside linebacker positions and there is also inexperience on the defensive front, where Georgia lost such players as Ray Drew, Mike Thornton and Toby Johnson. So, clearly, there's going to be some new faces manning the Bulldogs' front seven spots this fall.
[su_spacer size="40″] "We're very inexperienced, first of all," said
Pruitt
, pointing out he's not trying to temper fan expectations of his defense this season but is simply stating the facts.
[su_spacer size="40″] "You've got Jordan Jenkins and you've got Leonard Floyd,"
Pruitt
related. "Those are the two guys that have played a lot of football. Dom Sanders started every game last year and besides those three guys, there's a couple of guys who have started some games here but other than that there's not a whole lot of experience. We've tried to define our expectations for the guys daily and create goals they can accomplish each day. We're building and that's kind of where we're at right now."
[su_spacer size="40″] "We've still got guys jockeying for positions with the 1's, 2's and 3's so we're still two-spotting and we're going wide open. We're still in camp,"
Pruitt
said.
[su_spacer size="40″] Pruitt said Georgia's young defensive line is a work in progress each day. "They're grinding it out every day and are they where we need them to be right now, probably not, but they're working hard at it and we have confidence they'll get there."
[su_spacer size="40″] One of those young guys the Bulldogs are expecting to get major contributions from in the defensive front is 307-pound freshman, Trenton Thompson, the Westover High of Albany product who was ranked as the No. 1 defensive recruit in America by some recruiting services. But even with the talented Thompson, Jeremy Pruitt isn't ready to dish out a bouquet of accolades.
[su_spacer size="40″] "You know, along with all the freshmen, these guys are learning a new defense and the step from high school ball to college ball is a big jump, just a daily grind … what's asked of them from meeting standpoints," said
Pruitt
. "Not just him but all the guys, they're working hard every day and they're making progress. My expectations for him is the same for all the freshmen, just do their best every day.
[su_spacer size="40″] "We lose three defensive tackles (from last season) and we add six defensive linemen," he continued. "They're not all defensive tackles, there's some defensive-end type bodies in there we're having to kind of plug in to be defensive tackles right now. So I guess if you plug in six and lose three but the quality vs. quantity, we'll have to figure that out as we get into game mode.
[su_spacer size="40″] "We signed Trenton Thompson; we signed DaQuan Hawkins, Jonathan Ledbetter and Justin Young. But Ledbetter is 260 pounds, Chauncey Rivers is 265 pounds and Justin Young is 265 pounds. So those guys are going to get bigger. They're more defensive ends instead of defensive tackle bodies."
[su_spacer size="40″] Pruitt says the coaches are always working to get the best 11 football players on the field and it may take several games to determine which players are going to meet the test under fire.
[su_spacer size="40″] "We're just trying to get our best guys on the field, just trying to figure out who they are," he declared. "We've got some guys in Reggie Carter and Timmy Kimbrough and Jake Ganus who have some age on there that could play inside backer. And (Davin) Bellamy and Jordan Jenkins and Lorenzo Carter who could play outside backer, and (Leonard) Floyd could play either/or so we're just trying to work combinations to figure who the best players are."
[su_spacer size="40″]
Is Jeremy Pruitt Tamping Down Expectations?
[su_spacer size="40″] For more articles like this, including player and fan photos as well as videos, check out Bulldawg Illustrated's 2015 Season Opener digital issue:
[su_spacer size="40″]
Bulldawg Illustrated