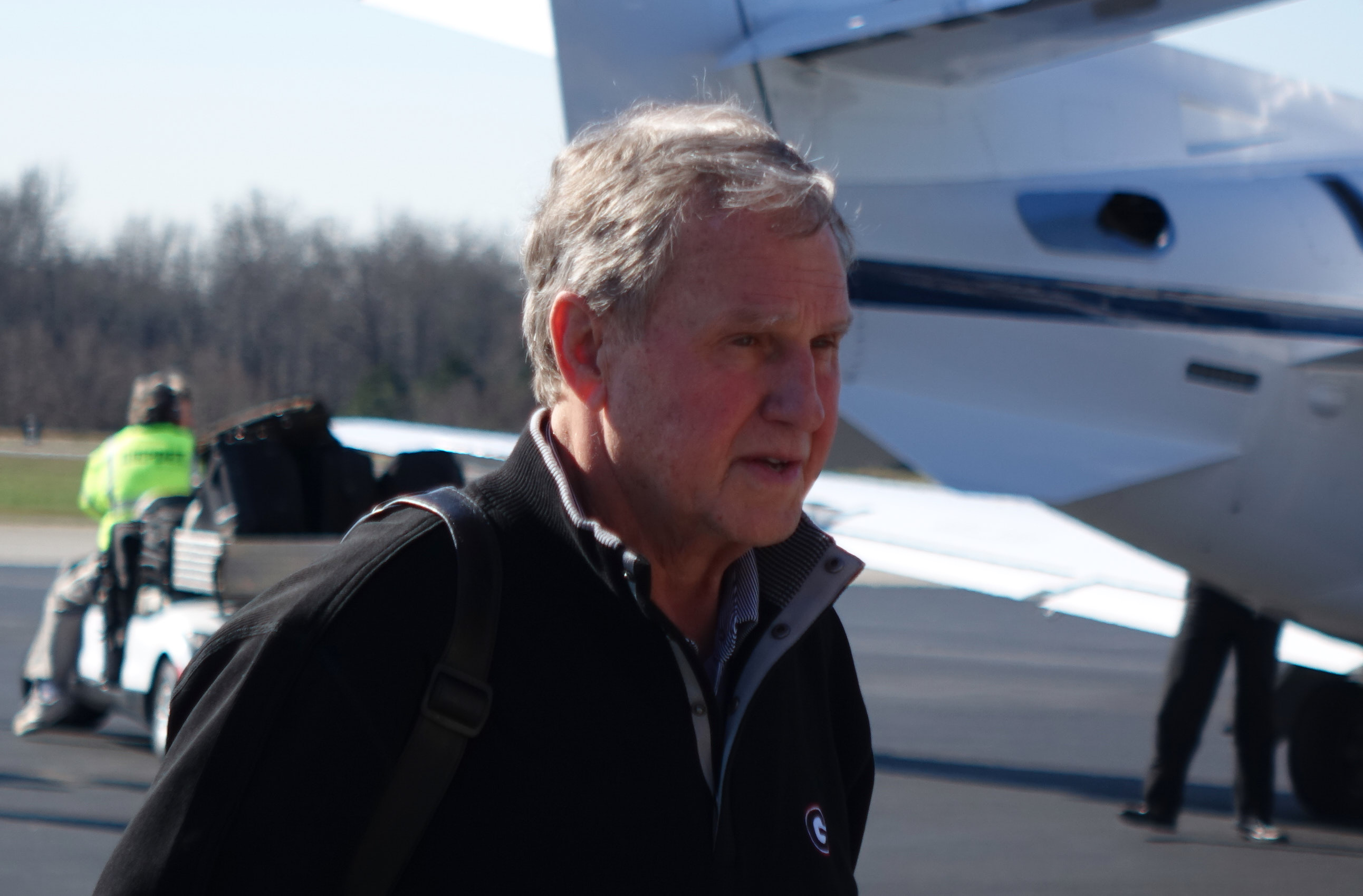 Mike Cavan has been a vital part of Georgia football's past, and now he holds yet another important role in the DAWG NATION! This past week I had the opportunity to interview him, and we became fast friends.


How did you get your start as a player?


"I grew up in Thomaston, GA, where my dad was the high school football coach. I grew up playing since 1st grade. I played all through school, including high school. Football was just a "natural fit" for me. I was so blessed to play for my dad. He was a great man, great coach, and a great father to me."


After College what did you do, and what brought you back to Georgia as a coach?


"After College I told my wife, I was burned out. So I joined the real estate business. It happened to be with Leroy Dukes. (Leroy Dukes was Vince Dooley's first captain at Georgia in 1964. His son David Dukes, Athens businessman and former bulldog punter and quarterback, is Hammy's uncle.) Two years went by and I went back to work at Georgia. It was 1973 and I worked as a Graduate Assistant in the football program. Two years later I worked fulltime job as a recruiter and Dooley's assistant."


Tell me a little bit about recruiting Herschel Walker?


We were lacking a tailback, and we weren't a "throwing team," so we definitely needed him. A tailback was the missing piece. In previous years, we had lost 3-4 great tailbacks that were from Georgia. At the time we didn't think Herschel was as big of a deal as us getting Lindsay Scott, because we weren't a throwing team and he still chose us. Lindsay went on to be a 1st round draft pick, so for a non-throwing team to get a wide receiver of his caliber was a huge deal. Little did we know what Herschel would do."


Did you immediately know you had a Heisman winner on your hands?


"Noooooooo! Nobody knew Herschel was going to win a Heisman. I will say he and Bo Jackson were the biggest and fastest backs I've ever seen. Eric Dickerson might be up there, but the thing that separated Herschel was his heart. He was always practicing and pushing himself. He was a true warrior. He averaged 30-35 carries a game, and in today's college football that never happens. It's unheard of! Once he got here, and we saw his performance, we knew there would be a Heisman in his future."


Do you have any interesting stories from your three head coaching positions?


"My first year at Valdosta State I had the opportunity of coaching Jessie Tuggle. You talk about a warrior. Whew! He was awesome. He played linebacker and could bench-press about 550 pounds. One night I was at a banquet, and I was seated next to Marion Campbell, the Falcons coach at that time. The entire banquet, which was about two hours, I begged Coach Campbell to take Jessie. He kept saying no, but I kept asking. Finally he said, 'FINE! I'll take him as a free agent if you stop talking about it!' Jessie's jersey is now retired and was one of the best Falcons of all time."


"At East Tennessee State I coached some special kids. I had a great time up there. When I got up there in mid-December, it was freezing outside. Snow was on the ground and we were about to start spring workouts. The second day I was there, the headlines of the paper read "EAST TENNESSEE STATE TO GET RID OF FOOTBALL." I was pretty confused by this, but football stayed and we played. One season we only lost once and it was to Marshall. We went on to play in the 1AA playoffs. We beat Villanova, then went on to play in Montana, but lost up there. Like I said, I coached some great kids and I love them all."


"I went on to SMU in 1997. My first year there we went 6-5. It was the 1st winning season since the death penalty, which took effect in 1986. I left SMU in 2001 and came back here to work under the Athletic Director, Vince Dooley. I then worked under Damon Evans, and after Evans, Greg McGarity. Now that Kirby has come back. I'm back in the football business."


In the past, were you hired to recruit?


Everyone was hired to coach and recruit, so everyone recruited. We were sometimes labeled as a good coach or a good recruiter, and I guess I was labeled as a good recruiter. I loved recruiting and coaching. I coached the running backs and I loved the job and I love the players too. The name of the game is, "You get them, you coach them."


During your recruiting years, who was a recruit who you've kept up with?


It doesn't really matter what position they were, if you recruited them you wanted to see them grow and succeed. I've kept up with a lot of the running backs I've coached because they were my guys, and I was with them everyday. I also try to keep up with the others because I got them to Georgia and I wanted to see them succeed and know where they were going. I mean I've kept up with Tommy Thurson and Jim Blakewood. I just love watching them grow. Matt Simon is another one I've kept up with. I just love them all.


What high school in Georgia seems to be putting out the most talent?


I can't say one specific high school, but the high schools in Georgia are as good as anywhere in the country. The quality in coaching is better, the quality of the players is better, and everything is better than ever. The things that the coaches are doing at the schools here are great. We can't sign everybody though, so we just have to keep our heads up.


Do you remember a recruit that you worked really hard on that chose another school?


Off the top of my head, I think of Andrew Province. He was a defensive lineman that chose South Carolina. Part of recruiting was missing out on players, so we just kept our heads up and kept looking for more.


What player was a major surprise, who was really good, and no one expected it?


I'd have to say Terry Hoage. Coach Steve Greer and I went up to Huntsville, TX. He was a Safety/Quarterback, and we really liked him. We came back and sent our secondary coach, Bill Lewis, to check him out. He really liked Hoage, and Hoage liked us. We redshirted him his freshman year. In practice, he was knocking down anything and everything. It was the 1980 championship team, and we were getting ready for the Sugar Bowl. We ran a full speed special teams practice. We were kicking game situation field goals in practice, and the first 3-4 we kicked were batted down. Terry was responsible for every single one, so Coach Dooley finally said, "He's going with us to the Championship." He ended up blocking a field goal during the game and changing the tone of the game. The next three years he started, and was an All-American twice. He went on to play in the NFL for six different teams over the course of twelve seasons.


As a player or a coach, is there a standout game to you?


As a player in 1968, we were SEC champs. We beat Florida in a special game. I don't think we had ever beaten Florida that badly. We won 51-0.


As a coach in 1980, we beat Tennessee 16-15 after coming back from a 15-0 deficit.


What is your favorite away game or stadium?


Probably LSU. I've only been once. It was in 1978 and we won a huge game, 24-17.


Were you involved in bringing Kirby home? And would you consider yourself Kirby's right-hand man?


"No, but I sure am glad he's back. He doesn't need a right-hand man. He is so well equipped for the job. He's come home. The fan base is so ready. It's the best I've seen in a long time. I'm excited. I want to see another national championship even though it may not be this year. We should strive for it every year and push ourselves."


Of the five Georgia players recently drafted, who do you think will be a stud?


"I think Malcolm Mitchell could do well if he stays healthy. Leonard Floyd will do great. He just needs to get a little bigger. Keith Marshall will be interesting to watch since he didn't play much last year. John Theus also has chance to do great things. Jordan Jenkins will do well if he develops."


Tell me some stuff about your family, and will the Cavan football legacy be continued?


Well my oldest brother went to Tech in 1961, and played under Bobby Dodd. I played for Dooley. Then my youngest brother went on to play for Bear Bryant at Alabama. My son didn't play football, but is a great golfer. My daughter lives in Texas with two kids. Her daughter is three, and her son is eight. He plays some sports, but you can never tell what they will do at that age.


What are some little known, interesting facts about you? (Football or non-football)


I enjoy golf. I've played it all my life. I love to hunt. I love my church. I'm a proud born again believer in Christ.


Finally, what are your predictions for the 2016-17 Dawg season?


"Ohhhhhh I see, you are putting me on the spot. Well, everyone needs to know that there was a needed change. Also we need more depth and more players. Kirby and his staff know this. We have a ways to go, but we'll get there. I have a strong belief we'll be back in the championship soon."


Coach Cavan is so fun to be with. He treated me like he had known me my whole life and we had just met. Amongst many other titles, Coach Cavan has recently been named the Special Assistant to Head Coach, Kirby Smart. When I asked him what his new role entailed, he replied, "Hammy, I really have no idea what that title means, but I'll take it."


Hamilton Culpepper is a rising 9th grader at Prince Avenue. He is a diehard Georgia fan and an aspiring sports announcer/writer.


Click here to read Bulldawg Illustrated's 2016 Season Preview: Attack the Day
---