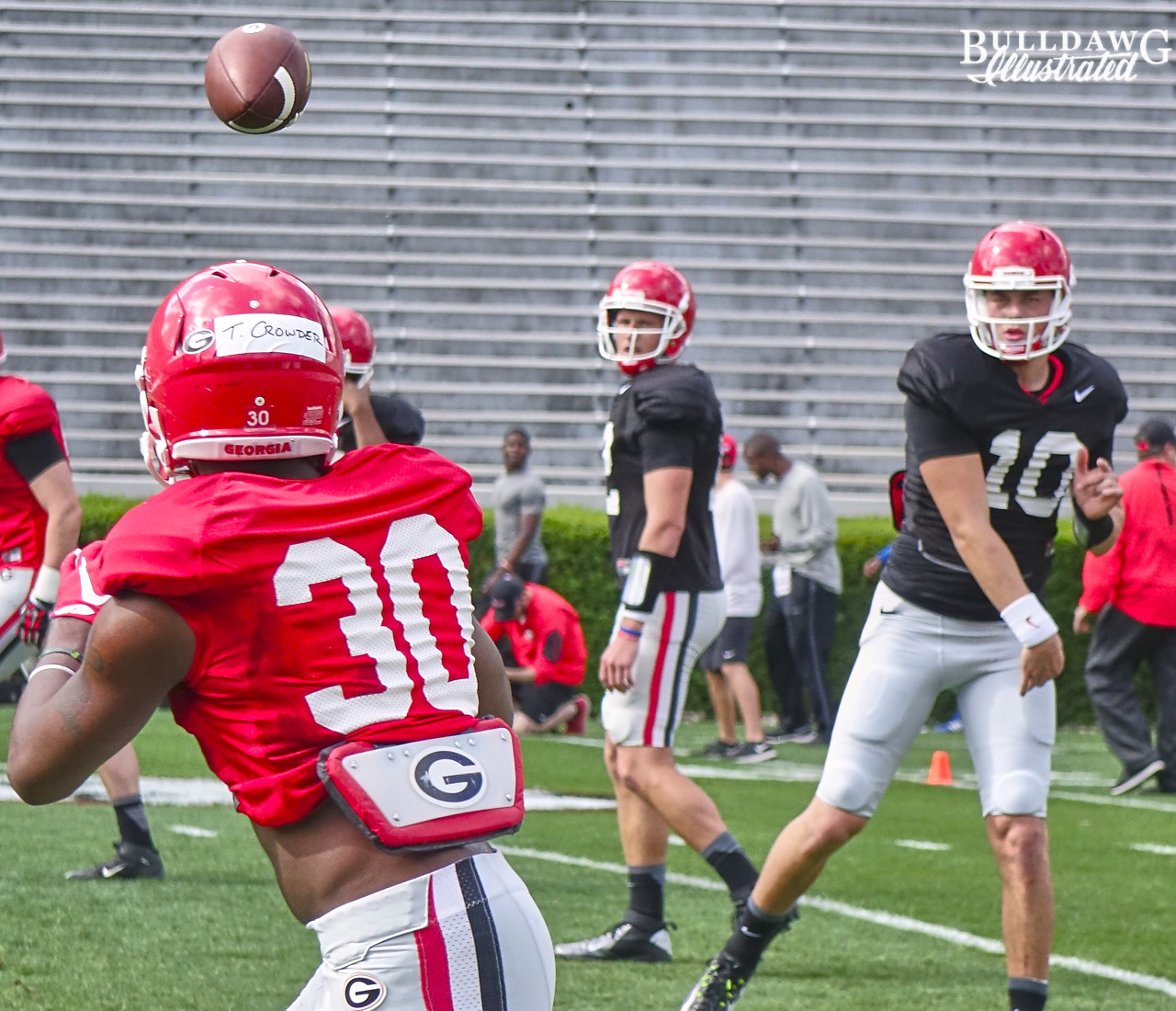 Besides the natural curiosity of wondering what new head coach Kirby Smart and his revamped assistant staff were going to bring to the Georgia football table, Bulldog fans were really zeroed in on the quarterback picture in this year's spring practice.


Would it be the incumbent, rising senior Greyson Lambert? Would it be rising junior and last season's backup, Brice Ramsey? Or, would it be the much ballyhooed incoming freshman, Jacob Eason, who would do a leap-frog over Georgia's two veteran QBs and wrest the starting assignment for the 2016 season opener on Sept. 3 against North Carolina?


And it goes without saying, every move by the three signal callers during the spring sessions was heavily scrutinized by the media and UGA fans. As the coaching staff and present team players welcome the rest of the incoming freshmen and junior college transfers for summer off-season workouts, here is what we do know about the Georgia quarterback battle:


That Lambert did some very good things during the 15 spring practices and continues to display an outstanding control of the offense when he's on the field. That Ramsey, getting new life under Smart and new offensive coordinator Jim Chaney, made a big leap forward in the spring drills. And that Eason more than lived up to his billing of No. 1 prep quarterback in the country by exhibiting a powerful passing arm and subsequently throwing for 244 yards and a touchdown in the April 16 G-Day Game.


Smart, midway of the spring workouts, had good things to say about all three quarterbacks, elaborating on each player's strengths as follows:


Lambert: "Greyson handles the offense so smoothly. He communicates really well, he's probably the most mature and he handles the huddle really well, which is important in a pro style system, to be able to communicate, fix people who are broke, do the right things, so he does a nice job and he's very level headed, not real emotional."


Ramsey: "He's thrown the ball, he's made some impressive throws and he's made some plays with his feet which is critical from differentiating him from the other guys. He's had a couple of opportunities in two-minute drills to take off running, to create a little bit of space if the rush breaks down and take off running. There are certain coverages on running quarterbacks you can't make and if you try to make them on him he can expose you, he can take off running."


Eason: "Jacob has really come along well, he's progressed and has picked up the system. He's made some very, very good throws and he's made some bone- head throws that look like he should still be in high school, which technically is where he should be right now.


He's flashed at times. It's an interesting race because each guy has a different dynamic and brings a different dynamic to the table. We've got to decide which dynamic fits our team best.


"Each one of them can throw it," Smart continued.


"Some throw it better than others. Some make better decisions than others and some handle the huddle better than others. We've got to sit down and figure this thing out in the first 20 or so practices (in the preseason) to start dissecting who the guy's going to be," said Smart, adding that each of three candidates' ability to communicate "is probably the No. 1 thing," a quarterback needs.


"If you have one guy that can fix a guy on the line of scrimmage, can say it right, it just takes so many errors and self-inflicted wounds out of the problem if you can just communicate," he said.


"Some guys do that better than others. There's a lot of value in that."


Smart said Eason's command of the huddle has been better than the Georgia coaches first anticipated.


"I won't say he's better than the other two but he has been better than I anticipated,"


Smart said. "He's been able to enunciate, get his wristband right and be able to speak and command the huddle, so he's done a good job with that. I think the other players have helped him with that because they see the fact that he should be going to the prom right now but he's out there competing at a high level."


Smart said there's no question that the nearly 6-6, 230-pound Eason, who completed 19-of-29 attempts in the spring game including nailing his first four passes, has all the tools to become an outstanding SEC quarterback.


"Right now, obviously the young man has a great arm talent," said Smart. "But sometimes arm talent can get you in trouble if you make poor decisions. We're trying to make sure he's doing the right progression, the right check, throwing the ball to the right place. He's had several times where he threw it to the right place, where he made a hell of a play. You don't want to take that out of the guy. You don't want to over-coach the guy. And I think Coach Chaney does a great job. I sit in some of those meetings and he tells him, 'Hey this is not really where you're supposed to do it, but you did a great job.' So as he earns that, he'll get a chance hopefully to move up and get a chance with the ones."


Along that line, the Georgia coach did say he wanted Ramsey, who passed for 224 yards on G-Day while completing 16 of his 25 attempts, to have more of a presence and become more assertive in guiding the offense.


"I want Brice to manage the huddle a little better, be more efficient, get the call out, get to the line faster," Smart said. "I think Greyson's doing a nice job of managing the huddle right now, the call and executing the play. He's gotta be a little more mobile in the pocket. He's gotta be able to create a little bit more and get out of there and make some throws. There's been a couple times where I thought Greyson was going to stick his head and shoulder above the pack, and then maybe he makes a poor decision," Smart said. "Then Brice makes a play. Then Jacob makes a play."


Smart says the quarterback competition "almost has to" carry into preseason practice in August. But at the same time, he's hoping one of the three will soon establish himself as the clear starter for Georgia.


"It's frustrating, because I think we would rather have a guy take the leadership role and take the bull by the horns," Smart said. "But it seems like every time a guy takes a step forward, he makes a poor decision and comes back.


"The guy that starts the game against North Carolina will be the guy that gives us the best chance to win the game," Smart elaborated in his press conference following G-Day. "And if that's Jacob Eason then it'll be Jacob Eason. But it may not be. And our fan base — just like we said, come out and support us – they're gonna support us whoever our quarterback is. That fourth quarterback (walk-on Nick Robinson) did a pretty good job, didn't he? Y'all gonna talk about him?"


Rising sophomore Terry Godwin, projected to be the Bulldogs' leading receiver this coming season, said Eason's sterling performance before a record 93,000 fans during G-Day, was no surprise to the rest of the team.


"We've been watching him grow all spring," said Godwin. "That's normal to us, he came in doing that. But it was something special to see him go out there and have a great day. But all three of our quarterbacks throw a great ball, with speed on it. So it's all the same to us (receivers)."


Ought to be a fun ride for Bulldawg Nation … getting to observe how Lambert, Ramsey and Eason progress in the hot days of August summer camp and then see who first trots out onto the field of the Georgia Dome against those Tar Heels.



Click here to read Bulldawg Illustrated's 2016 Season Preview: Attack the Day
---