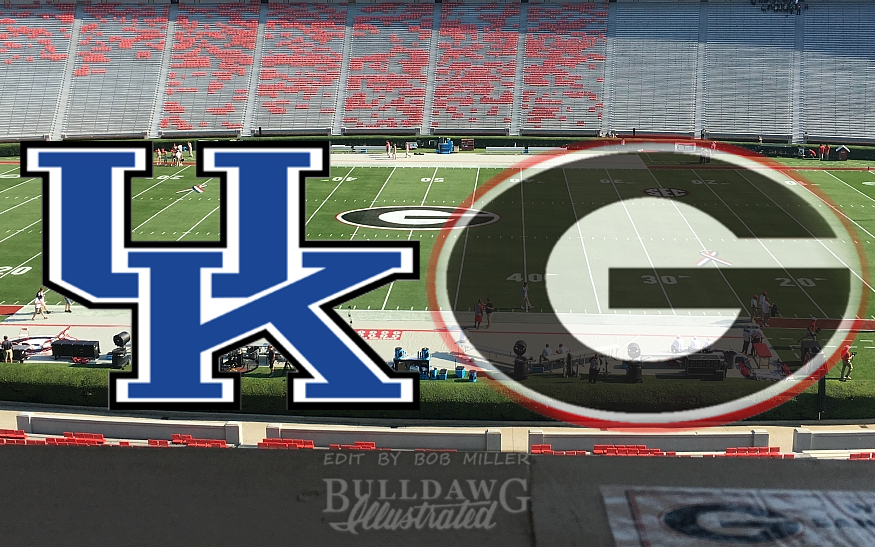 I said the Georgia-South Carolina game was going to be a reasonably close one, predicting the heavily-favored Bulldogs to triumph just by 14 points, at 31-17.
And it was a tight football game but while I didn't forecast a Bulldog blowout in that game – as many observers did ­– I surely didn't envision what happened this past Saturday between the hedges at Dooley Field at Sanford Stadium.
I didn't ever think the then 2-3 and unranked South Carolina Gamecocks would leave Athens having whipped third-ranked Georgia, which was riding high at 5-0 on the 2019 season. But as we all know, that's exactly what happened. The Bulldogs and quarterback Jake Fromm uncharacteristically turned the ball over four times, Rod Blankenship missed two field goals, Georgia couldn't score but two touchdowns all afternoon and, yes, the Bulldogs' coaching staff also played a big role in the team's lack of accomplishment against the visitors from Columbia, S.C.
Hello …. South Carolina 20, Georgia 17!
Certainly, one of the more dismal days in the history of University of Georgia football.
But, you know what, that was one game, one football game that is now in the rearview mirror. Or should be for the Georgia players themselves and also the Bulldog fan base. All those that are now jumping off the UGA bandwagon, like rats on a sinking ship, should go right ahead and do so.
The good thing about a football season is that Georgia has another game coming up Saturday, the Homecoming tilt with the Kentucky Wildcats. And after the 'Cats and then the second open date of the season, I believe the Bulldogs have consecutive games with Florida, Missouri, Auburn, Texas A&M, and Georgia Tech. Isn't that plenty of opportunity for Kirby Smart's team to bounce back, rectify itself and climb right back into the race to Atlanta and the SEC Championship Game?
Thing is the same Georgia team that earlier defeated a Top 10 Notre Dame team is plenty talented enough to whip any one of the coming foes I mentioned above. Bottom line, don't write these 2019 Dawgs off just yet. It tickled me when I saw one ESPN analyst exclaim this week, "Georgia is done!" …. Yeah, right!
But of course the next step for the Bulldogs isn't the Florida Gators, it isn't the Auburn Tigers. It's the Kentucky Wildcats who prowl into Athens for Saturday's 6 p.m. kickoff with a 3-3 mark and a quarterback who simply ran wild last weekend in the 'Cats' 24-20 win over Arkansas.
That would be Kentucky's jack-of-all-trades, Lynn Bowden, Jr. Moved to quarterback two games ago when starter Sawyer Smith was injured in a loss to South Carolina, Bowden lit up the Razorbacks by running for 196 yards and two touchdowns and also completed 7-of-11 passes for 78 yards and another touchdown. He was named on the Mid-Season All-America First Team by the Associated Press this week as an All-Purpose player, being Kentucky's leading receiver as well as kick returner before taking over the QB reins.
So once again, the Georgia defense has its work cut out in hemming up Mr. Bowden. On this week's SEC Teleconference, I asked Kirby Smart if the Bulldogs had faced a running quarterback as good as Bowden since Smart has been at Georgia. Kirby said emphatically, "No!" He said some of Georgia Tech's quarterbacks in the triple-option offense were probably the closest to Bowden's talent keeping the ball. And as you know, the Bulldog defense has faced the likes of Alabama's Jalen Hurts (now in the Heisman race at Oklahoma) and Texas' Sam Ehlinger in the past calendar year.
Smart said Bowden calls his own number on designated rollouts and also is most dangerous coming out of the pocket when he drops back to pass, thus keeping defenses off balance and in a guessing game when the 'Cats offense breaks the huddle.
But while Bowden should make some plays for the Big Blue Saturday, I look for the Fromm-led Georgia offense to make many more. After the stunner against Carolina, it would be most startling if the Bulldogs don't come out with a tunnel focus and take care of business against this Kentucky bunch. The turnovers from the SC game should be cleaned up, D'Andre Swift and the UGA running back corps should enjoy one of their most productive days to date, Fromm and his receivers should be in complete sync once again and, yes, that Bulldog defense should clamp down on Bowden and the UK offense as the game moves into the second half.
And Georgia will win again. The Dawgs go to 6-1 and then begin thinking of Jacksonville, with a 49-14 pasting of Kentucky.