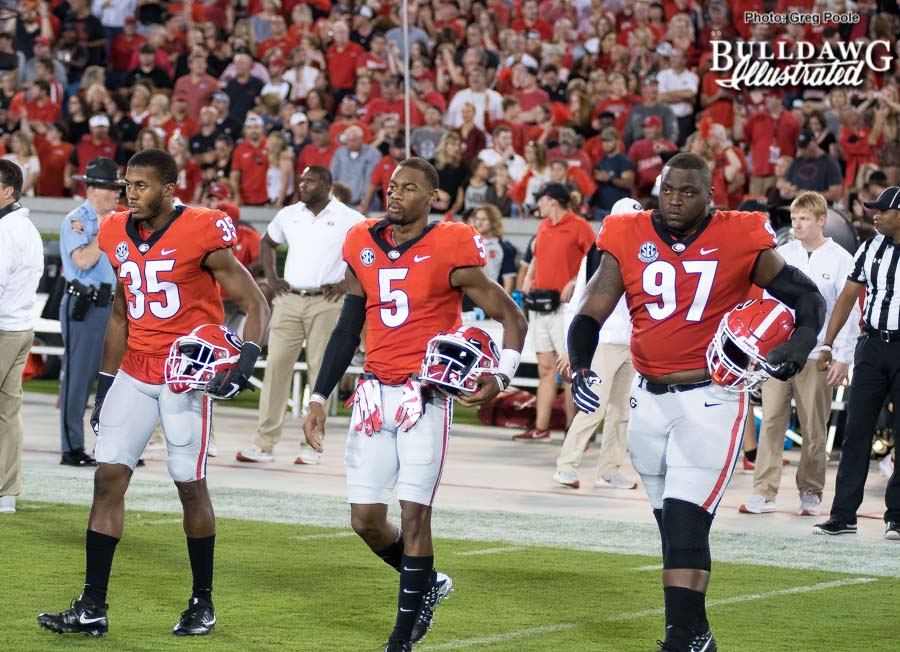 This Georgia football team is off to one of its best starts in the past decade as it is undefeated and sits ranked third in the AP poll, but they still have work to do.

The Bulldogs have had a tremendous start to their season, but it could be argued that their schedule will only continue to get more difficult after the BYE week. They should be favored in their remaining games, but these wins will not be easy to come by so here is my ranking of the degree of toughness for the Bulldogs remaining opponents.


5. South Carolina Gamecocks

The Gamecocks have had an up and down season thus far, but the play of their quarterback could give them a chance against the Bulldogs. Jake Bentley leads this South Carolina team and he has the ability to move his offense down the field as he is third in the SEC in passing yards with 1,585 yards while throwing 12 touchdowns and 4 interceptions.

However, the Gamecocks do not have much of a running game as their leading rusher is 20th in the SEC and as a team, they rank 114th nationally. Bentley also does not have but one main target and also does not have as many playmakers as Drew Lock at Missouri, who gave the Bulldogs trouble early on over the weekend. The Bulldogs should win this game because they should be able to zero in on Jake Bentley. While he may not throw many interceptions, he has been sacked the second most times of any SEC quarterback this season.


4. Florida Gators

You can never underestimate any team when they enter Jacksonville for a battle between the Bulldogs and Gators. With this matchup, it is often said rankings can be thrown out because these teams will do everything they can to wreck each others' season. With the Gators still missing a ton of weapons on offense, it could almost be argued that this team is the least talented of all the teams that Georgia has left on the schedule.

However, this rivalry always produces classic games and David bringing down Goliath could occur at any time. The Bulldogs should be able to outman and outmuscle this Gators team as Nick Chubb and company will be relied on heavily in this matchup. The Bulldogs will be tasked with stopping the very mobile quarterback Feleipe Franks, but with the team getting healthy and the probable return of players like Reggie Carter and Trenton Thompson on the defense, this should be no problem.


3. Georgia Tech

This will be two teams battling strength on strength as the Bulldogs stout rush defense, which ranks fifth in the nation, will try to combat the Yellow Jackets stellar triple-option rushing attack, which ranks third. However, the Yellow Jackets are not too shabby on defense either as they rank 26th in the country in stopping the run.

The Yellow Jackets will not lay down easy and with a shot at ruining what could be a perfect season for the Bulldogs if they are undefeated by the last game, they will give Georgia all they have got. However, Chubb mentioned the Yellow Jackets defeating Georgia last season was a huge motivator for his return so I expect him to have a big day as he leads his team to victory.


2. Kentucky

This Kentucky team is continuing to show improvement year in and year out under the direction of Mark Stoops and they are one of the most underrated teams in the country, in my opinion. If it were not for an unfortunate last eight minutes of play against the Gators, these Wildcats would be undefeated. This team has a great rushing attack that is led by Benny Snell Jr. who is tied for sixth in rushing yards in the SEC and also the team's dual-threat quarterback Stephen Johnson, who is seventh in passing yards in the SEC.

This team has a balanced offensive attack and a defense that is 10th in the nation in stopping the run. The Bulldogs will have their hands full with this Wildcats team, but they have shown the ability to stop much better quarterback and running back tandems as well as combat good rush defenses. This may be the game that the Bulldogs need to rely on Fromm to lead them to victory, but as we have found, this should not be a problem as the Bulldogs are talented enough to win games through the air if need be.


1. Auburn

Coming off an upset loss to the LSU Tigers, The Tigers of Auburn know that they have to play perfect football until their battle with Alabama in the Iron Bowl to end the season. This Tigers offense will bring arguably the best set of weapons that this Georgia defense will face all season with quarterback Jarrett Stidham and running backs Kerryon Johnson and Kamryn Pettway. Although their offense is deadly, their defense is just as outstanding as they rank 25th against the run, 17th against the pass, and 9th in scoring defense.


The Bulldogs will have to play their best game as they will face athletes that can beat them on the ground or through the air. This will be a tough environment as the Bulldogs head into Jordan-Hare, however, the Bulldogs will have extensive experience in stopping these RPO style offenses and should find a way to shut down Stidham and co. The Bulldogs stable of backs should help run this team to another victory.


This Georgia team is absolutely exciting to watch and has shined this season so far, but these Dogs still have five more games that could make or break their entire season. Kirby Smart has a tough road ahead of him if he hopes to end his 2017 regular season with a perfect 12-0 record with the final five teams he has to face. How would rank the Bulldogs' final five games in order of difficulty? I would like to hear yout thoughts down in the comments section.



---
Recent Articles by Michael Pope


[pt_view id="b8629e37y8″]