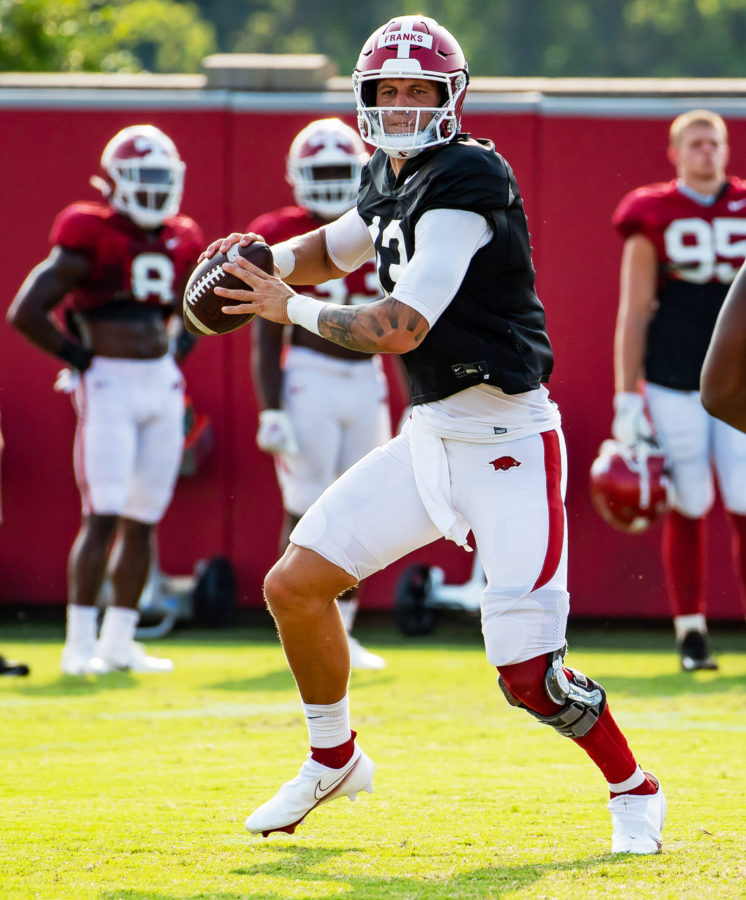 Feleipe Franks (QB, #13)
One of the many areas where the Razorbacks need improvement in 2020 is at the quarterback position. They will heavily rely on Florida graduate transfer Feleipe Franks, who transferred to Arkansas after suffering a season-ending injury in 2019 and lost his starting job to Kyle Trask. Franks brings a ton of experience to a depleted quarterback room, and will give head coach Sam Pittman some leadership. As a redshirt sophomore at Florida, Franks threw for 2,457 yards, 24 touchdowns and just six interceptions for Dan Mullen in 2018. In 2017, he made eight starts for the Gators throwing for 1,438 yards with nine touchdowns and eight interceptions. Franks will look to improve his draft stock in 2020 as he heads into his final year of eligibility.
Rakeem Boyd (RB, #5)
Helping with the turnover on offense will be senior running back Rakeem Boyd, who was named as an Earl Campbell Tyler Rose Award and Doak Walker Award Watch Lists honoree. Boyd started all 12 games for the Razorbacks in 2019 as he totaled 476 snaps. He was the team's leading rusher for the second consecutive season, racking up 1,133 yards on 184 carries and eight touchdowns. He averaged 94.4 yards per game (No. 27 nationally) and ninth in the conference with 6.2 yards per carry. The 6-foot, 205-pound bruiser draws comparisons to former Razorback Darren McFadden. It will be an interesting matchup for him as he will go up against former teammate and Bulldogs inside linebacker Jermaine Johnson. Both played at Independence Community College together and starred on Netflix's Last Chance U.
Barry Odom (Defensive coordinator)
Former Missouri head coach Barry Odom is entering his first year as the Razorbacks' defensive coordinator after spending the last four seasons at his alma mater. He led the Tigers to a pair of bowl games and finished the 2018 season ranked No. 23 in the College Football Playoff poll. He looks to improve an Arkansas defense that was ranked No. 110 nationally in total defense, allowing 450.7 yards per game. They also ranked No. 122 in the country against the run and No. 123 against the pass. The unit also allowed the seventh most points in the country at 36.8 points per game. Odom's teams at Mizzou were known for their impressive defenses thanks to his skilled mindset on that side of the ball. The Tigers ended the 2019 regular season ranked No. 14 in the country in total defense (312 yards per game). He looks to continue that success at Arkansas, but will have a large mountain to climb to do so.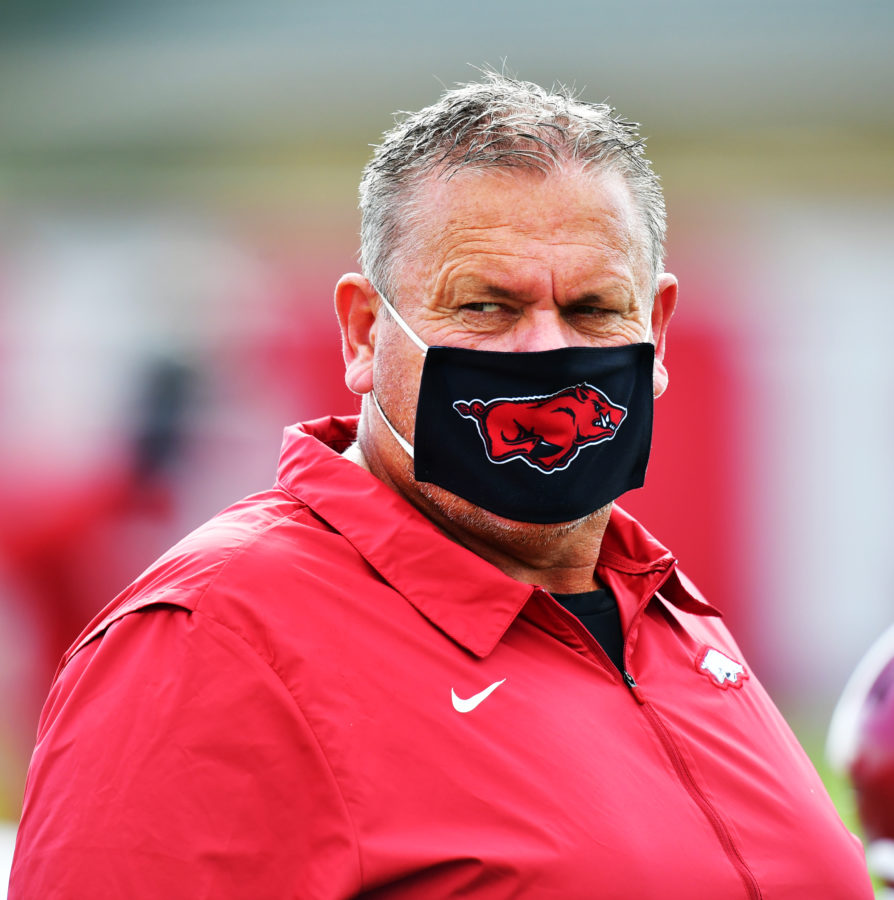 Sam Pittman (Head coach)
The former Georgia Bulldogs offensive line coach for the past four years is now the Razorbacks' 34th head coach in the program's history. Under Smart, he also served as the associate head coach. Pittman was a member of Bret Bielema's staff at Arkansas in 2013 and helped build the Razorbacks' offensive line into one of the best in the conference. During his first year with the program, that 2013 Razorbacks' offensive line led the SEC in sacks allowed per game. Now, Pittman will try and help improve a program that has gone winless in the SEC in each of the last two seasons. They haven't made a bowl game since 2016 and Pittman will try and fix that. The Razorbacks have one of the toughest schedules in the SEC and it will be hard for them to maneuver through it, but are in great hands with Pittman at the helm.
The Dogs and Hogs have played in EIGHT different venues in 14 previous all-time meetings: New Orleans, Dallas, Memphis, Shreveport, Fayetteville, Athens, Atlanta & Little Rock.
From 1990-1995, the Razorbacks basketball program was amongst the country's best, advancing to a trio of Final Fours, highlighted by capturing the 1994 national title.
One of the greatest football players in Arkansas lore is Dan Hampton, All-American in 1978, and legendary Chicago Bear, All-Pro defensive lineman for the 1985 Chicago Bears.