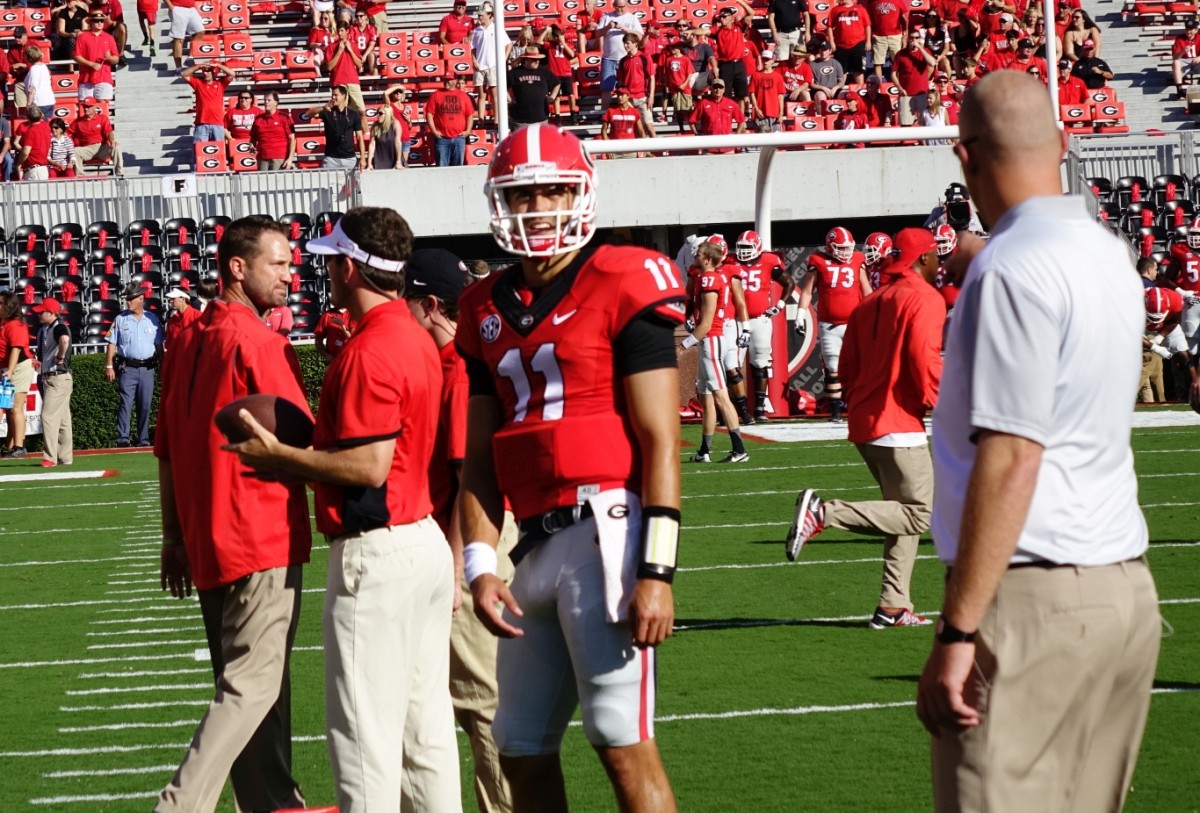 [su_spacer size="20″] After maybe the worst game of his playing career, it was almost like Greyson Lambert's right arm was magically transformed in seven days as the transfer quarterback from Virginia lit up the night sky at Sanford Stadium Saturday in a record-breaking passing performance to lead the Bulldogs to a rare 52-20   rout of a Steve Spurrier-coached team.
[su_spacer size="20″]
On the heels of a shaky performance the previous Saturday at Vanderbilt when he misfired on his first seven passes Lambert drilled 14-of-15 attempts in the first half for 190 yards and went on to finish his sizzling evening with  an incredible 24-of-25 passes completed for 330 yards and three touchdowns.
Lambert set an NCAA, SEC and Georgia record for Best Completion Percentage at 96.0 percent with a minimum of 20 completions. The old mark was 95.8% as Tee Martin (Tennessee vs. South Carolina, 1998) and Geno Smith (West Virginia vs. Kansas, 2012) were 23-for-24 respectively. The previous Georgia mark was 86.9% by David Greene (20×23) against Vanderbilt in 2002.
Also, Lambert completed his last 20 in a row, also a Georgia record, which topped Mike Bobo's mark of 19 straight at the 1998 Outback Bowl in a win over Wisconsin. Lambert's three touchdowns matched his career high set against Florida State in 2014 while suiting up for Virginia.  On Saturday, he connected with nine different receivers, including senior Malcolm Mitchell who caught eight balls for 122 yards and a touchdown.  Mitchell's last 100-yard game came when he had nine catches for 103 yards at Kentucky in 2012.
The win, one might say, was poetic justice for what happened 20 years ago at the same venue when Spurrier, then coach of the Florida Gators, hung the same 52 points on Georgia in a 52-17 romp by the Gators between the hedges.
"It feels great," said a modest Lambert of his record night, while being surrounded by an army of reporters in the post-game interview room. "We kind of just got going pretty quickly and I got going with three-straight passes. Everybody did their role and we were able to get great execution as a team."
Lambert was asked what was the difference in his erratic game at Vanderbilt and the nearly perfect showing against the Gamecocks.
"It all comes down to execution," he said. "It all comes down to just rhythmic offensive possessions back-to-back. For our offense to go out there and put points up on those first drives was big."
Lambert said including Georgia's tight ends … sophomore Jeb Blazevich, freshman Jackson Harris and senior Jay Rome … in the aerial circus was part of the game-plan.
"They did a great job all night whether it was blocking or pass catching," he said.
"Can you believe that guy had an incompletion?" smiled head coach Mark Richt, speaking tongue-in-cheek of Lambert's amazing night. "What's wrong with him? It was one of those days where you just leave him alone. We had a plan again to get Brice (Ramsey) in the game, but after three series, we said, 'Let's just keep playing.' We were good offensively and Lambert was just so hot."
"It was a great victory, no doubt," said Richt. "Anytime you win, it's a great thing. And to win in the East is super. So many years we've started out in a hole in the East hoping somebody would relent to give us an opportunity. We're thankful to be in the position we're in right now."
Richt said it was great for the Georgia offense to put up 21 points on the Carolina defense in the third quarter.
"We challenged our guys because no one had scored on them in the second half," he said. "It was 24-13, a two-score game, and it was very tight. We told them to keep working, keep scoring and keep playing good defense. And that's what we did."
"Coach (Brian) Schottenheimer put a great plan together and we had one of the best weeks of practice we've had all year. We then executed all of it in the game. We had a lot of good things happen."
Almost lost in Lambert's big night was another powerful running performance by Heisman candidate Nick Chubb. The sophomore tailback bulled for 159 yards on 21 carries and averaged 7.6 yards per carry while tallying two touchdowns.
Lambert led the Bulldogs on three touchdown drives and a field goal as Georgia claimed a 24-13 halftime lead. After Marshall Morgan booted a 30-yard field goal on the Bulldogs' opening possession after Georgia reached the Carolina 10-yard line, the Gamecocks knotted the score via Elliott Fry's 45-yard kick.
But Lambert came back early in the second period to drive Georgia 82 yards on 9 plays, the touchdown coming on a 2-yard run by Chubb. The Bulldogs then sent their lead to 17-3 on Sony Michel's 21-yard touchdown run, capping an 88-yard, 8-play drive. The Gamecocks then responded with a 72-yard scoring march, quarterback Perry Orth keeping around the left side four yards for the touchdown.
Again, Georgia answered as Lambert completed five passes on a 78-yard, 8-play drive with the score coming on a 5-yard strike to Mitchell. Thus, with just 17 seconds left in the first half, the Bulldogs had kicked the lead up to 24-10. However, the scoring wasn't over as the Gamecocks' Shon Carson ran the ensuing kickoff 51 yards all the way to the Georgia 48, after which a face-mask penalty on Reggie Davis moved the ball 15 more yards to the 33. There, Fry pulled South Carolina within 24-13 at the halftime buzzer on a 50-yard field goal.
But the Bulldogs would only add insult to injury to the Gamecocks in the second half, outscoring South Carolina 28-7 over the final two quarters as Lambert continued to wax red hot throwing the football.
Georgia's second half touchdowns came on a pair of 11-yard passes from Lambert to Michel, Nick Chubb's 7-yard run and a 3-yard run by Keith Marshall.
In addition to Lambert's 330 yards through the air, the Bulldogs rushed for 246 yards for an offensive total of 576 yards. Meantime, the gang-tackling Georgia defense limited Spurrier's offense to just the two touchdowns, 174 yards rushing and 84 yards passing … 258 total.
"I feel like we hustled and we went and made plays," said senior outside linebacker Jordan Jenkins.
"We were not going to let their guys catch the ball. I feel like we need to be more complete, and we
will keep working."
Senior linebacker Jake Ganus led the Bulldogs in tackles with seven while sophomore safety Dominick Sanders had six tackles and also intercepted a Carolina pass and brought it back 33 yards. Leonard Floyd, Sterling Bailey and Tim Kimbrough notched five stops each for Jeremy Pruitt's defense with Floyd credited with the game's only sack.
"We made a few mistakes but we kept our heads up and made plays," said Sanders. "I feel like both sides of the ball played really well tonight. We always tell ourselves that defense sets the tone and we did that tonight. We have to keep preparing, learn from mistakes and get ready for next week."
The 3-0 Bulldogs, 2-0 in conference play, now turn their sights toward FCS Southern University next week while all the time swearing they won't be caught looking ahead to Alabama's Oct. 3 invasion of Sanford Stadium.
"We'll enjoy this one for awhile, but we'll get our hats back on straight and know that we have another opportunity next week to improve," said Richt. "No matter how much we practice, there are so many variables that happen in a game. So many things can pop up. Little by little, we're learning and gaining more experience."
South Carolina, dipping to 1-2 and 0-2 in the SEC, will attempt to bounce back at home against Central Florida.

[su_spacer size="80″]