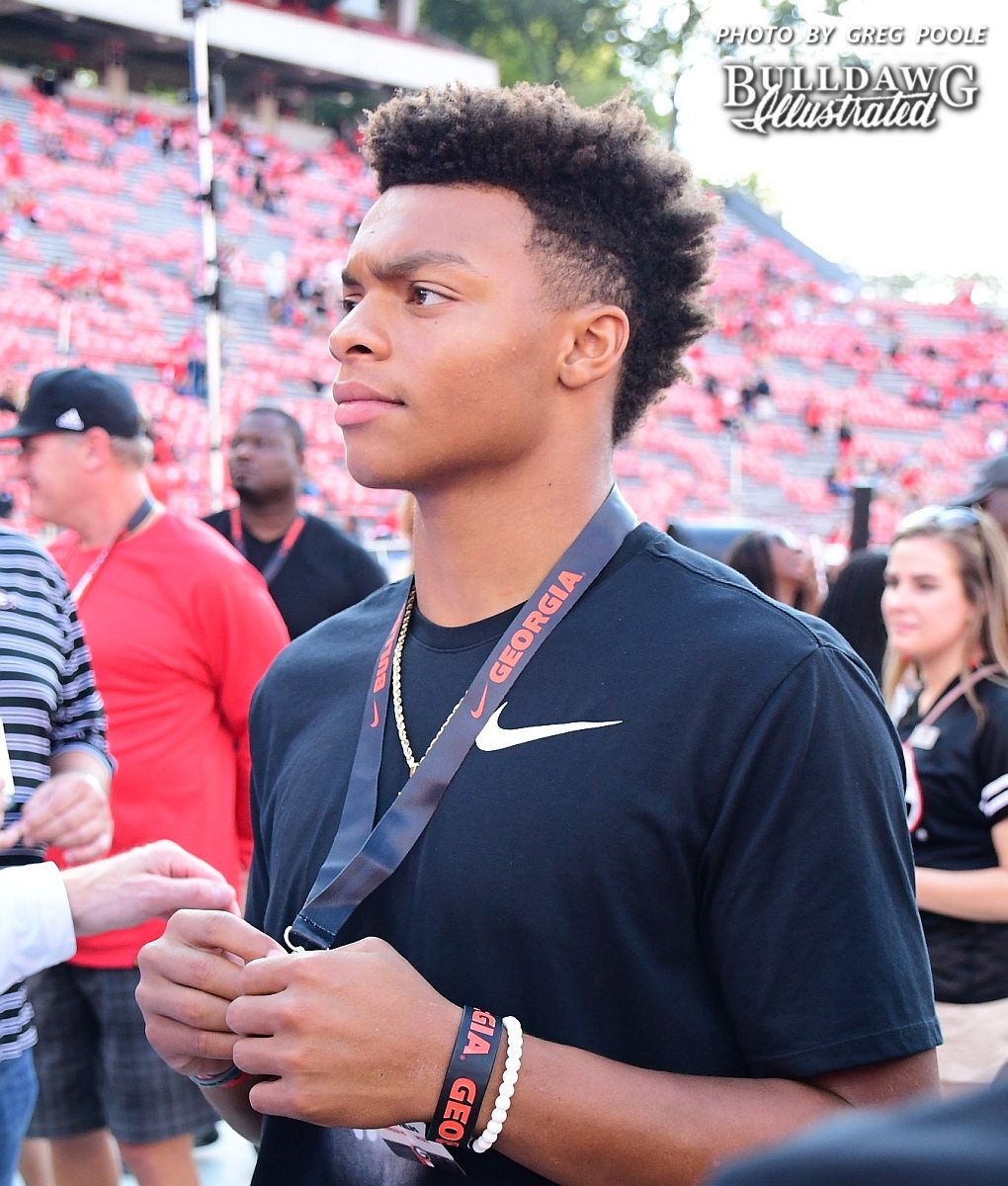 Spring football is back in Athens, Ga. and not a moment too soon. The 2017 season was one for the ages and left the entire Bulldog Nation salivating for more. As we enter spring, the season of new beginnings, the Class of 2018 ushers in exactly that. For the first time in Georgia football history, the Dawgs landed the No. 1 class in the nation and excitement surrounding the program's direction is palpable. Enjoy Graham Groseclose and Chuck McConnell's analysis on all 26 signees. These guys sell commercial real estate in Athens for Boswell by day, but certainly, qualify as recruiting connoisseurs by night. Enjoy learning more about your RareBreed 2018 signing class.
Adam Anderson
GRAHAM: Anderson is the prototypical pass rusher for a modern defense. One look at his film and the first comparison that comes to mind is Leonard Floyd. Like Floyd, he needs to gain some weight to become a three-down player. In the meantime, he can be a third down terror on opposing QBs.
CHUCK: This Rome product may be Leonard Floyd reincarnated. Anderson is an extremely long, lean pass rusher at this stage and will naturally bulk up to an every-down player. He plays with a relentless motor and should become a sack specialist during his time in Athens. Outside linebacker reps will be up for grabs in 2018, Anderson could be in line to make an impact as a freshman.
Tommy Bush
GRAHAM: Another out of state pull, Bush looks like the red zone threat that every team needs. Not just a big body, Bush has elite track speed and can blow past corners on the 9 route. By the time Bush inked his name on signing day, he was icing on the cake to an already awesome class. Though maybe not the biggest need, you take 6'5' freaks when you can get them.
CHUCK: This Texas product is a tall, fast wideout that burst onto the Bulldog's radar late in the recruiting process. Bush is an intriguing prospect that has blazing straight-line speed to get behind a defense and a huge catch radius to win jump balls.
Jake Camarda
GRAHAM: Specialists don't get much love when you talk about recruiting. You don't think about them until you don't have a good one; and Camarda is a really, really good punter.
CHUCK: Camarda is one of the top specialist prospects in the country. He should fill the void at punter left by departing senior Cameron Nizialek. Camarda is one of the rare talents that could potentially handle both kicking and punting duties in the future.
Tyson Campbell
GRAHAM: Arguably the biggest get on signing day for Mel Tucker's defense, Tyson Campbell is the first consensus five-star corner UGA has signed in more than a decade. Many will look back to the recent National Championship loss and say that corner was our missing link; Campbell could very well be the answer.
CHUCK: One of the elite defensive back prospects in the entire country, Campbell will have a chance to earn playing time as a freshman in a Georgia secondary looking to replace multiple starters. Campbell is everything you want in a lockdown corner; he has great length and speed to go along with solid instincts and ball skills. He played against excellent competition in high school and should transition quickly to the college game.
Owen Condon
GRAHAM: Condon is a bit unheralded, but was a major target for Sam Pittman. This underdog reminds you of all those 6'6" plus diamonds that Pittman brought in at Arkansas. Those high school unknowns turned into big-time draft picks. Condon had a knee injury end his high school career, but if he can bounce back from that, the sky is the limit.
CHUCK: Condon is a tall tackle prospect with the physical mindset to dominate the man in front of him. His extra-long wingspan allows him to engage blockers and cut them off at the point of attack. Owen will need time to gain strength, add bulk and recover from a leg injury, but the potential is there. Sam Pittman has turned several similar frames into NFL talents.
James Cook
GRAHAM: Cook is another Miami stud and Florida State legacy that Dell McGee and James Coley were able to swipe from the sunshine state. Like his brother Dalvin, James has incredible change of direction and is a nightmare mismatch receiver out of the backfield. UGA is continuing the theme of thunder and lightning at running back pairing White and Cook.
CHUCK:  The electric younger brother of former FSU great Dalvin Cook. James is a threat to take it to the house every time he touches the ball. He is smaller framed, but an explosive and shifty back that is best utilized on the perimeter and in space. Cook is also an excellent pass catcher and returner. Look for the staff to find multiple ways to get him on the field and put him in position to showcase his game-breaking skills.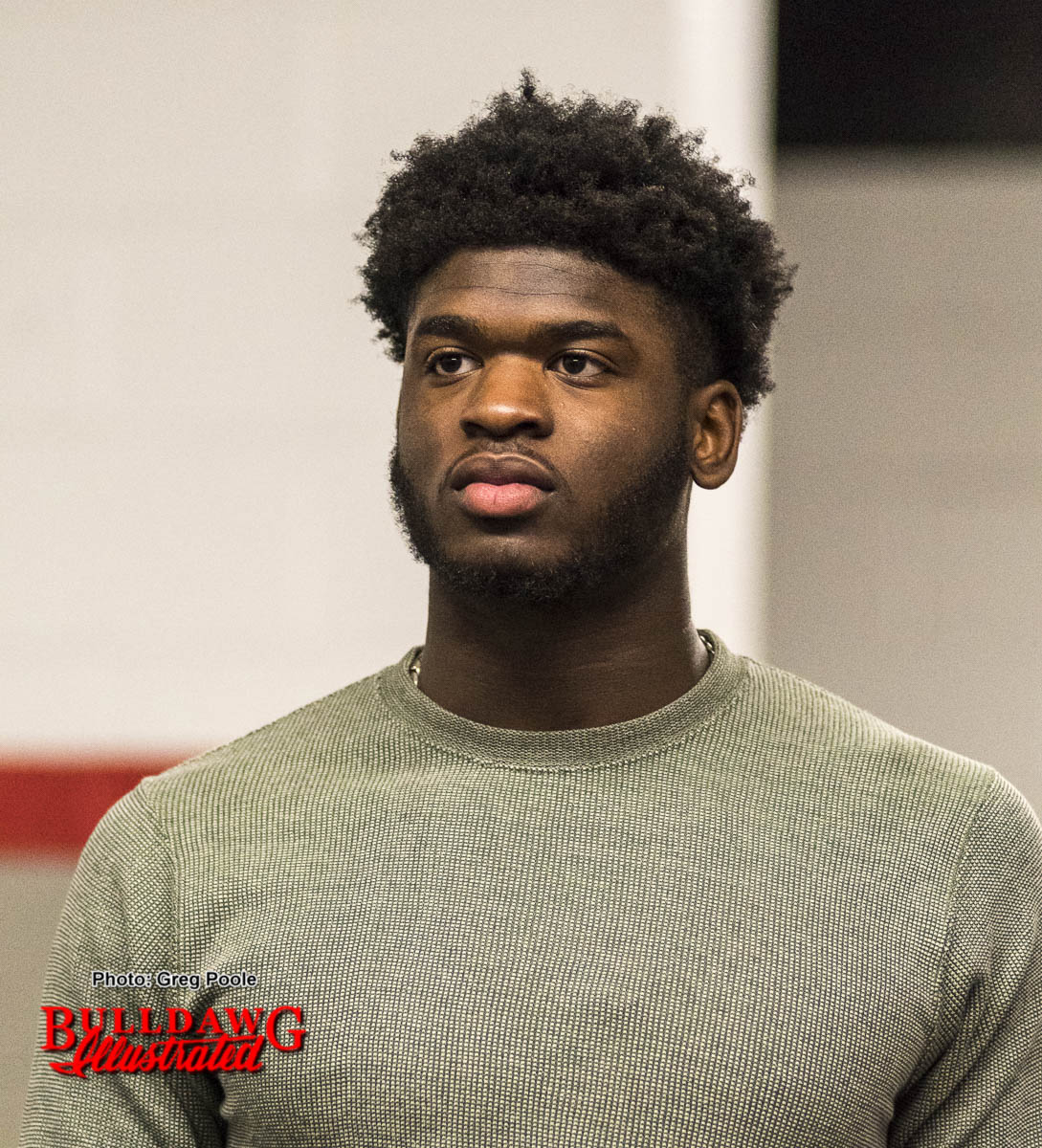 Brenton Cox, Jr.
GRAHAM: Cox was a longtime Ohio State commit that Kirby refused to give up on. He has freak size and could play outside linebacker immediately. Over the next couple of years, he will likely grow into and excel at defensive end. As an early enrollee, he has responded well to the challenge of the college weight training routine. Beating Urban Meyer on the recruiting trail is something the Bulldog Nation can now come to expect.
CHUCK: Cox already looks like he is ready to battle in the trenches in the SEC, but he is only going to get bigger in our strength and conditioning program. His frame and athleticism allow him to be a productive, versatile standout on the defensive front. Look for him to become a force both setting the edge against the run and rushing the QB.
Jordan Davis
GRAHAM: John Atkins is a "big" act to follow, leaving Georgia with a hole in their defensive front. Davis has big shoes to fill, and though he has only been playing football for a year or two, the raw talent is there. He certainly has his best football ahead of him here in Athens.
CHUCK: Davis's size immediately jumps off the screen, but he is also extremely athletic. His highlights show him firing off the snap and dominating overmatched high school offensive linemen. Look for Jordan to take 2018 to continue to refine his skills and become a contributor in the middle of the Bulldog's defensive line in the years to come.
Warren Ericson
GRAHAM: You may know Ericson from the split he did in the recent DJ Shockley interview. And if you haven't seen it, Google it now. He projects best as a center and will anchor the offensive line. He has a mean streak and loves driving his man into the ground. Sam Pittman just continues to stockpile talent along the offensive line.
CHUCK: An early enrollee, Ericson will be groomed as the center of the future. Warren appears to have similar intangibles as former Bulldog greats Ben Jones and David Andrews. He is an intelligent player that loves the game and dominates with a nasty disposition on the field.
Justin Fields
GRAHAM: With Fields, Georgia grabbed the consensus number two prospect in the country and their first true dual-threat quarterback since DJ Shockley. Considered by many analysts to be a once in a decade type talent, Fields can hurt you through the air and on the ground. His kind of rare talent has already started the Fields over Fromm narrative. This seems ridiculous considering the incumbent led us Georgia to its first National Championship appearance in thirty years, but that's how good the Kennesaw native could be. Don't be surprised when Fields gets some specialty packages. He is too good to sit on the bench.
CHUCK: Fields is a true dual-threat quarterback, but he stays remarkably calm in the pocket and looks to throw first. His arm talent alone would make him a top QB prospect, but his legs bring an added dimension not seen at Georgia since DJ Shockley. At 230 pounds, he is a tough runner to bring down and can be a serious weapon on third down and in short-yardage situations. Justin is a dynamic athlete that has drawn comparisons to a mixture of Cam Newton and Deshaun Watson. Look for some situational packages that take advantage of Justin's dual-threat ability next year.
John Fitzpatrick
GRAHAM: Another addition to a stacked tight end room, FitzPatrick brings a well-rounded skillset. A lifelong Georgia fan, this prototypical tight end is a solid blocker and receiving threat.
CHUCK: The Marist product comes from a run-heavy offense where FitzPatrick mostly focused on blocking. He flashed his receiving potential in camp settings though and proved he can be a big bodied target in the passing game as well. He will be able to develop and learn behind several talented returning tight ends.
Luke Ford
GRAHAM: Georgia is absolutely stacking stud tight ends and Ford may end up the best of the bunch. He is 6-5, will block you into the stands and fight for jump balls in the end zone. He is the total package at the position and one every program in the country wanted.
CHUCK:  The other member of the twin towers at tight end, Ford is well rounded and has shown great body control and ability to high point the football.  Luke has decent ability to separate and create after the catch as well.
Trey Hill
GRAHAM: Long thought to be an Auburn lean, Hill committed to the good guys on early signing day. Whether at a guard spot or center, Hill has the power to pancake any defender in his path. He has tree trunks for legs but maintains incredible agility for a guy his size. He has a little bad weight to shed but should push for playing time early.
CHUCK: Hill has a prototypical interior lineman build with a wide and powerful base. He should develop into a road grading guard and still be agile enough to pass protect. As an early enrollee, he will get a jumpstart on strength and conditioning which will be crucial to his development. The offensive line room has quickly turned into a strength for Georgia and Hill will only bring more competition to the mix.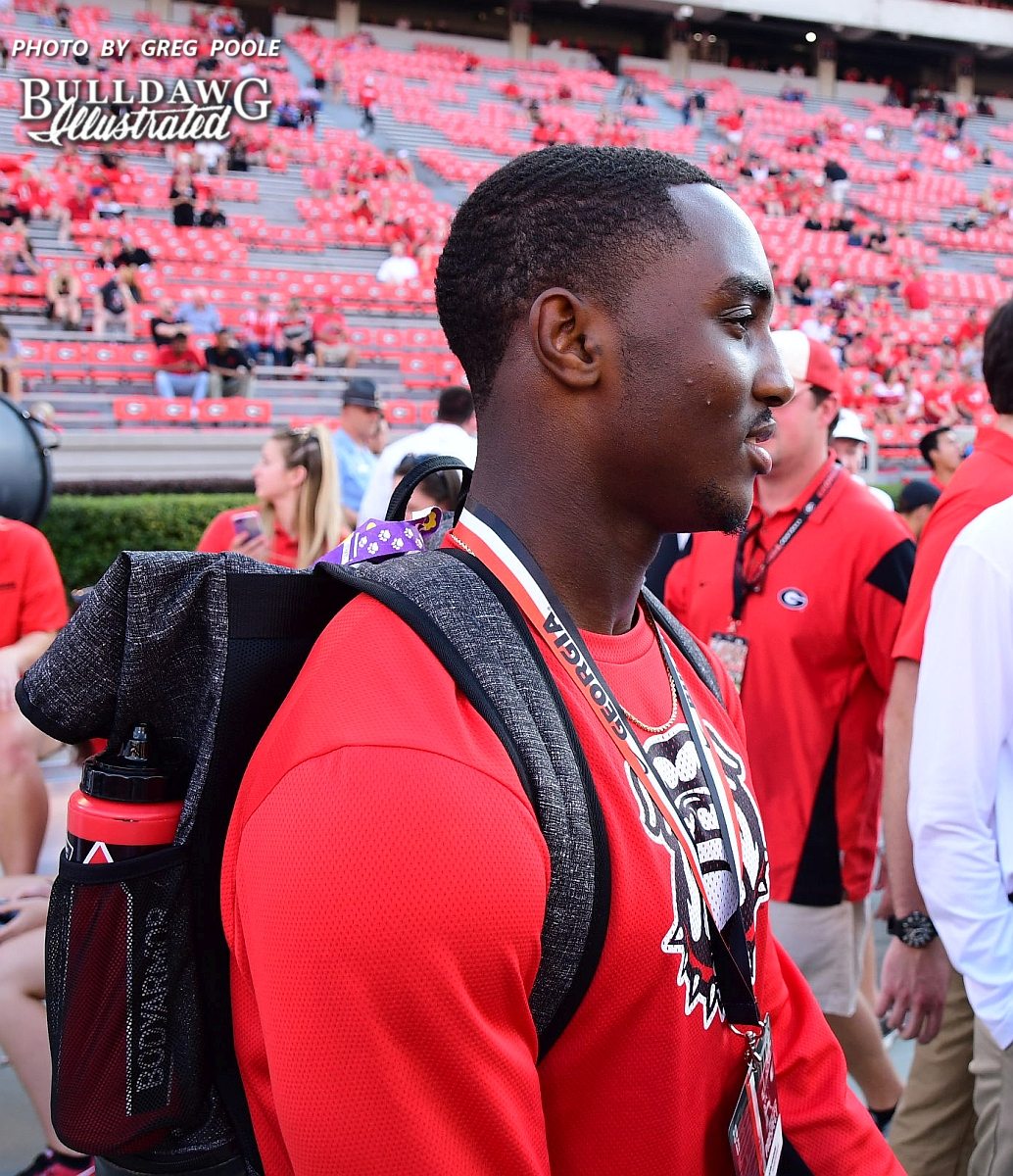 Kearis Jackson
GRAHAM: Football talent aside, Jackson may be the most important piece of this class. He was the lynchpin that helped Kirby lockdown the state of Georgia (think Richie LeCounte 2.0). Jackson is most likely the strongest guy pound-for-pound on this list. He will be a threat in the slot and is an incredible blocker. He isn't a burner, but his quickness makes him impossible to tackle in open space.
CHUCK: The Peach County native is a hardnosed wideout that excels in getting yards after the catch and shows a willingness to run block. Jackson is more compact and muscled up than your typical receiver prospect, but those traits should fit nicely in the slot where he will be asked to block down on defenders and catch short swing and screen passes. Kearis is an excellent complement to some of the taller wideouts Georgia has recently signed.
Nadab Joseph
GRAHAM: A flip from Bama on early signing day, Joseph has the size Kirby covets in his defensive backs. Joseph may play safety or corner in Georgia's scheme. Whichever position he ends up in, the Miami product can excel with his range and speed.
CHUCK:  Joseph has some position flexibility in the defensive back room, but he is probably best suited to become a ball-hawking, center field safety.  At this point in his development, he is best diagnosing plays and closing on the ball moving toward the line of scrimmage. He has the size and agility to matchup with tight ends as well.
Cade Mays
GRAHAM: One of the biggest surprises from early signing day was the offensive tackle out of Knoxville, Tenn. Mays is an absolute mauler and will be a perfect fit at right tackle in Pittman's scheme. The best part about having him on board is stealing him from Tennessee.
CHUCK: The surprise steal of the class, Mays was a long time Tennessee legacy and commit. Thanks to the unrest in Knoxville, Sam Pittman and company were able to swoop in on the prototypical tackle late in the recruiting cycle. Cade already plays with outstanding technique and has a long frame that enables him to stonewall would be pass-rushers. He will compete for the starting right tackle position as an early enrollee this spring.
Azeez Ojulari
GRAHAM: Ojulari is another pure pass rusher with great size and a nasty first step. Georgia won't have any shortage of combinations with these guys screaming off the edge and terrorizing quarterbacks. Ojulari has a great work ethic and should put on the necessary weight in no time to play all three downs.
CHUCK: Ojulari is recovering from a knee injury suffered late in his senior year that will make it unlikely for him to make an impact in 2018, but his future is bright. He is an athletic specimen that tests through the roof in combine settings, and his skillset is ideal for the jack linebacker position. He uses his hands well to fight off blocks and understands leverage.
Otis Reese
GRAHAM: Reese is what you might call a tweener,  but not in a negative way. He has the cover skills of a safety, but the thump of a linebacker. He is the quintessential headhunter in that Kam Chancellor mold. Kirby was quoted in his signing day press conference as saying that Reese is "what a safety should look like." That about sums it up.
CHUCK: Reese will start his Georgia career as an enforcer at safety similar to Greg Blue. He may outgrow the position and be moved closer to the line of scrimmage, but wherever he ends up, he will deliver jarring hits. Reese's instincts, ability to diagnose plays and get downhill with bad intentions are second to none.
Jamaree Salyer
GRAHAM: Salyer has been touted by recruiting analysts as the best guard prospect in recent history (or maybe ever). That is high praise, but not inconceivable considering his high school pedigree.  His former Pace Academy teammate, Andrew Thomas, started every game at right tackle last year for Georgia. He was a true freshman, folks. It won't shock anyone if Salyer emulates Thomas' success.
CHUCK: Salyer is one of the best looking offensive guard prospects to come out of high school in recent memory. He is physically imposing and a tactician in all phases of the game. His athleticism allows him to get to the second level and pancake defenders and he anchors well in pass blocking. If he maintains a good weight and learns the playbook, it should not surprise to see him earn playing time as a true freshman.
Channing Tindall
GRAHAM:   Stealing recruits from other SEC states was a common theme this year. Glenn Schumann went into Columbia, S.C. and plucked this feather from the Cocks' cap. Tindall, my favorite recruit from 2018, has the natural ability to be Roquan 2.0. He has that trademark sideline-to-sideline speed and the ability to chase plays down from behind. He is a little raw, but his measurables are off the charts.
CHUCK:  One of the top prospects in South Carolina, Tindall is a fast twitch athlete that explodes through ball carriers and has the frame to grow into an above average sized middle linebacker. He is relatively new to the position and just scratching the surface of his potential. When everything comes together, he will be a sideline to sideline playmaker.
Chris Smith II
GRAHAM: For a smallish corner, this Smith hits like a freight train. The highlights of him blowing up receivers and backs on screens is a sight to behold. Pair that with the fact that he has been ride or die Georgia since back when the recruiting class was ranked just behind Rutgers, it's hard not to like this guy.
CHUCK: A tenacious corner, Chris lacks ideal size, but he makes up for it with his aggressive style of play and passion for the game. He is fluid in coverage and enjoys seeking out contact. Smith is a student of the game and will get the most out of his ability.
Quay Walker
GRAHAM: Adding to the embarrassment of riches at the linebacker position, the Dawgs were able to flip this long-time Bama commit on signing day. You may remember Walker for the good ole' Tennessee hat fake-out trick, but he is a freakish athlete who could play inside or outside for the Dawgs.
CHUCK: Walker fits the mold of the jumbo linebacker Kirby covets for his scheme. Quay is athletic enough to play middle linebacker on early downs and can rush the passer on third. A versatile defender like Walker will allow Coach Smart and Coach Tucker to disguise coverages and exploit mismatches.
Tramel Walthour
GRAHAM: Walthour is a south Georgia boy who has signed with his dream school. He wreaks havoc in high school and will be a perfect fit at defensive tackle for Georgia. A signature move from Kirby, Walthour adds quality depth to the Dawgs'
front seven.
CHUCK: Walthour flew under the radar in his recruitment, but the Liberty County star is a hardworking, physical interior defensive lineman. Walthour is a strong, stout prospect that clogs up the middle keeping the linebackers free to roam at the next level. He will need to continue adding mass and strength to reach his full potential.
Zamir White
GRAHAM: Zamir "Zeus" White has been heralded as the best running back since Adrian Peterson. Some liken him to fellow North Carolina stud, Todd Gurley. White has no comparison when looking at his insane high school stats: over 7,000 yards and nearly 10 yards a carry. He is a quiet guy whose running does all the talking. Expect big things from him in Athens.
CHUCK: White is a bruising back that runs with great balance and a low center of gravity. White is built to run over defenders, but he also has the wiggle to make them miss and the speed to run past. His humble, no-nonsense personality will draw comparisons to Nick Chubb. As an early enrollee, he is recovering from a torn ACL, but once he returns to full speed, he should become one of the better backs in the country.
Divaad Wilson
GRAHAM: Georgia tapped into its south Florida recruiting ties to pull a former Gator commit out of Miami. Wilson will remind you of Deandre Baker coming out of high school; long arms and good closing speed. With some time learning Georgia's pattern-matching scheme, he has potential to become a lockdown corner on the outside.
CHUCK: Wilson is the ideal long, physical athlete that Kirby likes to develop. Divaad should become an aggressive corner that can overmatch weaker wideouts at the line of scrimmage. He is an early enrollee and will add more competition to a defensive back room that lost a lot to graduation.
Devonte Wyatt
GRAHAM: Wyatt is a Junior College guy that signed with Georgia in 2017, but didn't quite make the grades to get in. Georgia was lucky to get him back in the fold this year, and he couldn't arrive on campus at a better time. The Bulldogs defensive line will have a ton of draft-eligible players after this upcoming season, so reloading was a must. Wyatt can play defensive tackle or nose and is a total wrecking ball up the middle. If you get a chance, search YouTube for "Devonte Wyatt Track and Field." Bet you that you've never seen a 300-pound guy run like that?
CHUCK: Originally signed in 2017, Wyatt developed this past year at junior college and is an early enrollee looking to make a quick impact. He is extremely athletic for a 300+ pound interior defensive linemen, and his quickness is his greatest strength. Look for him to gradually emerge into the rotation and become a disruptive force on the line.