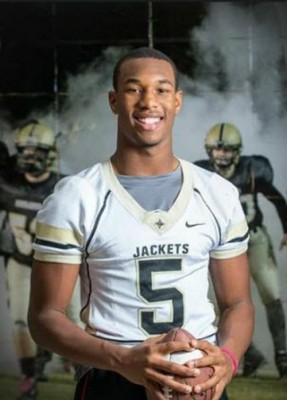 .
Rashad Byrd is one of the most underrated and productive players in the 2016 class. He took some time to give BI the latest on his recruitment:
BI: I heard you had a HUGE season! Do you mind sharing your stats?
Rashad Byrd: 232 tackles, 23 tackles for loss, 5 sacks, 2 INT's and 5 forced fumbles. I also had 4 Receiving TD's and 1 Rushing TD.
BI: What schools are recruiting you the hardest at this point?
Rashad Byrd: Duke probably the most right now.
.
.
BI: I know your older brother CJ Byrd used to play at UGA awhile back. Does that affect your decision at all or could it down the road?
Rashad Byrd: Not much at all. I'm keeping all my options open right now to try and find the best fit for me.
BI: What do you think you need to improve on this offseason and do you plan on visiting any camps?
Rashad Byrd: Improving as a player. In the weight room, really just working on my strength. I also want to become a better leader for my team. I'm going to do some camps this summer but I haven't decided which ones yet.
BI: Did you have a favorite team growing up?
Rashad Byrd: I'm happy with any offer by any team. I didn't really have a favorite team growing up but I always rooted for Georgia when my brother was there.
BI: What is the main thing you are looking for in a school?
Rashad Byrd: Really just a comfortable fit both academically and on the field.
The 6 foot 1, 200 pound OLB has put up some eye popping numbers in his High School career. For whatever reason, schools have been hesitant to offer him to this point, but that probably won't last for long. A high Motor and natural nose for the ball are the things that instantly pop out to me when watching his highlights…an old school "Get-it-done" type of player. It's unclear at this time which School has the best chance of landing Byrd, but one thing is for sure: they will be getting a steal.
[ts_fab]