[su_spacer size="20″]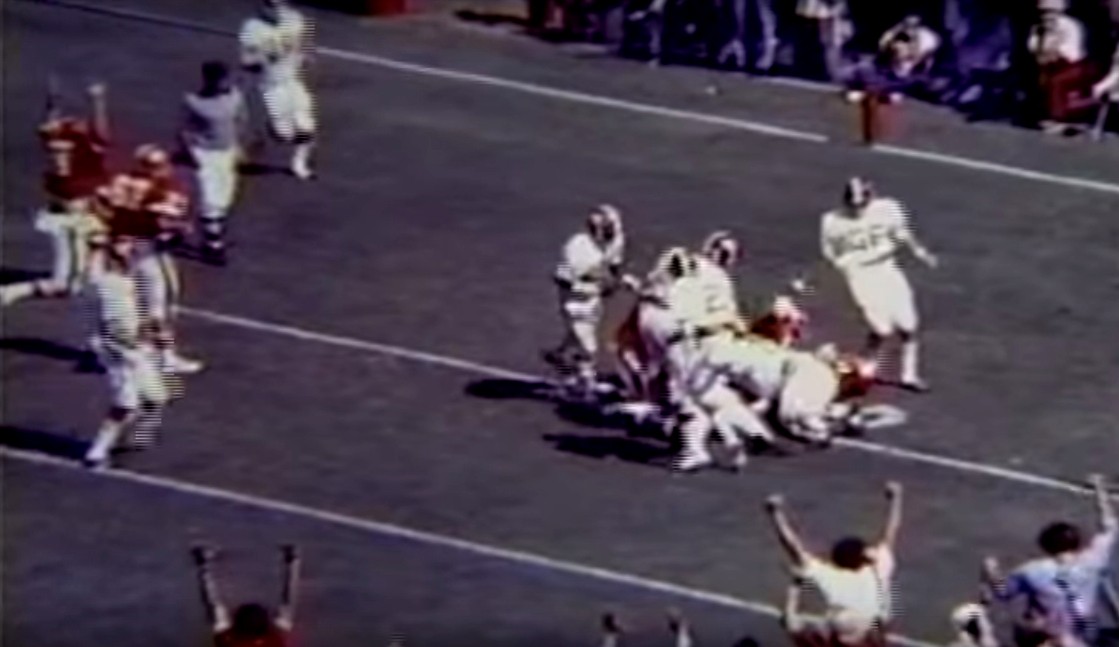 [su_spacer size="20″] In 1975, Georgia was a surprise team in the Southeastern Conference, but nobody saw it coming, mainly because the season of 1974 was such a disaster. Bill Pace, former head coach at Vandy, had arrived as offensive coordinator in '74 and installed the Veer option which was very popular in college football in those years.
[su_spacer size="20″]
It was an up and down season. Win one week, lose the next. The Bulldogs looked like champions some Saturdays, exploding for high point totals, but on days when point production was off, the defense gave up so many points, that it resembled season totals. Five teams (Oregon State, Mississippi State, Vanderbilt, Houston and Georgia Tech scored thirty or more points on the Bulldogs.) Erk Russell, defensive coordinator, admitted that it was "embarrassing."
[su_spacer size="40″] With a 6-5 record, Georgia, nonetheless, received an invitation to play in the old Tangerine Bowl—which became the Citrus Bowl. That turned out to be salt in the wound. Miami of Ohio defeated the Bulldogs 21-10 and brought about a fiery speech in the locker room by Vince Dooley that was a graphic castigation of the poor performance during the season and a forecast of how different it was going to be. "Get ready for the spring boys," was his message. "There's going to be some head knocking fundamentals." Or something like that. He didn't spell it out, but what he literally meant was that it was going to be an — kicking atmosphere all spring.
[su_spacer size="40″] Vince got it right, and 1975 was a turnaround point for his program. It would segue into a championship the next season. The '75 Dawgs fell in the opener to Pittsburgh but lost only one conference game (to Ole Miss in Oxford). On Grant Field Thanksgiving night, the Bulldogs gave a spring practice style — kicking to Georgia Tech 42-26.
[su_spacer size="40″] The stage was being set for a banner year in 1976. Ray Goff became established in Pace's Veer option, Erk's defense held teams to point totals like 7, 12, 17, 10, and there were four shutouts. What an about face!! High times had returned for the "bend but don't break" advocate who used the embarrassment of 1974 as motivation even in the '76 season.
[su_spacer size="40″] When Alabama came to Athens in '76, the Tide was once defeated (losers to Ole Miss in their opening game 10-7 in Jackson). Bear Bryant was still in his heyday, and Alabama was still Alabama. The town and the student-body were primed for an unforgettable weekend.
[su_spacer size="40″] While it isn't anything to boast about, the students were keen on making Alabama as miserable as possible. They succeeded. The visitor's team headquarters was the Holiday Inn. Sportswriters from the "Heart of Dixie," state complained about no sleep as horns blew all night and student taunting peaked early on and remained constant into the wee hours.
[su_spacer size="40″] The writers reported that the Tide players pulled mattresses out into the halls of the motel to try to find peace and quiet. That weekend experience led to visiting teams choosing to stay at motel locations away from Athens.
To say that the community was "jacked," would be an understatement. Never has so few raised so much hell. With Georgia winning 21-0, the students appeared to be trying to set a Guinness record for raucous behavior.
[su_spacer size="40″] There were reports that most of the revelers never went to bed Saturday night. The party lasted through Sunday. Then Monday, then Tuesday. Classrooms were empty. Many professors called off class. You couldn't drive down Milledge Avenue, fraternity row, without severe interruption. That may well have been the most demonstrative post game celebration ever in the Classic City. Someone remembered that a farmer came down Milledge Ave. (going north) with a trailer load of hay. When he reached the dead end at Prince Ave., there was no hay remaining on his trailer.
[su_spacer size="40″] Here is how John Addison, former Co-CEO of Primerica remembers the weekend.
I was a sophomore at Emory at Oxford before coming to Georgia as a junior in 1977. I was always a huge UGA fan. Two of my best friends were at UGA and had an apartment in Athens.
[su_spacer size="40″] I stayed with them starting Wednesday that week. Athens was a zoo, unlike I have ever seen before or since. Wednesday night ("sink or swim" night) at the B&L Warehouse was a gigantic party with 5 cent draft beer and everyone chanting "Beat Bama" all night. Every night, Milledge Avenue was a bumper to bumper party! Sat on a scaffold on the tracks. We got there and camped out Friday night. Craziest environment ever. As we crushed Alabama the next day, the crowd on the tracks was so loud you couldn't talk to the person next to you!
[su_spacer size="40″] Jeff Lewis, Bulldog linebacker 1975-77, now a distinguished Atlanta lawyer with the firm of Arnall, Golden, Gregory was a young linebacker with both defensive and classroom skills, one with ambition after competition. He remembers the game with deep and abiding emotion—an unforgettable memory of his days on campus.
[su_spacer size="40″] Alabama had won several SEC Championships in a row, and came into Athens in October of1976 looking to win another. UGA had not won a conference championship in 8 years. The game was not televised, so excitement was uncontrollable, especially given the fact that the Bulldogs were undefeated. Tickets were scarce, so much that fans were hanging in the trees in the cemetery across the tracks to get a peek.
Midway through the second quarter, with the score tied at 0, Alabama drove down to the Georgia 22yard line, where they faced 4th down and 2 yards to go. Rather than kicking a field goal, Alabama decided to run the ball at the weak point of the UGA defense right at Jeff Lewis, # 61. Fortunately, Coach Erk Russell outsmarted the Alabama offense, and called a stunt, which confused the Crimson Tide. Three Alabama blockers went after our defensive end Lawrence Craft, leaving me unblocked to stumble into the backfield and tackle running back Calvin Culliver for a 2 yard loss. Our offense took possession of the ball, and drove the length of the field, with Matt Robinson scoring a touchdown just before the end of the second quarter.
[su_spacer size="40″] The second half went even better. Our defense continued to hold Alabama scoreless, while our offense scored two more touchdowns, leading to a 21-0 shutout of the Red Elephants. The party after the game was one of the wildest ever seen in Athens, as students shut down Milledge Avenue. Bulldog Head Trainer Stan Clark hosted perhaps the biggest post-game party in his house at 1073 "The Place to Be", Milledge Avenue, with Tony (later "T. Graham") Brown and his band providing the entertainment. I was named SEC Lineman of the Week.
[su_spacer size="40″] We went on to win the SEC Championship, and played Pittsburgh for the National Championship in the Sugar Bowl. During a Sugar Bowl banquet in New Orleans, Alabama Coach Bear Bryant came up to me and congratulated me for making the tackle on the fourth and two, with these comments: 'Lewis, you are one lucky SOB, that play was a busted signal. ' My response was diplomatic: 'Coach Bryant, sometimes it's better to be lucky than good. '
[su_spacer size="40″] One night recently at Hugh Atchison's handsome Five and Ten restaurant at 1073 South Milledge, Jeff was recalling the Alabama victory celebration and suddenly exclaimed. "I remember that this exact location was an old house, which was rented by the aforementioned Stan Clark. He brought PowerAde coolers and ice from the training room and threw the biggest party I ever saw on campus. Coeds were out drinking the guys, dancing on tables—I can't imagine the nation celebrating any more wildly following VE day in 1945."
[su_spacer size="40″] Lewis remembered, too, the inspiration the team had for a fallen teammate. In late summer, Hugh Hendrix, passed away suddenly and unexpectedly from a rare blood disease. The team dedicated the season to Hendrix' memory, wearing a decal with his number (64) on all helmets.
[su_spacer size="40″] Reminiscing about the past is always fun but it is also a reminder that the parties become memorable only when victory is secured.
[su_spacer size="40″]
---
[su_spacer size="40″] Make sure to check out
Bulldawg Illustrated's
latest print edition:
Saban vs Richt – Only one man will be smiling after this one
, digital issue available for free online click
HERE
.
[su_spacer size="80″]