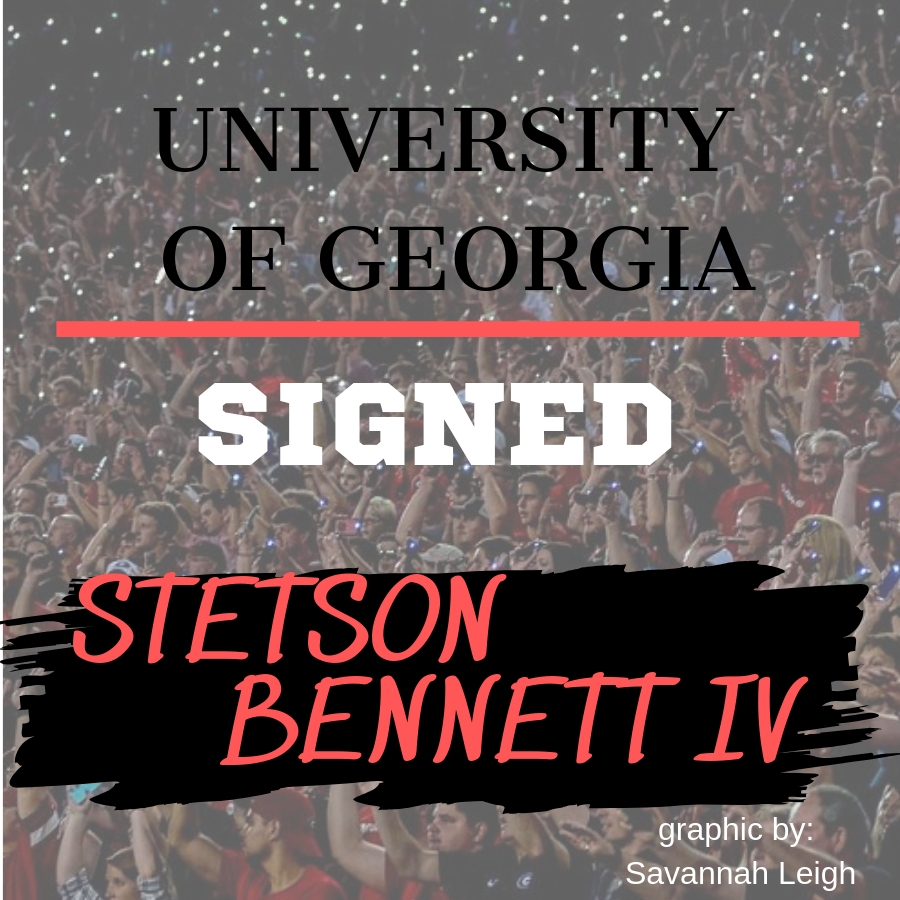 Georgia added another addition to its 2019 class Wednesday night. The Bulldogs added their second quarterback of the day with the return of Stetson Bennett IV.
The news leaked after the football team posted a picture on Twitter announcing him as a Bulldog, but quickly deleted it. Not long after the post got deleted, the team posted it again and finally made it official.
When the quarterback left, he was a preferred walk-on at Georgia. Now, he will be on scholarship. Bennett left Georgia a mere six months ago when he chose to transfer from the program in May. He ended up at Jones County Community College in Ellisville, Mississippi. While at Jones County, he became the starter and completed 192 of 321 passes for 2,303 yards 20 touchdowns and 15 interceptions. Bennett also had 69 carries for 148 yards and four scores. He led Jones County to a 10-2 record and to the MACJC championship, where the team fell to East Mississippi for the title.
Bennett is originally from Blackshear, Georgia, and grew quite the reputation during his time at Georgia. During the 2017 season, he had the opportunity of playing the role of Baker Mayfield during preparations for the Rose Bowl.
He gives the Bulldogs two quarterback signees in the current class with John Rhys Plumlee committed but unsigned. Georgia will now have three scholarship quarterbacks on its roster. The Bulldogs have 21 signees for the 2019 class and have around four slots left to fill by the February signing day.
Check out below what some of the Twittersphere had to say about 'The Mailman's' return home.
Mel Tucker didn't have many memorable quotes in his three years at Georgia, but one was when asked about Stetson Bennett mimicking Baker Mayfield in practice.

Tucker's eyes got wide and he said: "Stetson Bennett is a beast, man."

— Seth Emerson (@SethWEmerson) December 20, 2018
I would love to see the reaction of our players when Stetson Bennett enters the locker room at UGA!!

— Joe sweat (@JoeSweat21) December 20, 2018
Stetson Bennett was called "Johnny Football" by the UGA players during his last time in Athens. He was absolutely key in preparing the Dawgs to face Oklahoma's Baker Mayfield last year. He had a big year as a juco QB, putting up nice stats. https://t.co/GxKdNs5ghl

— Radi Nabulsi (@RadiNabulsi) December 20, 2018
I can't believe Stetson Bennett is back at UGA ❤️⚫️🔴⚫️🔴

— enrique. (@ASAP_REKAY) December 20, 2018
Stetson Bennett left UGA as a walk-on and returned with a scholarship. Nice.

— Zach Mullis (@zmullis) December 20, 2018