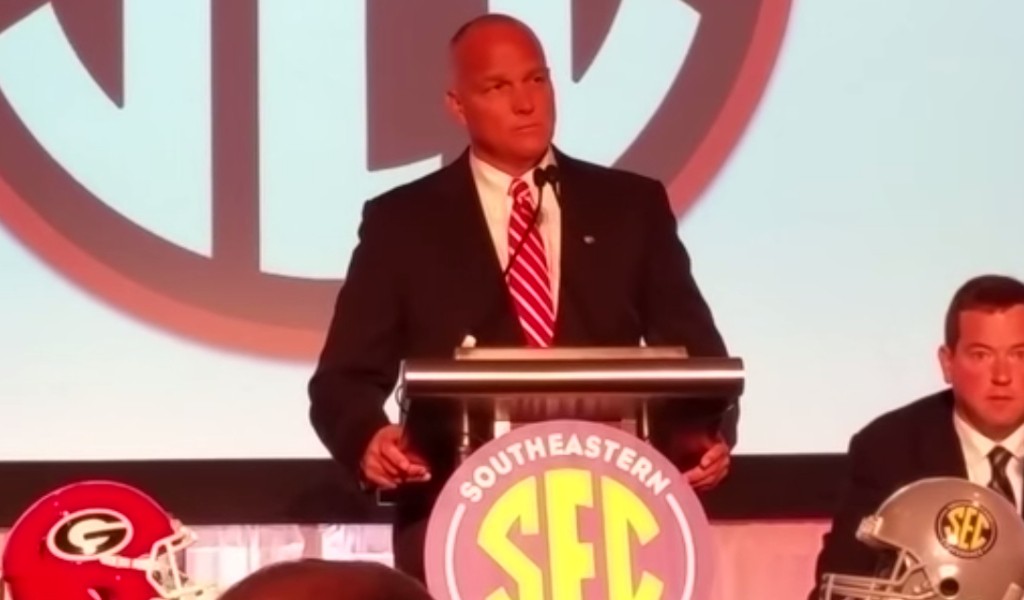 [su_spacer size="20″] HOOVER,  Ala. – Mark Richt was asked repeatedly here Thursday, on the final day of SEC Media Days, who his starting quarterback will be in the upcoming 2015 football season.
And Richt's answer was always the same – he doesn't know which of his three Georgia signal-callers … redshirt sophomore Brice Ramsey, rising junior Faton Bauta and Virginia transfer Greyson Lambert … will emerge as the opening-day starter Sept. 5 against Louisiana-Monroe.
"I have no idea who the starter is going to be," Richt said. "We are going to have a tremendous competition, continue that competition for that position. It's going to — I think it's going to take a while. We have 29 practice opportunities before the first game, and we're going to get a rotation where we can see the guys that we want to see compete and then make a decision on who should be the starter. But right now, I don't know who that is. When we came out of spring, I think the guys made progress. I think the guys are able to function well in our system, but to say who's the man to lead the job, to win the job right now, I don't have that answer."
In his earlier talk with the Georgia beat media, Richt said he was very impressed with Lambert's level of maturity and that the Jesup native has the valuable experience of already playing in some big games for Virginia. Lambert's presence only makes the quarterback competition better, he said.
One position where Rick definitely knows who is starter is, is at tailback where sophomore Nick Chubb is not only a candidate for All-America honors this season but could make a Heisman Trophy run as well.
'Nick is a very — he's a pretty quiet, unassuming guy," said Richt. "He's a very hard worker. He's a great student. He's a great teammate. He's becoming a great leader for us. And he doesn't really like the hype. You can go back to his recruiting. He was very low key. He decided he wanted to be at Georgia, did it quietly, didn't have a big old press conference, and stuck to his decision, didn't do a bunch of stuff to bring attention to himself. He doesn't care about that. He cares about working hard, playing hard, and helping Georgia win. I really appreciate that about him. The other thing, as far as Heisman Trophy and all, I've been blessed to coach a couple of them in years past, and to me, that's as much of a team award as it is an individual award. Rarely does a guy win a Heisman if he's not on a team that's winning at a very high level. So the team is going to fight like mad to win, and if something like that happens, that would be wonderful.
Richt said Chubb showed the Georgia staff early on in 2014 preseason camp that he would be able to contribute heavily to the offense.
"Well, when you watch the guys in preseason camp and you get into your first scrimmage type situations, and you just watch him … a guy like that, it doesn't take long to figure it out. We saw it in high school too, obviously. And the running back position is probably one that young guys can take to and make a contribution more so than maybe an offensive lineman. There's so much to learn as an offensive lineman. But not until he really had to start carrying the load did I realize how much stamina he could have in a game, in an SEC game, at times carrying it 25, 35 times in a game. That's pretty impressive. And that's not our goal for our backs. I don't want a guy to carry 35 times a game his whole career all season long. We want to share the load, but we had some issues with injuries and all. So there wasn't a lot of depth at that position. So he probably carried it more last year in certain games than he probably will this year."
Richt is also high on his other tailbacks … Sony Michel, Brendan Douglas, A.J. Turman and, the oft-injured Keith Marshall.
"Keith is very healthy, in my view," Richt said. "He's moving very well. He's decided to cut his weight down to closer to where he was earlier in his career. You show up as a freshman, about 210 pounds, and then you just get in the weight room, and you eat. You get the nutrition and training table, and before you know it, you weigh 225, 230, and still look like dynamite. But I think he feels more comfortable carrying a little less weight to help his quickness and speed. He's been a speed guy from the very beginning, so that will help him. But I think he's in great shape, great spirits, and he's been a guy that we're going to count on. He's been a guy we have counted on, and we expect to see a bunch from him."
Richt  thinks new offensive coordinator Brian Schottenheimer will bring a lot to the Bulldogs' offense this season.
"In the process of replacing Mike Bobo, we were looking for someone similar in philosophy as to how you think offensive football should be played," he said. "There's so many teams that are just spread. They're spread, and they're going fast. They have four receiver sets, sometimes five and all that. We'll get into the spread to some degree, but we still want to have a physical running game to complement a play action passing game and complement our ability to spread and do those kinds of things. So it's kind of hard to find those guys in the college ranks. Coach Schottenheimer, being an NFL coordinator for, I think, nine years, the last nine years, and watching the style of play, he was very similar to what we do. So the common fan may not see a whole lot different as far as the sets and the types of plays that we run, but I think the players have taken to him well. He's a very good teacher and communicator, and I think he's got a great personality for the college game as far as being able to recruit and being able to relate to young people."
On the defensive side of the ball, Georgia's head man is looking for rising sophomore outside linebacker Lorenzo Carter to develop into a force for the Bulldogs.
"Lorenzo did have an impact for us as a freshman, and we thought the greatest value that he had was more of an edge rusher, a speed guy off the edge," Richt said. "That's kind of what his reputation was coming out of high school. But if you're going to play every down, you've got to play the run. You've got to be able to set the edge on some plays and be able to handle fullbacks coming at you on the power play and things of that nature. So he's becoming more and more physical, and he's learning more how to play the run game better. So he's just becoming more of a complete player. But he's just — he's one of many guys in that position for us that are going to help us play well."
Richt was asked why he continues to draw criticism, despite the fact his overall coaching resume ranks among the top collegiate coaches in the country.
'I didn't know I got criticism," he said, drawing laughter. I think the big thing — I know when I first started coaching 32 years ago, whenever it was, with Coach Bowden and being in what we call hideaway and him talking about notes. A few things he talked about in the very beginning of those sessions, and one was criticism. He said, it's just the nature of the beast in the profession. If you can't take criticism, then you shouldn't coach. I think anybody who's in a leadership role is going to get critiqued. People are going to have opinions, even as a parent, if you say you've got to be in at 11 and everybody else gets to stay out until midnight, you might get criticized for that. You may hear grumbling and all that kind of thing. But the goal as a leader is to do what you think is in the best interest of the people that you're in charge of, the people that you're blessed to be in authority over, and focus on that. That's what I do on a daily basis. I don't worry about anything, whether it's good or bad. People have said some good things over the years too."
But Richt knows how important it is to get the Bulldogs back to championship status, especially since Georgia hasn't won an SEC title in a decade now. And especially since the SEC media this week tabbed the Bulldogs to capture the East Division crown this season.
"Obviously, you've got to win the East," he said. "That's all there is to it. We're going to play eight games in league play, and most of them within the Eastern Division. Those head-to-head matchups are crucially important, but all the games count. So the goal is to get back to Atlanta. The goal is to get there and win it when you get there. Our focus is on the process again. Our focus isn't on getting there as much as what do we have to do on a daily basis to earn the right for victory? That's what the guys have been doing throughout the off-season, the spring and the summer workouts.
"Health-wise, we're in good shape," Richt pointed out. "I can't think of a guy coming into camp right now that won't be able to participate. Justin (Scott-Wesley) will be able to go, too. I think he'll be fine and from the first day he'll be practicing."