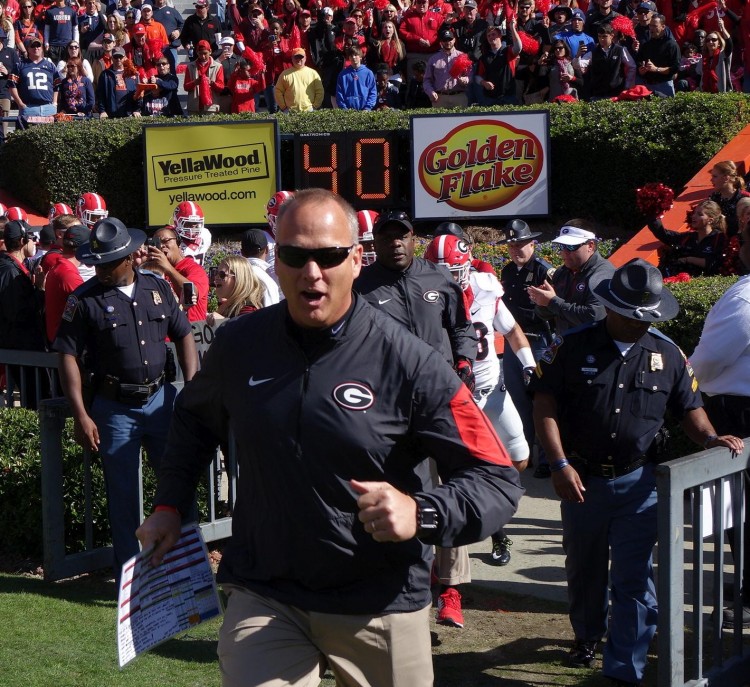 [su_spacer size="20″] Mark Richt was asked back-to-back questions related to his job security at the Tech Week Media Day press conference Tuesday. The questions begin at the 6:50 mark on the SoundCloud recording below.
[su_spacer size="40″] The first asked if he felt he is coaching for his professional life against Tech and the second inquired if he plans to return to UGA in 2016? His answers are interesting.
[su_spacer size="40″] Other topics of the presser include:
[su_spacer size="40″]
On how much he spends preparing for overtime situations…
"We probably rep more overtime situations in camp than we do on a weekly basis. We work on it specifically on the open date, as well. But when you're working red zone offense, red zone defense, you're pretty much working on the same plays that you would call. We work on two-point plays probably every other week or so. The defense works it versus scouts; the offense works it versus scouts. There's times where we do situational things in the one-minute drill. Like every Thursday, we go offense versus defense, one-minute drill. It might be we need a field goal. It might be we need a touchdown. It might be we're doing a May Day like running off the sideline kicking the field goal. Maybe we're practicing two-point plays at the tail end of it, good-on-good kind of stuff. We always do it versus scouts because sometimes we re-emphasize it when we get our ones versus ones and twos versus twos. But the overtime itself, we feel like we've got it covered because we're always working red zone offense and defense along with the two-point plays."
[su_spacer size="40″] On pass protection against Georgia Southern…
"The majority of the time we have pass-protected well. The times we didn't, we had a couple — I know we had two missed assignments that just got us in trouble. There were a couple times we just got whipped. As far as a guy just getting beat, that happens from time to time, as well. But most of the time we protected pretty good."
[su_spacer size="40″] On his career winning percentage against Georgia Tech…
"I know how important this game is to our fans. I know how important this game is to our team and our coaches. It's the last regular season game of the year. There's a lot of reasons why the game is important. Just like when losses sting, I mean, victories are what you're looking for. Like I've said in the past, I'm usually mostly thankful for victories. It's the way the series has gone and I'm — any time we win a game, I'm proud of the team, I guess I can say that."
[su_spacer size="40″] On Hunter Long's performance and status of Greg Pyke…
"Greg's been practicing. Hunter, he's struggled in some areas, just getting a lot of reps for the first time in a long time. I guess since probably his first start at center would be my guess. I can't remember another time he started, played the whole game. But considering it was his first shot out of the cannon and had to wait so long to do it, he did a nice job. We're glad that we had him. But as far as Pyke, he did practice yesterday. If he keeps getting better, he'll be ready to play."
[su_spacer size="40″] On LB Leonard Floyd…
"Well, we just put him where we felt like we needed him the most, against different opponents and in different games and sometimes it had to do with linebackers depth, and we had Reggie Carter go down and we didn't know about the true freshman being just ready early on. Now they are more ready to play snaps and it's freeing him up to play in his natural position, which is the edge, whether it's defensive end in a 4-3 or outside linebacker in a 3-4 or even sometimes being in a nickel, which is basically a glorified outside linebacker when you're versus three receiver looks where you can be in coverage but also pressure from the outside.
I think he's much more at home outside. I think it's pretty easy to see that. But the one thing about him, that I really respect is just how much the guy loves to play. If you just watch the guy, and see how excited he gets about making plays or even if he misses a play, how disappointed — he doesn't hide anything. His body language tells you exactly how he's feeling. I just really like the way he gets out of it.
I'm really proud of him becoming one of the finalists for that (Butkus) award. It's a big deal."
[su_spacer size="40″] On how the offense has performed…
"I think, like even the last three games, we've decided to huddle. We've decided to slow the game down a little bit. Decided to try to control the ball a little bit more. You know, do things that aren't really sexy when it comes to football, offensive football, but things that we thought were going to help us win. I'm proud of everybody being able to do what we felt like we needed to do that was in the best interests in terms of this team to win games. I think in that regard, we are doing the right thing."
[su_spacer size="40″] On how he structures this week with no school and the Thanksgiving break…
"We did have some academic work done. Yesterday and today, blocked out about an hour and a half, two hours for guys that need to get ready for projects or tests or whatever it was, when we get back to school. So that was the only academic responsibilities that we've had so far. But what we did with our times, for meetings and practice, we basically just did exactly what we do every other Monday, Tuesday, Wednesday. Tomorrow morning, as you know, we practice in the morning and try to get out of here somewhere around 11 or 12 to give guys a chance if they are within striking distance to go home for Thanksgiving, get them all back in town Thursday night. Then we'll do a very normal Friday operation. The only thing different is as we are traveling to Atlanta, we'll stop. One group will stop somewhere in the Children's Healthcare of Atlanta Group Hospital, I'm not sure which hospital — Scottish Rite, I think that's where we're going. We go to the children's hospital and then we'll go to Shepherd's Center, as well. That's typical. I think the defense is going with the kids and the offense is going to the Shepherd's Center. I'll probably go to Shepherd's Center, as well. I think we'll see Devon there, won't we? Devon Gales will be there, so we're looking forward to seeing him and everybody else."
[su_spacer size="40″] On quick starts against Georgia Tech in Atlanta…
"To me, I don't remember many games that weren't close. I think they are all close. And I don't know, we just line up and play ball and try to win the game no matter where we're at. I don't think much about if we're home; if we're away. We certainly have to account for crowd noise and we'll be prepared for that. But other than that, it's just another time we're playing Georgia Tech."
[su_spacer size="40″] On how the Georgia Southern game helped his team prepare for Georgia Tech…
"Yeah, they are different. I think the thing with schedule, in the off-season I'm kind of looking at the season. I think my thoughts were that we probably would gain a lot from that, but as we got closer to the game and just studying the film and watching both offenses, they are a lot different. They both run option, but they are very different in how they go about it. But again, like I've said, the fundamentals of defeat blocks the fundamentals of being responsible for gaps, the fundamentals of assignment football when it comes to option, those things do carry over. But they do it just different enough where it's not like, let's do it exactly like we did last week. It's not like that."
[su_spacer size="40″] On the status of WR Isaiah McKenzie and what he brings to the team…
"He's kind of been feast or famine. He's had some great returns. He's had some great runs and then of course the fumble that cost the touchdown could have — I mean, was a big factor in the game. But as far as his health, he did not practice yesterday. We'll see what he does today. I think Ron (Courson) is going to get him out there and see how he's doing and then make a determination, if he practices, and if so, how much of the practice he'll go. So it's up in the air right now for him."
[su_spacer size="40″] On the squib kick last year against Georgia Tech…
"Well, the thought was, there's not much time left, if you kick it deep, they are able to set up a return, there's a chance they could hit one. They would be more organized to practice that than the squib. But we were covering kicks good just about all year at that time of the year. I should have just trusted our ability to go down and kick it deep and get them on the ground. And so by having the squib and them getting decent field position, obviously they got the one play, and the kid scrambled it just enough, just enough to give them a chance to kick it. I mean, if we'd have kicked it deep and tackled them, it would have been a lot harder to do that. If we'd kicked it deep and scored a touchdown, everybody would say, why didn't you squib. It goes back and forth. Just I really think if I had to do it again, I would kick it deep and just see if we could get them on the ground a little bit farther away from that goal line. But as far as — a lot of people would say, you should do that. So it just depends on how it ends up I guess."
[su_spacer size="60″] https://soundcloud.com/user-197203470/mark-richt-presser-tech-week
[su_spacer size="120″]