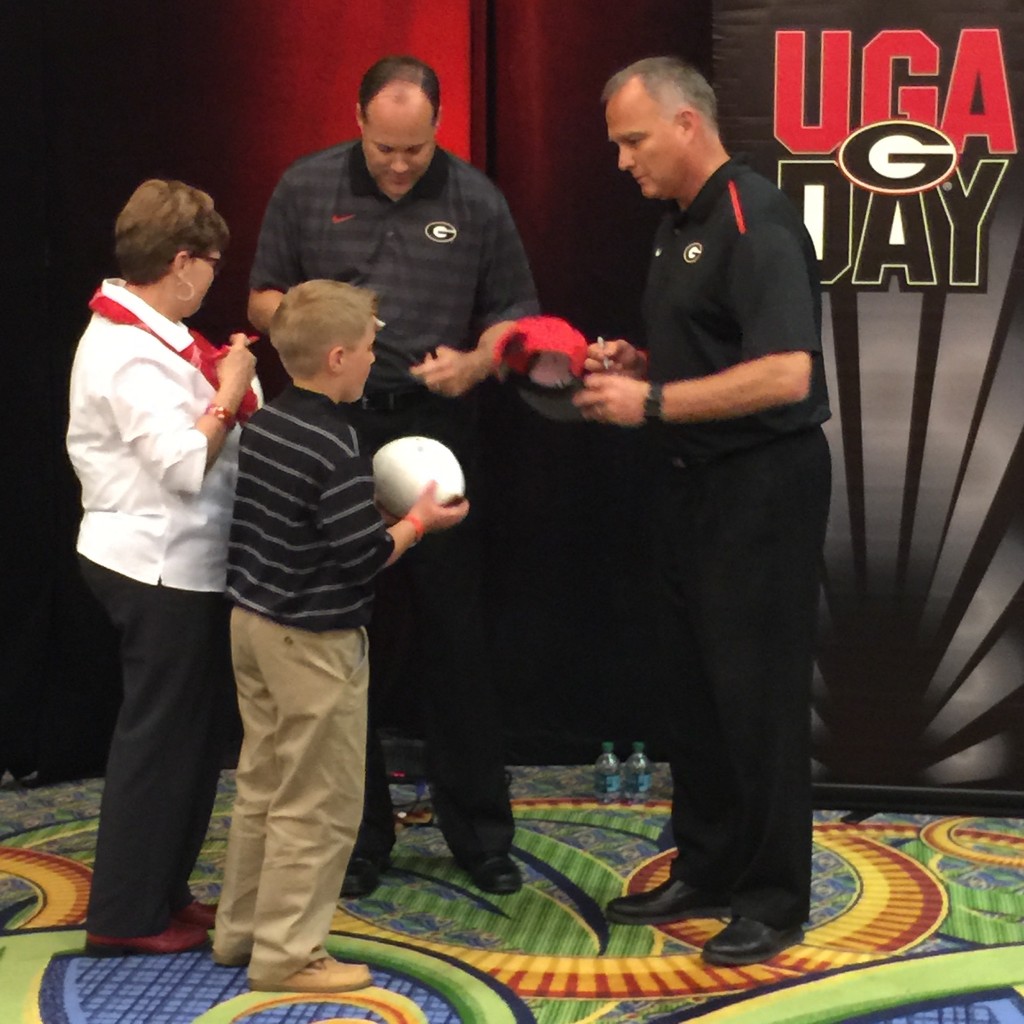 [su_spacer size="20″]
SAVANNAH − Georgia head football coach Mark Richt reiterated here Tuesday night that he presently has no idea whom the Bulldogs' starting quarterback will be in the 2015 season.
Speaking at the first stop of UGA Days at the Marriott Riverside Hotel, Richt joined head basketball coach Mark Fox and UGA president Jere Morehead in addressing more than 200 Georgia alumni and fans. Georgia director of athletics Greg McGarity also attended the event, which was co-sponsored by Bulldawg Illustrated.
"Nobody in my opinion has nailed it down," said Richt, speaking of the competition between junior Faton Bauta, redshirt sophomore Brice Ramsey and redshirt freshman signal-caller Jacob Park. "All three guys have a legitimate chance to be the starter. It will depend on what they do between now and fall camp and then on what they do in the camp. But they all have the talent base to get the job done. And there will be a lot of things happening that will help our quarterback do his job," said Richt, alluding to Nick Chubb's explosive running and Georgia's experienced offensive line.
Someone asked the Bulldogs' coach could Georgia fans possibly see a two-quarterback system in the manner Richt played both David Greene and D.J. Shockley in the coach's early years at Georgia.
"When David and D.J. were here together, I wouldn't call it a true two-quarterback system," he said. "David took over the starting role but we did try to get D.J. in every ball game and that helped his development (alluding to Shockley going on to lead the Bulldogs to the SEC title in 2005).
"But potentially," added Richt, "we could get into something like that (with two QBs sharing time) this year or we could get a guy to go in, grab hold of the job and kick tail."
[su_spacer size="20″]
Alumni Pep Band at UGA Day – Savannah
Alumni Pep Band – UGA Day – Savannah – 21-Apr-15

[su_spacer size="20″]
Richt said whichever of the three Georgia quarterbacks nails down the starting job − and all signs point to it being either Ramsey or Bauta − it will be important for that guy to make smart decisions with the football.
"It will be important for him to not force the  ball into coverage," he said. "He must know when to check it down … dumping the ball off to Chubb or Sony Michel is not a bad thing."
Richt said sophomore Isaiah Wynn, senior Hunter Long and junior Brandon Kublanow are all battling it out for the starting center job, to fill the big shoes of three-year starter David Andrews.
"The center position is almost as important as who is going to play quarterback, in my opinion," Richt said. "Like quarterback it's one of the toughest positions to play and we've been blessed with outstanding centers at Georgia," he said, pointing to such past standouts as Ben  Jones, Russ Tanner and Andrews.
The Georgia coach dished out praise for rising sophomore tailback Chubb, who is projected to be on a number of Heisman Trophy lists this coming fall. "Nick is the kind of guy who makes everybody look tough," said Richt. "He's a freight train of a back. He's just a great person as well as a great player. And A.J. Turman got a lot of work this spring and improved much and Brendan Douglas is another very tough player … I don't know what we'd do without Brendan."
Richt said the recently completed spring practice was a very good one and that the important thing was the Bulldogs finished the workouts without any significant injuries.
The coach, however, didn't finish his talk − and he and Fox were interviewed on stage by Georgia Radio Network personality Chuck Dowdle − without having to field one tough question that came his way from the audience.
"Why coach," one guy asked, "didn't we offer a scholarship to the best receiver in the state, Brad Stewart, from right here in Savannah?" Stewart played for Savannah Benedictine and staged quite a performance in the state championship game in the Georgia Dome.
"There's a lot of opinion about who's the best," Richt replied. "Brad was a great player there and had a great career. There's probably 150 Division I prospects in this state and narrowing it down to 20 or 25 to sign is tough. Then you have players at certain positions like that who have committed early and so forth."
Fox, who coached the basketball Bulldogs to their second consecutive 20-win season, said he was proud of his team this past season, particularly in the way it fought through numerous injuries to earn a spot in the NCAA tournament.
Fox also chalked up his 100th victory at the University of Georgia. "Just trying to catch Coach Richt," he mused.
Fox said the success the Bulldogs enjoyed this winter should help the basketball program immensely.
"Success breeds more success," he said. "It helps attitude, with recruiting and everything else. It helps your players' focus off the court."
The coach said the Bulldogs are having a solid recruiting year thus far.
"Mike Edwards (6-10 Michigan product) is a long athletic player who can help us and should compete right away for a starting job," Fox said, "especially since we're losing Nemi (Djurisic) and Marcus Thornton. Derek Ogbeide (Pebblebrook High) is 6-8 and we think he's the best big man in the state this year. So at 6-10 and 6-8, we should be big and athletic up front but, of course, less experienced. And we also signed William 'Turtle' Jackson from Athens Christian who's a big guard and should help us in the backcourt. So we're excited about our recruiting effort."
Fox said so while the Bulldogs will be young on the front line next winter, he thinks the 2015-16 UGA edition will be a deep and athletic team.
"The level of depth we'll have next year, we're excited about," said Fox. "There will be great competition for playing time. Like I said, we're young up front but in every other area, we think we will be better."
Replying to a question, Fox said he hopes the Bulldogs will be more of a running team than they were last season.
"We wanted to be more of a running team last year," he said, "but we had to play slower because of the depth situation. But we'll be deeper this year so we hope to pressure the ball more and play faster."
Fox said losing a close game to Michigan State in the first round of the NCAAs this year should prove beneficial to his team going forward.
"Michigan State was a team that advanced to the Final Four and they were just a better team," he related. "That experience for us was terrific. If we had had a healthy Kenny Gaines, it might have turned out a little differently but we just had a burp at the end of the first half and it cost us. It's hard to make the NCAA tournament to begin with but we're going to fight to earn our way back there and be successful."