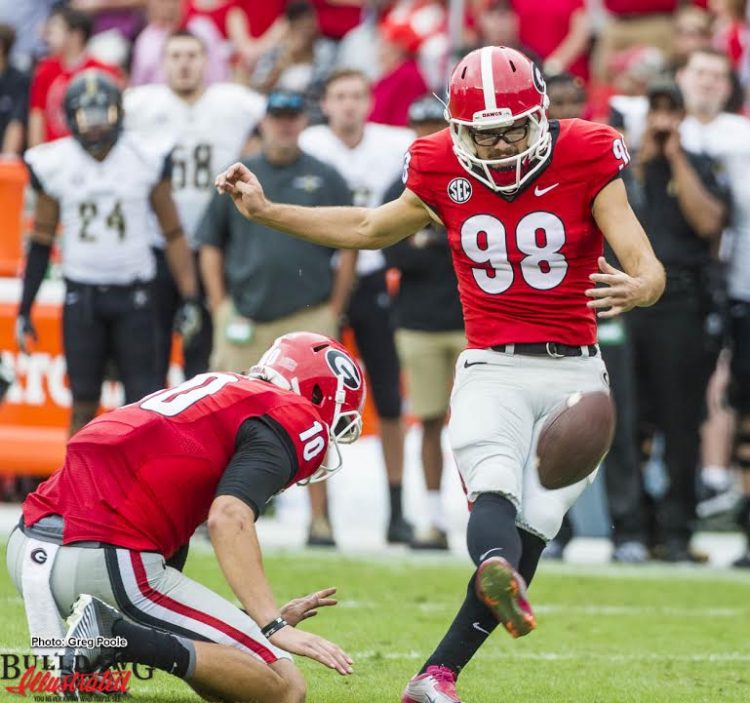 The Bulldogs had their share of struggles against Vanderbilt, but the kicking woes that have plagued the Bulldogs this season were not present this past Saturday.



Rodrigo Blankenship was one of the Bulldogs few positives from a hard fought game against the Vanderbilt Commodores.


On Saturday, Blankenship was a huge surprise for the Bulldogs and he went on to have a strong day during kickoffs and had a perfect day kicking field goals.


Blankenship went a perfect three for three by nailing field goals from 22, 36, and 45 yards.


This type of consistency has not been seen out of Georgia's kickers this year and could play a pivotal role in the Bulldogs success as the season progresses.


After Blankenship made his first field goal, his confidence seemed to increase in all aspects of the game, especially in kickoffs.


Blankenship reached the end zone on all of his kickoffs from his first field goal until the end of the game.


This is very encouraging for head coach Kirby Smart because the Bulldogs kick off return coverage unit has struggled immensely this season and played a role in the Bulldogs loss this past Saturday.


However, If coach Smart is able to rely on Blankenship to consistently force touchbacks and prevent the opposition from even returning the ball, it will be a huge help for the team in the battle of field position.


As Blankenship's success continues, Not only will the team have more confidence in him but he will also continue to build more and more confidence in himself, which is a huge key for any kicker.


Blankenship's confidence was at an all-time high at the end of the game when he commented on coach Smart's decision to throw the Hail Mary before the half rather than attempting a 54-yard field goal with Blankenship.

I did alright. There's always room to improve…I feel like if we had stayed to line up for that 54 at the end of the half, it would have cleared easy. That same kind of hit would have been good.


If Blankenship can continue to have success, then it will give the Bulldogs the ability to trust in their field goal unit for the first team this season.


https://soundcloud.com/user-197203470/rodrigo-blankenship-post-vandy-game-interview-15-oct-2016