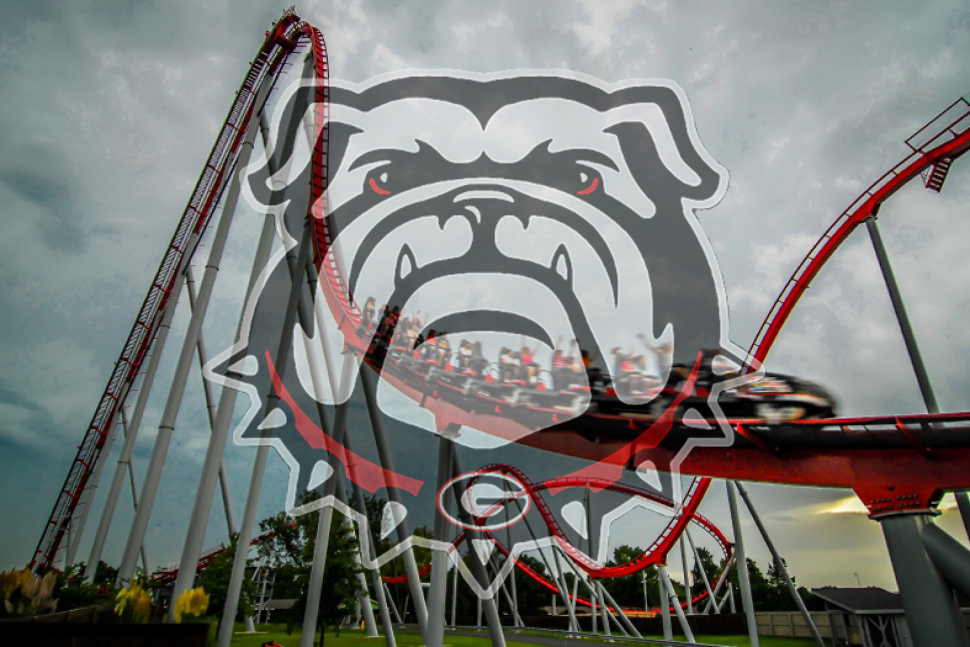 Before I get to some South Carolina thoughts in my next post, let me say something about the last couple weeks…
I didn't get a chance to do any posts after the Ole Miss game.  It wasn't (intentionally) some protest of what happened in Oxford; family and work matters needed my attention.
To sum up my thoughts though:  what happened in Oxford nearly two weeks ago was inexcusable.  Those kind of losses were inexcusable when Mark Richt was here.  It was awful.  We were all led to believe Georgia wouldn't get completely embarrassed like that anymore.
Last week, though, was much better.  I am not angry with the loss, or the way the team played overall.  I was damn proud of their effort and the resiliency they showed.  I worried that after the team clearly quit in Oxford, how would they respond.  For as much criticism as I was giving Kirby after Ole Miss, I give him a lot of credit for the game against Tennessee.
That's not to say I am not disappointed in the result; it was a terribly heartbreaking way to lose.
There are no such things as moral victories.  But Saturday was pretty dern close.  Not quitting was great to see, and I was encouraged that Jim Chaney did what I knew he could/would do:  adjust the offense to run the ball more effectively.
That's not to say I accept losing or don't care about winning.  I damn sure do care.  It would be condescending of me to say I care more than you.  I don't know you.  But I can guarandamntee that I care as much as you do.
But we have to have perspective.
I have said the following so many times I hate repeating myself, but it isn't going to stop me:  you know it when you see it.  In times of obvious transition, you just know it when you see it.
In 2010, the team played better than the previous year despite posting Georgia's first losing season since 1996.   The stats and the overall play were both improved.
In 2011, the team started 0-2 but I was encouraged after the Dawgs lost to South Carolina a week by being totally outclassed by Boise State.  I was encouraged by what I saw.
In 2013, a team that was ravaged by injuries and adversity never quit and never gave up, rallying to beat Tennessee and Georgia Tech, and coming oh so close to beating Auburn.  Despite going 8-5, you could see something in the team.
Conversely, last year, despite going 9-3, something was just not right with the team or the program as a whole.  A change was needed, and a change was made.  You didn't need a bunch of losses to tell you what we all knew.  You could just see it.
I thought Georgia would go 10-2 this season; that is still a possibility, although a dubious one.  But I've said many times here, privately and on the Award-winning podcast* with Bernie and Bulldawg Bob, I am less concerned with wins and losses this season.  I want to see "it".  We will know "it" when we see "it".
We saw what I thought was "it" against North Carolina, but the Ole Miss game blemished that.  We came close to having that "it" moment Saturday.  But the problems we've seen so far can be fixed.  Eason will get better protecting the football and will become more consistent.  We can recruit better kickers.  We can recruit bigger linemen.  The Kirby Process can help keep players from running out on the field and get backbreaking, costly penalties.
If the team had just upped and quit on Kirby and the staff and not rallied against Tennessee, that would be a major cause of concern.  They didn't.  As long as the team doesn't quit, like we saw in Oxford, the Dawgs will continue to improve in 2016, even if the wins and losses don't reflect that.
That doesn't mean losing should be OK, or that repeated problems shouldn't be fixed.
Keep the faith Bulldawg Nation.
Next:  preparing for South Carolina
*It could have won an award.  Do you know that it hasn't?