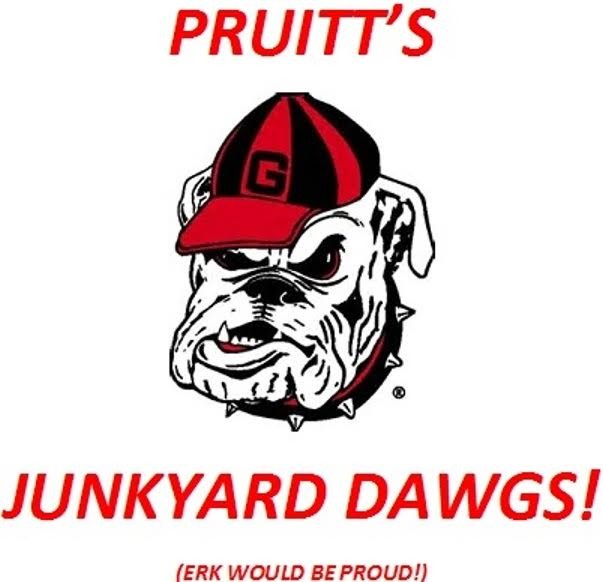 [su_spacer size="20″] "Mark Richt & UGA Are Losing Their Defensive Coordinator!" Panic not DawgNation. Those were the headlines one season and 18 months ago. Todd Grantham. After being contacted by Louisville following the 2013 season, Grantham made a somewhat lateral move to the "Bluegrass State" for a little extra green. Although there had been some grumblings in Athens about the Georgia defense, this move came as a bit of a surprise and happened less than 30 days before the much celebrated holiday for many, National Signing Day 2014. With Grantham bolting the "Classic City" and remnants of the Willie Martinez era still in the minds of some Dawg fans, it would have been easy for someone in Richt's shoes to panic and have a "knee jerk" reaction to the whole situation. He didn't. In a very calm, cool, and collected fashion, Georgia dangled a job that apparently many thought a plumb position and found a mutual bond with National Champion Defensive Coordinator, Jeremy Pruitt.
[su_spacer size="40″] Harking back for a moment, the two seasons prior to Pruitt's arrival, being 2012 and 2013 the Bulldogs ranked 61st and 52nd respectively in total defense nationally. Although the Dawgs had 9 players find their way onto NFL rosters, 2 being 1st round picks and 5 others actually being drafted during this period, and Georgia having had given the Crimson Tide an epic battle in the Georgia Dome in the 2012 SEC Championship. The once "Junkyard Dawg" defense was a defense ready for the junk yard. The message was not coming across. The "teachable" moments were wasted more often than not. Scheme seemed more important than natural instinct. And any fan, even from high up in the 300 Section of Sanford Stadium could see these players were thinking more than reacting. At times, it was the epitome of analysis paralysis.
[su_spacer size="40″] Pruitt, along with a star-studded staff, including the likes of Mike Ekeler, Kevin Sherrer, and Tracy Rocker of Auburn playing day fame, rounded out an entirely new defensive organization. Georgia put together a completely renovated leadership team for the defensive side of the ball for the first time since Dooley took over the program in 1964. And well?
[su_spacer size="40″] So far, the overall results would be hard with which to find fault; even considering the "clunker" that was the annual "Cocktail Party" in Jacksonville.
[su_spacer size="40″] 1.) Georgia ranked 16th overall in total defense in 2014.
2.) Georgia led the SEC and ranked 4th nationally in turnover margin (+16),4th best in school history.
3.) Georgia finished 21st in points allowed in 2014; a gigantic leap from 2013 (86th)
4.) The Dawgs scored 110 points off of 29 turnovers.
5.) Pruitt's boys pitched two shutouts; 1 against SEC East Champ Missouri on the road
6.) The Dawgs defense held #9 Auburn and their high powered offense to a mere 7 points.
7.) Pruitt and Company held together the 2014 recruiting class headlined by Lorenzo Carter.
[su_spacer size="40″] 8.) The Defensive staff helped craft a stellar 2015 "defensive" signing class, led by the #1 Ranked player in the Nation…IN-STATE PRODUCT, Trenton Thompson
[su_spacer size="40″] Consider also the fact that between the time Pruitt took his new place in Georgia's family and the start of the 2014 season, the Dawgs dismissed three of their four starting defensive backs, lost another to a medical disqualification, and dismissed a defensive lineman for a violation of team rules. Also, throughout the course of the season, by the time it was all said and done, EIGHT (8) defensive backs had defected, departed, or been deleted from the program.
[su_spacer size="40″] Given all of the circumstances surrounding the Bulldog program when Pruitt entered the picture, it is hard to argue with the defensive results. Now with a full year under his belt and a new season about to start, I find myself thinking Pruitt will be the "Erk" to Richt's "Dooley". Let's hope the results reflect the same. But if nothing else, Pruitt seems to be putting the FIGHT back into the JUNKYARD DAWGS!
[su_spacer size="40″] [su_youtube_advanced url="https://www.youtube.com/watch?v=vLny4dV5G1o" autohide="no"]