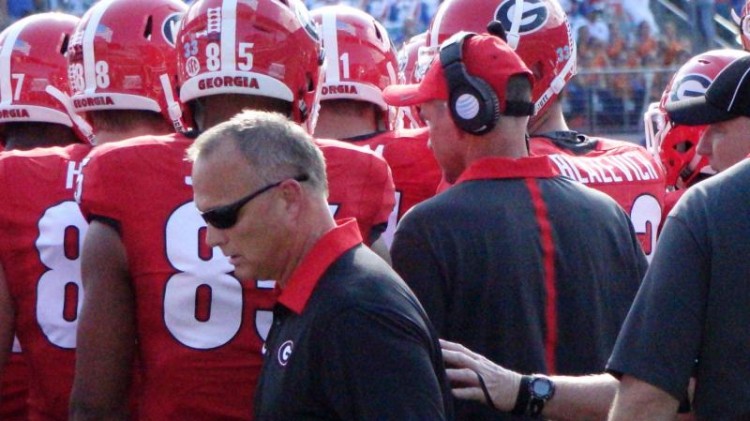 [su_spacer size="20″] Welcome to the "Cult of mediocrity!" Georgia began to climb the mountain of the college football ranks, got half way up the incline, began to lose their collective breath, and decided to stop where they were, plant the huge "G" flag on the side of the hill, and climb no more. Frustrating. Aggravating. Irritating. Maddening. Feel free to circle the word that is most apt to describe the state of football at Georgia's flagship university. I'll go with perplexing. Or maybe, mystifying? The Georgia Bulldog's entire football operation; it doesn't need an overhaul. It needs an exorcism! There is an aura around this team that is as divided and fractured as the foundation on which it sits. It is unclear if there is more confusion inside the Butts-Mehre building or outside among the masses. In fairness, the minions aren't supposed to know everything that is transpiring at the corner of South Lumpkin and Selig Circle. But from a distance and even upon closer inspection, it appears that those who should know what is going on….don't! Just like the football team that has seemingly lost its way, no one in charge has been able to pinpoint exactly how to solve the problems. And maybe that's the broader point in Athens on this dreary "after Saturday ass-kicking". There are so many problems with this program at this very moment that pinpointing a single solution is difficult. There is no single solution. There are several things that must be done, and it has to start right now.
[su_spacer size="40″]
THE GOOD:
Football begins with recognizing the symbiotic relationship all three phases of the game have with one another. The state and condition of one phase of a team's game will directly and proportionately affect the other aspects. Football is a three phase game; offense, defense, and special teams. So, if for instance, two phases of your team are abysmal; say offense and special teams then your defense is going to suffer eventually as well. Florida scored 27 points on Georgia. Florida's offense was on the field over 36 minutes of the contest. Florida rolled up 413 yards of offense. How is that good for Georgia? Go behind the numbers. Georgia's defense only gave up 20 points. One of Florida's touchdown drives started inside of Georgia's five-yard line due to an offensive miscue. Of all of Florida's output, 126 yards came on two plays out of 67, meaning Georgia gave up only 267 yards of total offense on 65 other plays. Florida's time of possession may have had less to do with Georgia's defense and more to do with the fact that the Dawgs turned the ball over five (5) times. Also, Gary & Verne in the CBS booth pointed out many times Georgia's youth, especially in the secondary, where Briscoe, McGraw, Abram, and Parrish were lurking. And aside from one long touchdown pass, which was hardly the reason for the loss, Georgia's secondary played pretty well. The truth is, the best players on the defense right now are either freshmen or transfers, i.e. Jake Ganus. It may appear that Pruitt & Co. aren't getting the job done. But in fairness to the Dawg's defensive unit, they are not only battling their opponent, but also the anemic production of the Georgia offense and the failures of Georgia's special teams. This isn't to say the Georgia defense couldn't do a better job of playing contain, setting the edge, wrapping up, and playing assignment football, but for all that is wrong with the Red and Black, this is the closest area to being right. Pruitt quietly knows his defense must play a nearly flawless game ever time out, and he cannot afford to take chances because his unit isn't going to get help from anywhere else.
[su_spacer size="40″] THE BAD:
Where to begin? Who knew the loss of Nick Chubb would reduce "Tailback U" to "Tuck Tail U"? Georgia doesn't have a competent SEC caliber quarterback or a wide receiver who is a true threat beyond Malcolm Mitchell to help spread the field, and that is an issue. But how do you rush for a meager 69 yards on 22 carries? Sony had 13 carries for a mere 45 yards, and Marshall had three carries for 16 yards. The longest run of the day for the Dawgs was only 10 yards, and that's because a great run by Sony out of the "Wild Dawg" formation was called back for a holding penalty early in the game.
The decision to go with Bauta was discussed all over radio "pre-game" as either an act of desperation or an act of courage. The Dawg Nation seemed divided on the matter. Bauta's first start was certainly a forgettable one as he went 15 – 34 for 154 yards, four interceptions, and no touchdowns. The decision to start the 3rd string quarterback, who had virtually no playing experience, in a game of this magnitude has to lead one to believe that the Georgia offense is in dire straits. Couple this with the fact that the "Schottenheimer error", I mean era, may be proving to be a huge hiring mistake for Richt as coaching has played little to no part in making this unit better.
Special teams….well, special teams. Need I say more?
[su_spacer size="40″] THE UGLY:
Georgia's offensive line was to be the anchor for a team trying to find an identity. It is safe to say that this unit has been a disappointment and youth is not a viable reason. Football begins and ends on the line of scrimmage. Georgia's wealth of experience on the O-line was thought to be a reason for optimism. But against quality SEC competition, specifically Alabama, Tennessee, Missouri, and now Florida, this group has wildly underperformed by SEC standards. In truth, both of Georgia's lines of scrimmage don't even pass the "eye test" when compared to their SEC counterparts.
Coaching is continually called into question when things are not going well. There is legitimate reason to question Georgia's coaching. To coach someone means to teach them or educate them and to inspire them to become more than they are or believe, they can be. How do you come out of a bye week and play undisciplined and uninspired in a game of this importance? How do you have players still making the most fundamental of mental mistakes? How does the offensive game plan continually seem to be so random lacking any coherence or strategic thought? How can special teams play continue to be this poor year in and year out, because it has gone from trend to a full-blown epidemic?
[su_spacer size="40″] THROW 'EM A BONE:
Malcolm Mitchell played in his last Georgia/Florida game. He is the epitome of the student-athlete that ALL Georgia fans should be proud to have on their squad.
Terry Godwin is continuing to develop as a young wide receiver.
Brice Ramsey, rather than pout, punted! He punted five times for an average of 45 yards with a long of 50 yards.
[su_spacer size="40″] NO BONES 'BOUT IT:
Fans have opinions but don't have any authority to make decisions for this program. The decision as to whether the direction of this program is acceptable is within the discretion of Greg McGarity. My belief that the last three games were going to be the most important of Richt's Georgia tenure did not change. I do not believe the Florida game was one in which Richt was coaching for his job, nor do I believe the remainder of the season will influence the fact that Richt will be Georgia's head coach in 2016. But I do believe the leash just got a whole lot shorter. So, please heed my advice.
1.) Georgia's offensive line has been pedestrian. Now that all legitimate goals are off the table start giving significant playing time to all linemen who will be on the roster next year. It's time to find out who can play at this level and who cannot. Don't wait until next season so we can hear how "young and inexperienced" the line is as a reason for struggles.
2.) Recruiting must focus and stress bringing in offensive and defensive linemen who are big, strong, and aggressive. Georgia's lines of scrimmage are weak when compared to SEC elites.
3.) Wide receiver is another area of concern. It's time to start playing all of the young talents and finding out who can play and who cannot.
4.) Pick a quarterback who will be on the roster next season and let them develop. Maybe Jacob Eason comes to Georgia. Maybe he becomes the starter for the Dawgs. But the fact is, true freshman quarterbacks are not a recipe for success. So regardless of whom you believe might or might not be on the roster next season, you have to have a viable quarterback for 2016. Pick one and develop him.
5.) Every freshman that has to playing time this season needs to take the majority of snaps on offense, defense, and special teams to continue to develop.
6.) Experiment with special teams the remainder of the season. This is an area that Richt teams overall have been colossal failures at executing effectively and efficiently.
7.) Observe the top programs in the nation and determine if Georgia has the right coaching, strength, conditioning, and nutritional programs. Georgia's teams have seemed smaller, weaker, and slower than their counterparts.
[su_spacer size="40″] Blame the experts. Every February Georgia fans hear about the great recruiting classes Georgia has secured, and then the hype videos come out in August. The promise far too often outdistances the reality. Is Florida 24 points better than Georgia with all their preseason struggles? Richt has been accused for more than a handful of seasons of doing "less with more". Georgia is a talent rich state with everything it needs to be successful. It is up to Richt and his staff to figure out how to do that. Has Richt become the Mike Smith, former Falcon head coach, of the SEC? Has he lost the team with this year's disappointments? Has he taken this team as far as he can? No one knows for sure. But Georgia coaches have to find a way to sell this program's direction to prospects, raise the level of play, and make the Dawgs relevant in the SEC and nationally again. It has to start today. And there's "NO BONES 'BOUT IT."
[su_spacer size="60″]