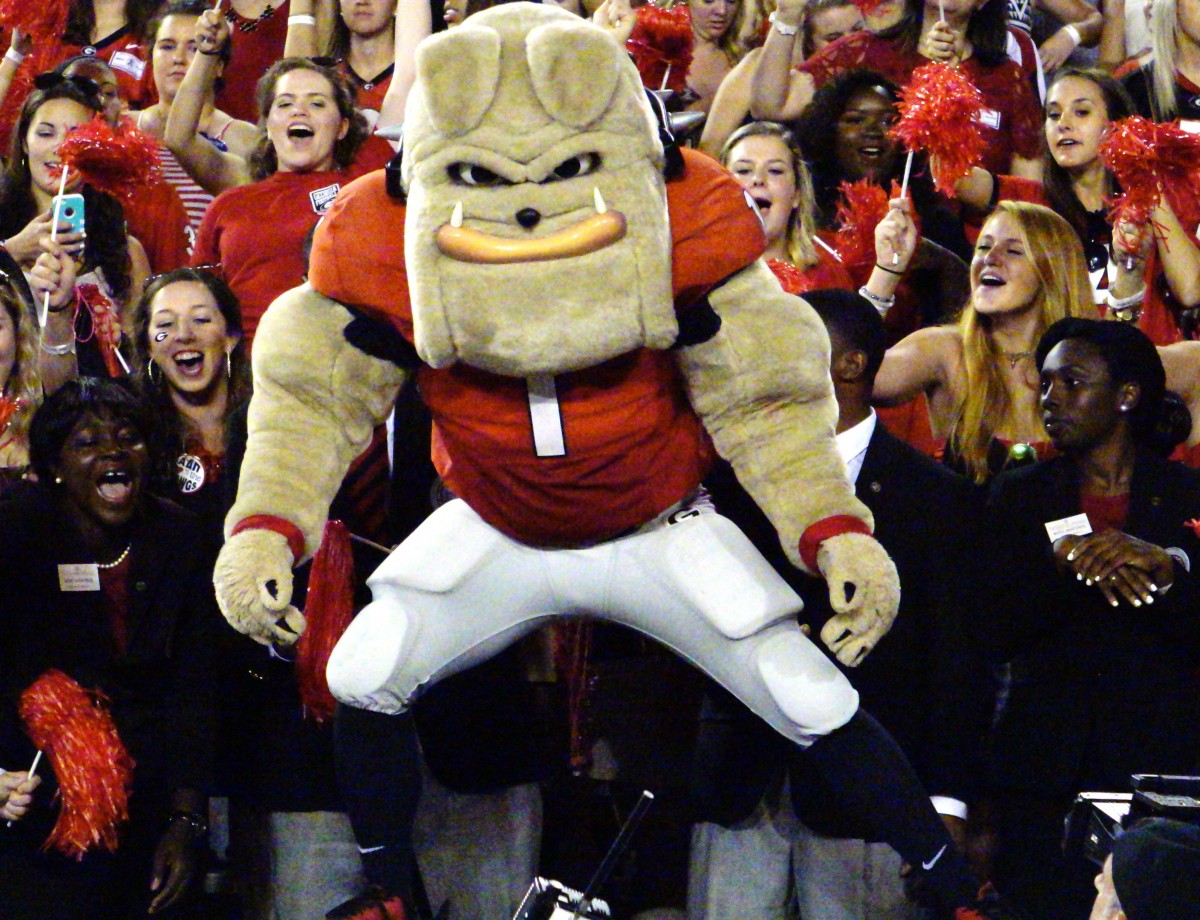 [su_spacer size="20″]
A six o'clock kickoff under a sun-drenched sky made for a picture perfect setting in the "Classic City" with Georgia facing off against one of their greatest nemeses ever. There may not be a better offensive mind in football in the last 30 years and certainly no coach that takes greater pleasure in beating the Georgia Bulldogs than the "Ole Ball Coach", the "Evil Genius", "Darth Visor", a.k.a. Coach Steve Spurrier. For years there has been a sense of dread every time Georgia stepped out on the field against a Spurrier led squad; feeling that somewhere, somehow, the boogey man would show up to terrorize them and become their worst nightmare. Well, on this beautiful fall evening in Athens, as dusk turned to darkness, Georgia exorcized its demons…with emphasis!
[su_spacer size="40″]
THE GOOD:
[su_spacer size="40″]
Now, the obvious would be to start with the amazing and unexpected (at least from a fan perspective) performance by starting QB Greyson Lambert. But I won't. Let's be clear. A football team does not rack up 576 yards of total offense, 32 first downs, throw the ball 25 times without giving up a sack, and have the overall rushing attack average 6.5 yards a carry without an offensive line playing physical, mean, and nasty. Georgia is really benefiting from senior leadership and wealth of experience on the O-line. The loss of Coach Will Friend after last season could have proven a real hurdle for the program. But Coach Rob Sale has quickly made an impression on this squad and continues to push for their very best.
[su_spacer size="40″]
The defense continues to be a work in progress. But, when the opposing QB and wide receiver are the two leading rushers for their respective squad, you know you are doing something right. South Carolina has a sizeable offensive line, a real star in Pharoah Cooper, and an emerging talent in QB Lorenzo Nunez. However, the Junkyard Dawgs, Pruitt version, saw to it that the Gamecocks would never pose a real threat. South Carolina, as a team, rushed for only 174 yards and Nunez and Pharoah combined for 110 yards of that total. Georgia's defense also held the Gamecocks to 84 yards passing on 22 attempts and snagged another takeaway to extend their streak to 19 straight games with a turnover.
[su_spacer size="40″]
THE BAD:
[su_spacer size="40″]
Georgia's special teams are doing a "flying Wallenda's" type high wire act without a net and it appears as though banana peels are under foot. Georgia kicked off to South Carolina a total of 9 times during the game and only three of them found the end zone for touchbacks. Shon Carson racked up 162 return yards on 6 return attempts averaging almost 30 yards per. The most disheartening effort from this squad was with only 17 seconds remaining in the 1st half. After Georgia ran an almost perfect 2-minute offense to take a 14 point lead, Carson took the ensuing kickoff and shuffled 51 yards past midfield on the return. Coupled with a 15-yard personal foul penalty that was assessed on the play, South Carolina took the opportunity to add 3 points and cut the deficit to 11 at halftime.
[su_spacer size="40″]
THE UGLY:
[su_spacer size="40″]
There really wasn't a true "ugly" on this particular day for the Dawgs. But if we have to single out anything, we could point to the fact that Georgia turned the ball over for the 1st time all season. Was it a running back fumble? No. Was it an interception on a poor pass? No. Was it a turnover by the wide receivers? No. Spotlight big Brandon Kublanow, who had been shifted to center for this season. With just under 7:00 minutes to go in the 3rd quarter and Georgia holding a 25 point advantage, the Dawgs were 1st and 10 from the Carolina 13 yard line. Lambert was lined up in a shotgun set and when Kublanow attempted the exchange, the ball seemingly slipped from his grasp, never really got off the turf and the Gamecocks recovered. That's okay big fella! Your work on the line and your reaction after the play will get you a reprieve for this one.
[su_spacer size="40″]
THROW 'EM A BONE:
[su_spacer size="40″]
Tim Kimbrough who may be one of the less heralded but not less talented linebackers in a very crowded field made his presence known throughout the game. He was instrumental in stuffing the Gamecocks on 4th and 2 and was playing virtually one-handed.
[su_spacer size="40″]
The entire defensive front for the Dawgs! This unit is supposed to be Georgia's soft spot. Coach Rocker and Coach Pruitt are doing a great job so far getting the most out of this group and getting them to play up to their potential. Bailey, Mayes, Atkins, DeLoach, and the young pups Thompson and Hawkins are really starting to put it together.
[su_spacer size="40″]
Kicker Collin Barber really strapped it on yesterday as he took matters into his own hands on kickoffs that didn't get out of the end zone. Barber made two nice tackles for special teams and really deserves some praise for his efforts.
[su_spacer size="40″]
Nothing beats hanging "52" on the Ole Ball Coach, with the exception of maybe having had done it while he was at Florida! But this ranges as a close 2nd.
[su_spacer size="40″]
You may want to throw Coach Pruitt a bone to gnaw on! Many 2nd teamers were playing defense to start the 4th quarter. Georgia's defense lost containment and allowed South Carolina to score a touchdown which cut Georgia's lead to just 26 points. Pruitt's reaction and facial expressions were priceless. He demands maximum effort regardless of the circumstances and you have to appreciate that as a Georgia fan.
[su_spacer size="40″]
NO BONES 'BOUT IT:
[su_spacer size="40″]
This isn't the South Carolina defense of old; led by the likes of Coach Ellis or Coach Strong, with players like Clowney or old school John Abraham. But this is an SEC team led by a Hall of Fame coach and the Dawgs could not afford to take South Carolina lightly. And to their credit, they didn't.
[su_spacer size="40″]
Chubb surpassed the 2000 yard mark faster than any other player in Georgia history, sans one. He also rushed for over 100 yards for the 11th straight game in a row. Not to overlook Southern, but if he is to break Herschel's record, he'll have to do it against Alabama.
[su_spacer size="40″]
Sony Michel continues to prove to be an invaluable commodity. There is just no other way to describe him. He can do it all and having him on the field with Chubb really stresses and stretches defenses.
[su_spacer size="40″]
Against Vandy, Greyson Lambert could have lost the Georgia starting QB job. Against South Carolina, he all but locked it up with a record breaking performance. Since he started the game against the Commodores 0 for 7, Lambert has gone 35 for 39, 446 yards and 3 TD's in the last game and a half. Lambert also set the record for pass percentage completions at 96% and most consecutive completions with 20, breaking Mike Bobo's old mark.
[su_spacer size="40″]
You want every game to have a teachable moment. Each week brings new optimism and new challenges. The college football playoff makes the season a marathon not a sprint. This is simply a survive and move on sport, with the operative phrase being "MOVE ON". Sometimes, playing the "perfect" game can be a bigger detriment than a help. Georgia gets to take a breather from its SEC schedule as Southern University comes calling on the Dawg House. This is the time Georgia needs to not get distracted and not lose focus. If Georgia continues to take a workman like approach to each game as they come and set aside the ones that have passed, they'll be just fine. NO BONES 'BOUT IT!
[su_spacer size="60″]