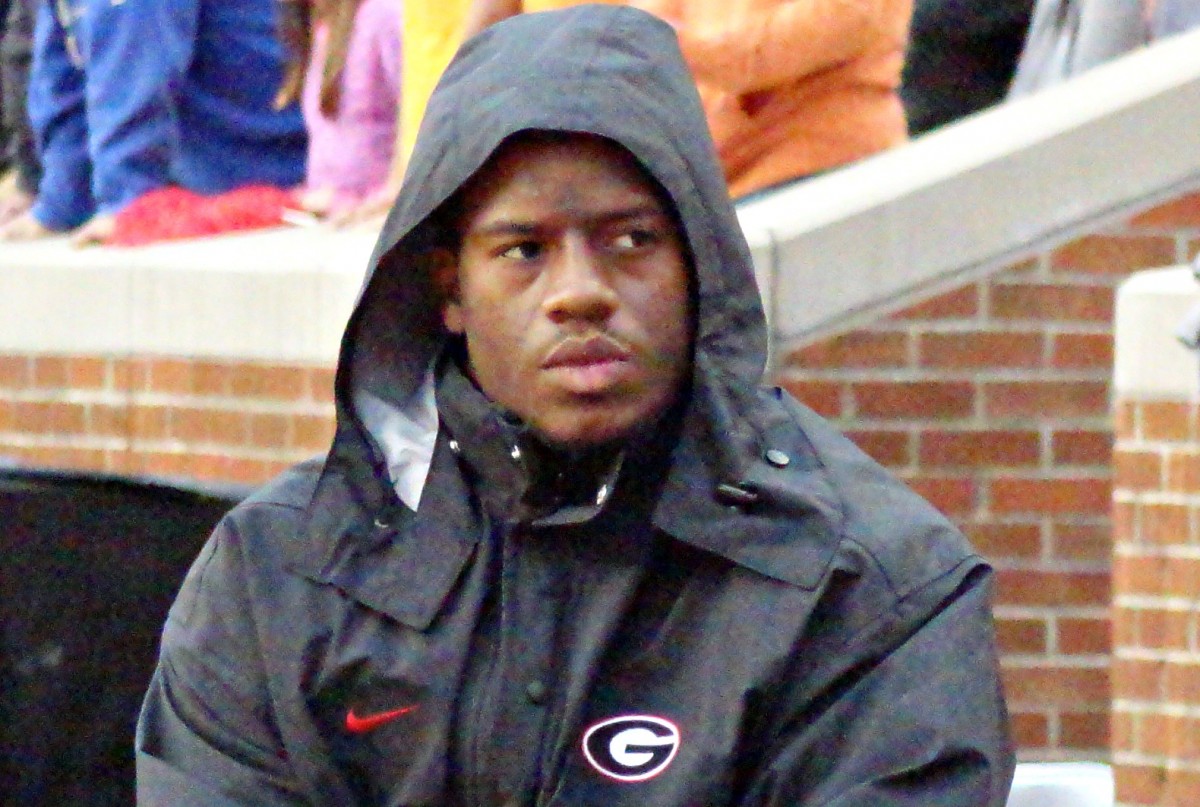 [su_spacer size="40″] Gut wrenching. Heart-breaking. And yes, even mystifying. It is almost unfathomable to consider the predicament the Georgia Bulldogs find themselves in after their most recent trip to Knoxville, Tennessee. Georgia had everything to play for and everything to lose. Sometimes that situation is enough to motivate a team to play to their potential and beyond. Sometimes that scenario will cause a team to cave under the pressure. On this day, the Bulldog team exercised the latter rather than the former. MAKE NO MISTAKE! This was a total team loss, again. Sony Michel tried to take the blame on himself. Reggie Davis did the same. And although these players had two glaring missteps in the contest, in fairness, Georgia would have never been in a position to win had these young men not shown up to play. Yogi Berra once famously opined, "The future ain't what it used to be." After watching Georgia's performance at home and on the road against their two toughest opponents to date, that fact couldn't be more evident. I'm not sure it is fair to say Georgia left this game with more questions than answers. I think we have the answers; I just don't think we like the questions.
[su_spacer size="40″]
THE GOOD:
[su_spacer size="40″]
Sony Michel, Georgia's most versatile athlete, had to fill in for Nick Chubb who was lost on the very first play from scrimmage. Sony took over at the running back spot, which took away from his ability to be shifted all over the field as may have been the plan. Nonetheless, Georgia didn't really miss a beat in the running game as Sony amassed 145 yards on 22 carries for a 6.6 yards per carry average.
[su_spacer size="40″]
Reggie Davis, had a breakout game at receiver and in the return game. Davis had 3 receptions for 101 yards. Davis, also filled in admirably for the "Human Joystick" who was sidelined with a hamstring injury. Late in the 2nd quarter, Davis fielded a punt at his own 30 yard line, bobbled it briefly, then scooped it up and scampered 70 yards through traffic for a touchdown, giving Georgia what appeared an insurmountable 24 – 3 lead.
[su_spacer size="40″]
Malcolm Mitchell continued to be Malcolm Mitchell with some outstanding catches in some tough situations. Mitchell had 5 catches for 85 yards and 1 touchdown. He continues to prove to be a leader and outstanding pass catcher, which is probably why Lambert chose to target him, even in double coverage on the final play of the game.
[su_spacer size="40″]
Give the defense and Leonard Floyd a little love. Early in the contest, Georgia held Tennessee out of the end zone and forced the Vols to run a play from the 1 yard line. Instead of a touchdown for the "Big Orange", Georgia held Jalen Hurd to a 2 yard loss, forced a fumble, and Leonard Floyd snatched the ball and trudged 96 yards for a defensive touchdown, which swung the early momentum in the Dawgs' favor.
[su_spacer size="40″]
THE BAD:
[su_spacer size="40″]
As good as Sony and Reggie were overall, their mistakes were costly to be sure. Georgia allowed a 21-point lead to be cut to a 14-point lead. After that, on the ensuing kickoff from Tennessee, Michel darted up the middle and was stripped of the football with very little time left in the 1st half. That set Tennessee up with a very short field and allowed the Vols to close the gap to within seven just before the half. And that mistress, known as "momentum", took up a new bedfellow.
[su_spacer size="40″]
Reggie Davis, as the game was hanging in the balance, managed to break contain, beat his defender, and streak wide open toward the end zone. Greyson Lambert, who has been "Jekyll and Hyde" all season, while under pressure, launched a perfect arcing strike that landed right in Davis' hands. Davis was unable to corral the pass and Georgia's potential scoring opportunity fell harmlessly to the ground.
[su_spacer size="40″]
Georgia's tackling and blocking has been abysmal. It is absolutely fair to call out Georgia's entire defensive unit for their poor technique and their inability to get stops at crucial times. Georgia's offensive line, the supposed strength of this team, has been nothing of the kind the last two games. Georgia's running game has been mostly a product of the athletes in the backfield. The Bulldogs' most experienced unit is not getting a consistent push up front and is not blowing teams off the ball.
[su_spacer size="40″]
THE UGLY:
[su_spacer size="40″]
This isn't a player problem. This is a coaching problem. McGarity is the Chairman of the Board. Mark Richt is the CEO. Schottenheimer and Pruitt are the Presidents of their respective departments. Right now, none of these men are producing particularly outstanding results in their positions. Schottenheimer was brought in to take over for Mike Bobo. Schottenheimer did a particularly poor job, especially on 1st down play calls. The offense was way too conservative and of the 31 points Georgia scored, two of those touchdowns were scored by the defense and special teams. Georgia had zero first downs in their first three (3) possessions and scored only 7 points in six 2nd half possessions against a team that was ranked 12th in scoring defense in the SEC.
[su_spacer size="40″]
Jeremy Pruitt was brought in with a reputation of building championship defenses after Todd Grantham bolted for Louisville. The results have been mixed at best up to this point. Georgia's defenses have been shredded on the ground in losses since last season's debacle in Jacksonville. Georgia held Tennessee to 3 points in the 1st 27 minutes of the contest and then gave up 35 points through the last 33 minutes. The Dawgs of this junkyard gave up 207 yards rushing, allowed 8 of 18 conversions on 3rd down and gave up two crucial 4thdown conversions. There is nastiness, an edge, and a discipline missing from this unit and Pruitt needs to find some answers.
[su_spacer size="40″]
Two issues or phrases that keep emanating from Athens and have for the last several years; "we're young" and "we're not hiring a special teams coach". Well, here are the inconvenient truths about college football. Every team has losses, graduation, attrition and youth. That cannot continue to be an excuse for poor performances. Tennessee had to play freshman on their offensive line and they found a way to keep Georgia's defense at bay. Georgia also isn't young or inexperienced on the offensive line, so what's the excuse there? As for special teams, that seems to me to be more of a lack of strategic understanding. How hard is it to ask your punter to go out to practice each day and work on his craft? Have him stand on the 45 yard line; 1st middle, then left hash, then right hash. Have him then kick 10 balls from each location angling left and then 10 balls angling right. Punting is an art form that needs to be developed and Georgia has failed to get special teams right too many years now. And if the answer is we are working on special teams, then we are doing it rather poorly.
[su_spacer size="40″]
THROW 'EM A BONE:
[su_spacer size="40″]
Nick Chubb may be the heart and soul of this year's Georgia squad. Losing Chubb on the very first play from scrimmage was disheartening to be sure. Thoughts and prayers are with Chubb on a speedy and safe recovery.
[su_spacer size="40″]
NO BONES 'BOUT IT:
[su_spacer size="40″] If perception is truly reality then the University of Georgia football program is in some dire straits. Georgia has become in football what the United States has developed into in and around the Middle East. Our friends aren't sure they can believe in us and our enemies certainly do not fear us. Georgia has cultivated a reputation over the last several seasons and it is certainly not the kind of reputation you want in this league. And rest assured, the blame for that reputation does not rest on the shoulders of the 2015 version of this football team, but rather a culmination of events that have led to this moment. Georgia has become the easy mark. Georgia has become the team others like to see on their schedule. Georgia has become the team that will find ways to snatch "defeat" from the jaws of victory in tight situations. Georgia has become just another school participating in a team sport rather than a team with aspirations to be taken seriously. The coach speak will echo through the halls of the Butts-Mehre building, which is sure to heighten the aggravation felt by the DawgNation that has heard this tune once too often. Why is so much blame and anger being thrown in Richt's direction? You only have to look West at the likes of Alabama or to the South at new Coach Jim Mcelwain's success as Florida's 1
st
year man or to the north at 1
st
year coach Jim Harbaugh and Michigan's transformation. Richt has a15 year foundation under his feet and many believe his results mark underachievement.
[su_spacer size="40″] I am in no way suggesting there needs to be a change of personnel at the top. I am suggesting there needs to be a change in personality and attention to detail, because whatever is going on in the "Classic City" just isn't working right now. Mathematically, Georgia can still punch a ticket to Atlanta. Realistically, unless and until this team starts playing and coaching with a sense of urgency and a hint of controlled rage, then they will continue to be considered by many just an average team in what is considered an elite league. And as painful as that is to write, there are just NO BONES 'BOUT THAT!
[su_spacer size="80″]