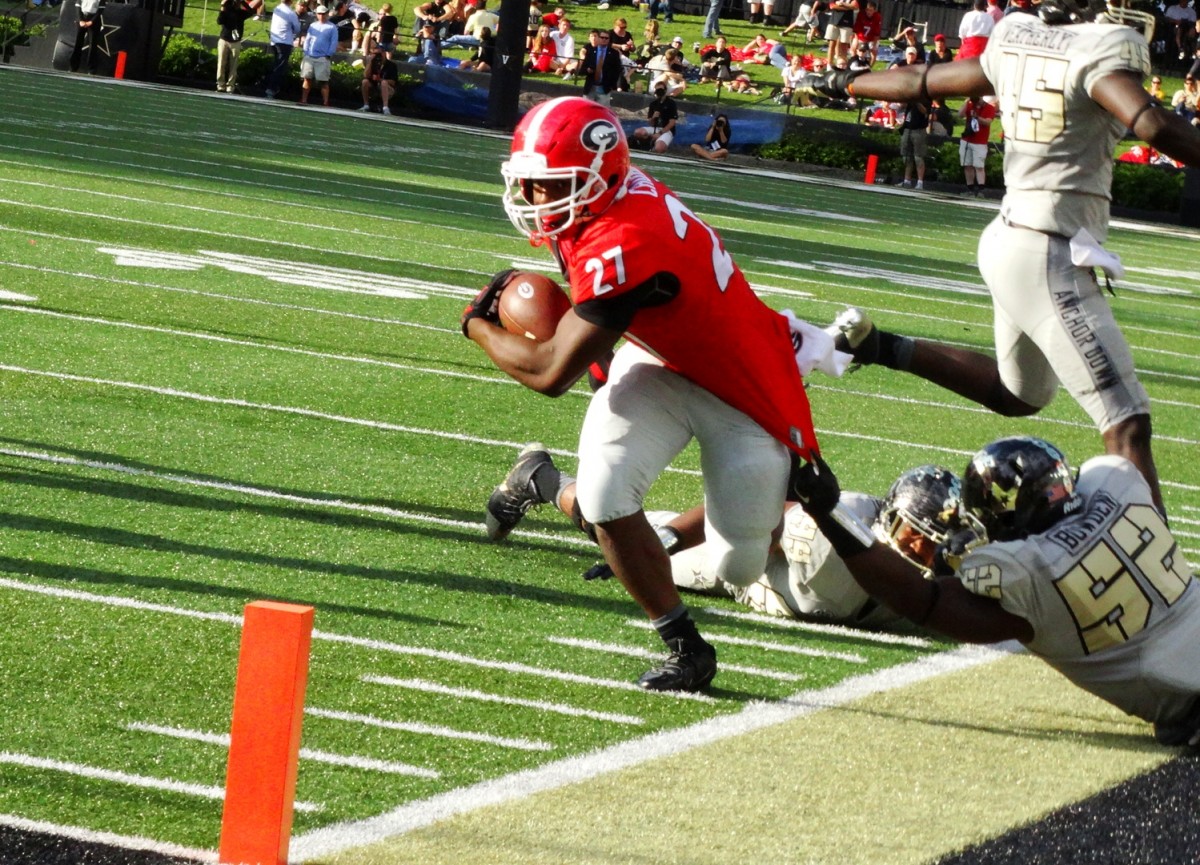 [su_spacer size="20″]
The cliché is being thrown around a lot by pundits and coaches in college football today. And in all honesty regarding the games this weekend, nothing could be truer than "A WIN IS A WIN!". Notre Dame pulls out a last second victory against Virginia after losing their QB to injury. The Auburn Tigers survived a real scare at home against an FCS team in Jacksonville State. Tennessee gave up a 17 point lead at home to drop a close one in double OT to the Oklahoma Sooners. And the Arkansas Razorbacks lost a contest to a team from Ohio in Little Rock; but not the one you're thinking. Holy Toledo! So, HOW 'BOUT THEM DAWGS?
[su_spacer size="20″]
THE GOOD:
[su_spacer size="40″]
Let's call it the "Pruitt Effect". Georgia's defense gave up 400 yards of total offense! Alarming? It shouldn't be in this instance; not when you dive deeper into the numbers. Georgia's ineptitude on offense, especially in the 1st half forced the defense to stay on the field 22:36 of the first 30 minutes of play. But this defense seems faster, stronger, and in better physical condition than some the Dawgs have trotted out in the past. Vandy's QB was asked to put the ball in the air a whopping 50 times out of the 89 plays the Commodores ran from scrimmage while completing 48% and averaging only 5.9 yards per attempt. But the Dawg defense, led by Jenkins and Floyd harried, harassed, hurried, and hassled the Commodore commandant all game long. Georgia's defense forced three turnovers, all interceptions and sacked the quarterback on three separate occasions. This would be the 18th straight contest where Georgia would have a takeaway, which is the 3rd longest such streak in the nation.
[su_spacer size="40″]
THE BAD:
[su_spacer size="40″]
The biggest concern as we approached the beginning of the season was the quarterback competition and finding wide receiver depth. Guess what? That concern grew after the game in Nashville. Georgia is going to be a run-first offense, and I think everyone knows it; including defensive coordinators who will face the Dawgs. Georgia also averaged only 5.9 yards per pass attempt but only threw the ball 25 times out of 66 offensive plays (37.8%). Greyson Lambert completed 50% of his pass attempts and had no touchdown throws.
[su_spacer size="40″]
Rob Sale, the offensive line coach, along with Schottenheimer really must get together for a cup of coffee and watch a movie…game film! Too many times in this contest, Commodore defensive edge rushers were allowed to come free and hit Georgia running backs in the backfield on "single-I" run plays that were too slow to develop. Now, this could have been a scheme issue, or this could have been an audible problem or this could have been a missed assignment issue. But it is an issue. The offensive line is an experienced bunch, and there is every confidence this will get sorted out. But it has to get done quickly.
[su_spacer size="40″]
THE UGLY:
[su_spacer size="40″]
It was said many times that Lambert couldn't secure the Georgia starting QB job, but could find a way to lose it in Nashville. Lambert started the game off 0 for five passing. But it wasn't just incomplete passes, but moreover how bad the passes looked as it was released from his hand. Georgia was 0 for four on 3rd down conversions in the 1st half and held the ball a paltry 7:24 throughout the first 30 minutes of play. . And someone, please explain how a quarterback 6'5" continually gets passes batted down at the line of scrimmage!
[su_spacer size="40″]
Special teams were special in some areas, but abysmal in others. Marshall Morgan missed two field goals in the contest. Late in the game, on a high flying pooch kick, Georgia's mid-field receiver chose to let the ball bounce rather than fair catch it, which cost the Bulldawgs a turnover. Also, on a muffed punt snap on 4th and 10, Georgia lost contain and gave up 13 yards and a first down to the Vandy punter.
[su_spacer size="40″]
TARGETING. Need we go on? Lorenzo Carter missed 99% of the game after being tossed for a "targeting" call on the QB. There is no doubt it was a late hit. But the guy is 6'6" tall, he made a tackle, and he wrapped up. The officials reviewed the play and upheld the ruling. There has got to be an understanding between what is targeting and what is tackling; and at least in Nashville, I don't think they know the difference.
[su_spacer size="40″]
THROW 'EM A BONE:
[su_spacer size="40″]
When was the last time a Georgia running back ran for over 150 yards and didn't score a touchdown? Chubb extended his 100-yard rushing game streak to 10, putting up 189 yards on only 19 carries. Sony Michel continued to show his strength, speed, and versatility.
[su_spacer size="40″]
The "Human Joystick" was back on display as Isaiah McKenzie showed why he may be one of the most dynamic punt returners in the conference with his 77-yard scamper for a touchdown.
[su_spacer size="40″]
Jake Ganus, the UAB transfer made a great interception in the end zone with the game still in doubt to help in preserving the Georgia win.
[su_spacer size="40″]
Dominick Sanders put the game away with an 88-yard interception return for a touchdown.
[su_spacer size="40″]
Roquan Smith, the true freshman, did an excellent job on punt coverage and is a nice addition to special teams. He is finding his way on the field regularly.
And…an extra special bone thrown to Sebrina Brunson and the SEC. You may not know the name, but she became the 1st woman to officiate an SEC football game. She entered the contest in the 3rd quarter in College Station; the game between Ball State and Texas A&M.
[su_spacer size="40″]
NO BONES 'BOUT IT:
[su_spacer size="40″]
Georgia's run game is solid and in really good hands. Georgia's defense played fast and loose and did a nice job considering how long they were on the field. Parts of Georgia's special teams are playing excellent football right now. But this team is a long way from being playoff caliber when you look around the SEC and the nation.
Georgia still has a quarterback problem. The quarterback play doesn't have to win the day, but it has to be effective and efficient. Right now as it stands today, I would argue whether that is the case. The team will not have the luxury of getting off to lackluster starts as it did in Nashville. Whether by design or by tendency, we do not yet know, but Schottenheimer is going to have to spread defenses out more with formations and personnel groupings. You will not be able just to line up and out muscle the likes of Alabama, Tennessee, and Auburn's front sevens.
[su_spacer size="40″]
Georgia has a great deal to work on this week as a wounded South Carolina (1-1) descends on the Classic City after suffering a defeat at the hands of Kentucky in Columbia. Steve Spurrier relishes beating Georgia, no matter what is on the line, and he will pull out all the stops to do so. Mark Richt and Company should have no trouble getting the team's attention and proving that no matter your rank, any team can be beaten by any other team on any given Saturday. So for now Georgia must continue to get better. But in the end…"A WIN IS A WIN!". No Bones 'Bout It!
[su_spacer size="80″]