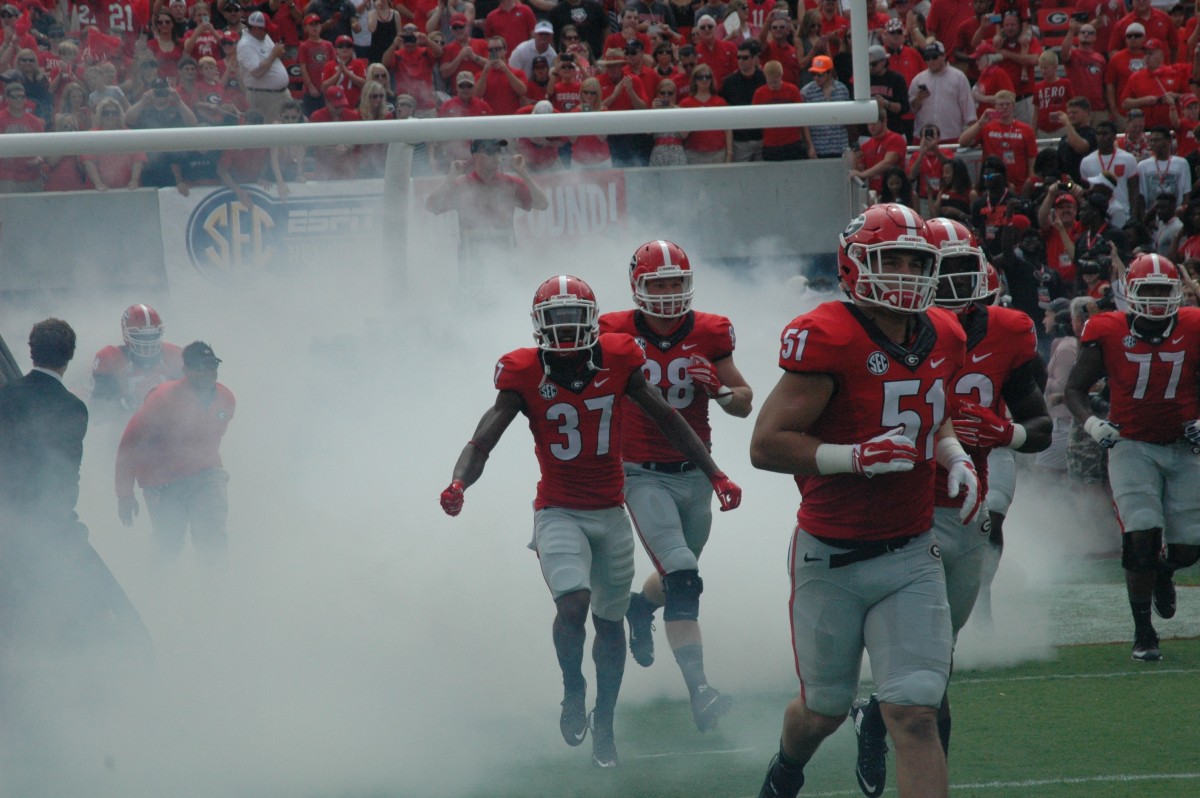 [su_spacer size="20″] The season has begun. Need I say more? I don't need to, but I will…because "Hey, that's how I roll." The Bulldogs opened their season against the University of Louisiana-Monroe Warhawks. This weather, cut-short contest, gave UGA fans a few morsels with which to wet their appetite and opened the door to the possibilities, hopes, and even a few fears for the upcoming 2015 campaign. So without further ado, I give you the first installment of "No Bones 'Bout It!"
[su_spacer size="40″]
THE GOOD:
[su_spacer size="20″] Start with a mostly beautiful day in the "Classic City", coupled with a Georgia win and no serious injuries to speak of and there's a lot to be thankful for right there. The student section was filled to the brim 30 minutes before kickoff and the "Dawg Pound" was eager to show love and enthusiasm for the "Red & Black".
Georgia's running game was everything it was billed to be. This monster may be closer to being the mythical "hydra". The four heads of this State got together to carry the rock a combined 38 times racking up 243 yards (avg. 6.4 yards per carry). Chubb, Michel, Marshall, and Douglas all got an opportunity to line up in the backfield and help in keeping their teammates fresh, while #48 "BIG Q" was the battering ram clearing the way.
Grayson Lambert was efficient if nothing else. As Mark Richt astutely pointed out, "every pass he threw had a good purpose." The Dawgs' new signal caller was 8 of 12 (66.7% completion rate) with 141 yards passing and two (2) touchdowns. More importantly moving forward is that which doesn't show up on film; Lambert's understanding of the offense, his ability to read a defense, and getting his team into the right play.
The latest version of Pruitt's defense (J.Y.D. 2.0) showed flashes in their 2015 season debut. The Warhawks were held to 251 total yards of offense with only 45 of those yards on the ground. The defense also found their way to 3 quarterback sacks, 1 forced fumble, and one interception. Jenkins, Floyd, and Carter have the potential coupled with other members of the crew to be one of the most diverse and dynamic linebacker corps in the nation.
[su_spacer size="40″] THE BAD:
[su_spacer size="20″] For a first game, in all honesty, with the questions Georgia has surrounding itself, there was little to find fault with this day on the whole. That's not to say there aren't areas that need improving because there are to be sure. There were a few breakdowns on the offensive line, a few passes batted down at the line, and a few miscues with the football on the offensive side of the ball. The defense, although playing well overall, showed some soft spots in the middle as ULM's redshirt freshman quarterback Garrett Smith found creases in which to run from time to time. Also, Smith connected on 80% of his passes (23 – 29), while Rashon Ceasar had 13 receptions for 153 yards and two touchdowns. In fairness, Rico McGraw, the true freshman, who may be one of the Dawgs best pure cover corners, was in "trial by fire" mode and the defense was not dialing up anything too exotic to pressure the QB. The defense seemed to take its collective foot off the gas at the end of the 1st half and the beginning of the 2nd; something I'm sure Coach Pruitt will address.
[su_spacer size="40″] THROW 'EM A BONE:
[su_spacer size="20″] If it escaped your attention, realize that Collin Barber and Georgia's special teams did an outstanding job. It was great to see kickoffs floating out of the end zone and punts being angled for "coffin corner", as well as there being no mishandling of kickoff and punt receptions. The Dawgs saw some good things coming from the likes of Godwin, Bellamy, Kimbrough, and D'Andre Walker. Trenton Thompson and Rico McGraw were two heralded freshmen that saw some action. Clearly, regardless of talent, stepping up to the next level for true freshmen is always a challenge, but they held their own. Also, in case you didn't know, Nick Chubb extended his record of rushing for over 100 yards to 9 straight games, dating back to last season (currently the longest streak in the nation).
[su_spacer size="40″] NO BONES 'BOUT IT:
[su_spacer size="20″] Unlike the last several years, Georgia started this season with a lesser opponent. But give ULM credit for showing up, playing hard, and exposing some facets of Georgia's game of which they need to be mindful. Georgia did not, for the most part, play down to its competition, as has happened so many times in the past. This Georgia team was focused and prepared and took care of business, in a game that had less than four quarters. It was great to see a healthy Malcolm Mitchell, Sony Michel, and Keith Marshall on the field to open the season. This was a nice debut for Coach Schottenheimer's offense. Although the day remained pretty "vanilla", we saw a heavy dose of the two tight end set, and we saw Michel and Chubb in the game together, which could cause defenses fits in the future. Georgia will now pack their bags and head north to Nashville to face a reeling Vanderbilt squad. But don't kid yourself. SEC contests on the road can be treacherous; especially if you don't take your opponent seriously. Vanderbilt's loss to the "Hilltoppers" makes them a desperate squad, so Georgia is in no position to take anything for granted this early in the season. No Bones 'Bout it!