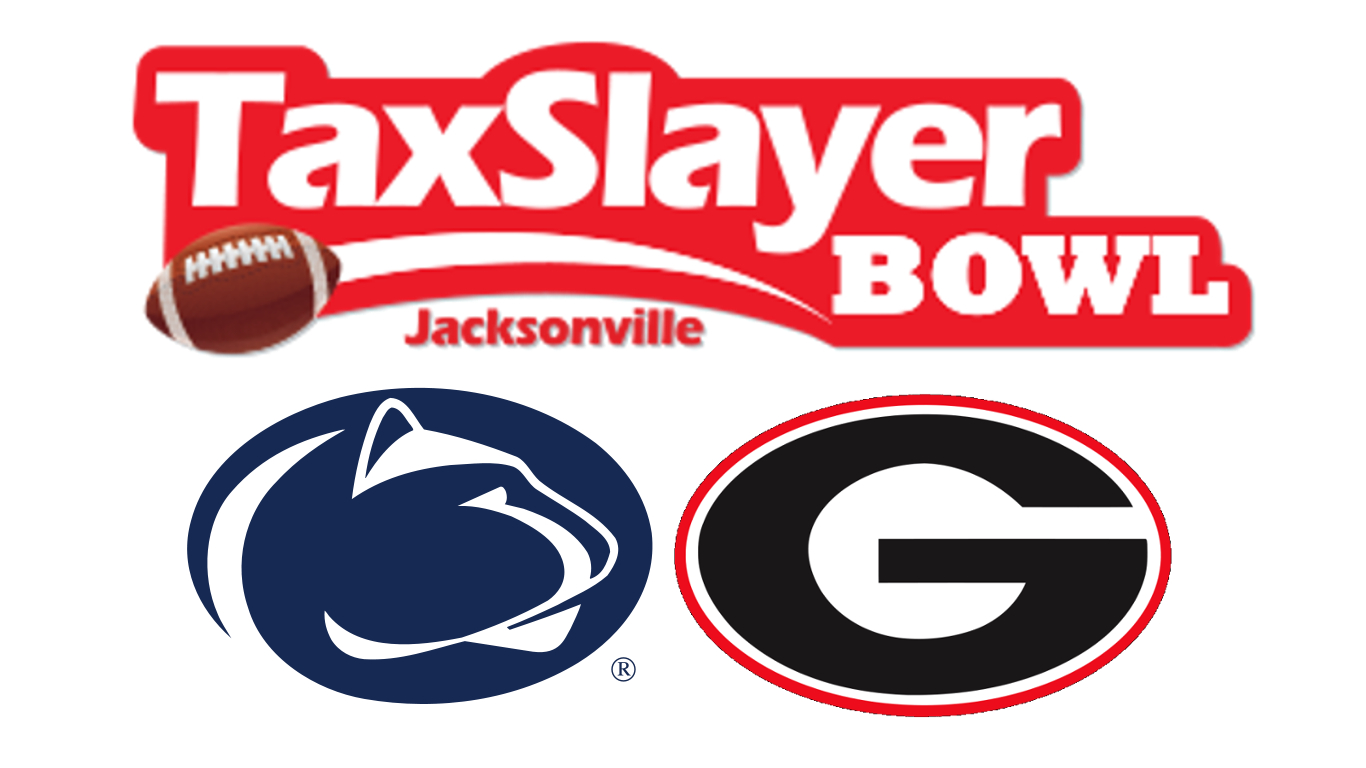 DECADES LATER, DAWGS and NITTANY LIONS on PAR WITH ONE ANOTHER … AGAIN!

"I guess we ain't in New Orleans anymore UGA?" The last time the Georgia Bulldogs squared off against the Penn State Nittany Lions, it was in the Sugar Bowl! It was #1 vs. #2! It was two legendary coaches! It was a Heisman trophy winner wearing silver britches! And it was for a national title! But that was 33 years ago. Georgia and Penn State are both programs trying to reinvent themselves and find a way back into national prominence. While Penn State's recently hired head coach in James Franklin, is putting the finishing touches on his 2nd season and bringing in a new offensive coordinator, the Bulldawgs are being led by interim head coach Bryan McClendon and a mix of coaches who may or may not be on staff after the clock strikes "triple zeroes" on January 2nd, 201 6 in Everbank Field. So, the Big 10 and the SEC will match one another in the GATOR BOWL (defiance) and see whose future looks a little brighter. Although, Georgia has opened in Vegas as a 6 V point favorite (not that we promote gambling), the coaching changes and dynamics of this game make it where I wouldn't put a "dime" on the line. Bet on it! But that said, this contest does offer some interesting storylines and matchups that should be fun to watch.

WHEN GEORGIA HAS THE BALL:
THE GROUND GAME …

When the 2015 season began the Bulldawgs had a strong 1 — 2 punch in the ground game with Heisman-hopeful Nick Chubb and running mate Sony Michel sharing the load. Georgia's offensive line, with years of experience, was also supposed to help lead the way. But as new head coach Kirby Smart has already stated, if you only do one thing on offense, eventually you are going to get stopped. The loss of Chubb coupled with making sure Keith Marshall had fully recovered from injury forced the Dawgs to take their most dynamic playmaker in Sony and line him up in the backfield instead of putting him up in different positions to create mismatches as often as seemed necessary. The offensive line went through several personnel changes to try and find the right mix of players who could move the pile; and although this group played well at times, they were not the dominant force many had hoped them to be at seasons start. However, even with the offensive setbacks and defenses consistently stacking the box, Sony Michel managed to rush for over 1,000 yards for the season on less than 200 carries, finishing in the top 50 of running backs in yards for 2015. This will most certainly be the area of the game where it will be strength vs. strength.

Georgia Rush Offense (36th): avg 5.24 yards per carry, 21 rushing TDs, 194.3 yards per game
Penn State Rush Defense (47th) avg 3.83 yards per carry, 18 rushing td*s allowed, 149 yards per game

THROUGH THE AIR …

The Bulldawg's air assault left a lot to be desired this season. There was a great deal of inconsistency from this position; not only through play but from a coaching perspective as well. Greyson Lambert took control of the quarterback spot literally weeks before the season began when he transferred in from UVA, which should have been an alarming sign that Ramsey and Bauta were not as ready as many had thought. Georgia's Malcolm Mitchell, a fan favorite and one of the hardest working players on the squad was virtually alone in the receiving corps as the Dawgs tried to find someone to replace Justin Scott Wesley. Terry Godwin, the true freshman became a favorite target as he finished the season second behind Mitchell in receptions and yards. Lambert proved to be more of a game manager who took pretty good care of the ball, but never seemed to strike fear in the hearts of defenses that he was a threat with the deep ball. Georgia also failed for whatever reasons to take adequate advantage of the TE position occupied by Jay Rome and Jeb Blazevich who could create mismatches for many defenses.

Lambert completed 64% of his passes with 11 touchdowns and only 2 interceptions, but most of his completions were short to intermediate routes and generally not enough to get defenses to back off from loading the box. This may prove to be Georgia's toughest test of the day as it has most of the season. If the Dawgs struggle to move the ball through the air on intermediate and deeper routes, it will play right to the strengths of the Nittany Lions.

Georgia Pass Offense (103rd): 2245pass yards, 12 passing touchdowns, 187 pass yards per game
Penn State Pass Defense (10th): 2094pass yards allowed, 12 touchdowns, 174 pass yards per game allowed

PLAYERS TO WATCH …

GREYSON LAMBERT: Can he just let it fly and trust his receivers? Can he throw his guys open rather than waiting for them to be running free? Can he force Penn State to back out of the box and respect the pass? Mitchell, Godwin, Blazevich, and Rome should provide some opportunities for the air attack to work.

ISAIAH WYNN: The 6'2, 278 lb. sophomore tackle is going to be given the privilege of trying to protect Lambert from 6'7, 272 lb. senior and national sack leader Carl Nasib (#95) who recorded 15.5 sacks this season.

ISAIAH McKENZIE: McKenzie may be the X-factor. When healthy, the "Human Joystick" can be one of the most dynamic receivers, runners, and return men in the game. Can the Dawgs find a way to get the ball in his hands?

WHEN PENN STATE HAS THE BALL:
THE GROUND GAME …

Penn State is built very much like the Bulldawgs when it comes to running the football. Although they try to "spread the wealth", they have a workhorse in #26, freshman running back Saquon Barkley. Barkley finished the season with over 1,000 yards rushing and an average of 6.1 yards per carry. He was particularly effective against some top-25 competition rushing for over 100 yards against Northwestern (120 yards), Michigan State (103 yards), and Ohio State (194 yards). Barkley carried the ball more than 3x's that of the second leading rusher for the Nittany Lions. As good as those individual statistics were, Penn State ranked in the bottom third of rushing nationally. The question will be whether or not the boys from Happy Valley can force Georgia to drop a safety in the box and create some single matchups that can be exploited by their quarterback.

Penn State Rush Offense (105th): 4.13 yards per carry, 15 rushing TD*s, 135 yards rushing per game
Georgia Rush Defense (48th): 3.97 yards per carry, 11 rushing td*s allowed, 151 yards per game

THROUGH THE AIR …

Christian Hackenberg was the first signee for Penn State's 2013 class. A four star rated recruit, Elite 11 finalist, and #1 ranked quarterback in his class, the 6'4" signal caller is really the driving force in determining Penn State's fortunes on the gridiron. Hackenberg has thrown for almost 2400 yards, 16 touchdowns and only 5 interceptions. The Nittany Lions have their own "Godwin" their quarterback loves to target. Chris Godwin (#12), a sophomore wide receiver is averaging over 15 yards per reception and led Penn State in receiving yards and receptions this season. However,Hackenberg is going to face two major obstacles when dropping back to air it out. 1.) Penn State's offensive line, at times, has been the net and defenses have been the water. Hackenberg has been sacked a total of 39 times; 10 of which came against the Temple Owls in Game #1 of the season. 2.) Hackenberg will be facing the #1 pass defense in the Country. Although the Dawgs probably don't have the best secondary athletically speaking, the numbers are what they are, and Penn State will have to deal with that.

Penn State Pass Offense (82nd): 2507passing yards, 18passing TDs, 208 passing yards per game
Georgia Pass Defense (1st): 1753pass yards allowed, 9 passing TDs allowed, 146 pass yards allowed per game

PLAYERS TO WATCH …

DOMINICK SANDERS: The sophomore ball-hawking safety seems to be the same type of instinctive DB his new coach (Kirby Smart) was back in the day. He will get his opportunities against a top-flight future NFL QB in Christian Hackenberg.

FLOYD & JENKINS: Sounds like a legal team. But these "public de-fenders" are going to have one last chance to don the "Red and Black" and put their skills on display for future employers. Georgia's linebackers should use their athletic ability and aggressiveness early and often against what may be an overmatched offensive line.

TRENTON THOMPSON: The true freshman defensive tackle is a huge part of Georgia's future. This bowl game will be an opportunity for the "Peach State" native to show why he was one of the most coveted recruits as he will surely be asked to anchor the middle against Penn State's line of scrimmage.

PREDICTION:

The Georgia Bulldogs are in the midst of transitioning from the Mark Richt years to the Kirby Smart era. It cannot be easy for the coaches or the players; those coming and those going. Some will argue this game means nothing and the Dawgs have absolutely nothing to play for in this bowl game. Nonsense! Those leaving the program are getting a chance to show off their talents and, more importantly, their character. Some will be trying to prove their worth to their future employers in the NFL. Some will simply be trying to savor playing for their university one last time. For the young Dawgs? Make no mistake! The fifteen (15) practices and this game will be a proving ground to their new coaches.

Georgia and Penn State are mirror images of one another in almost every team statistical category. Penn State has the "star studded" quarterback, but it has been their defense that has really allowed them to stay in most ball games. Penn State has been tested by highly ranked opponents throughout the season, but like the Dawgs they were not able to secure a victory against any of them. Georgia has taken a balanced approach to their offense, but like the Nittany Lions, the "Junkyard Dawgs" have been the catalyst for many of Georgia's victories.

Here will be the difference in the game … 3rd Down Conversions.

3rd Down Conversions:
GEORGIA – 118th nationally 45 of 144 (31.3%)
PENN STATE — 125th nationally, 47 of167 (28.1%)

3rd Down Conversion Defense:
GEORGIA — 9th nationally, 53 of179 (29.6%)
PENN — 59th nationally 66of177 (37.3%)

Neither team is particularly efficient in converting on 3rd downs, but Georgia will find a way to do it a few more times than Penn State and the Dawgs' defense will save the day.

Georgia starts out 2016 with a victory! 21 – 14

---