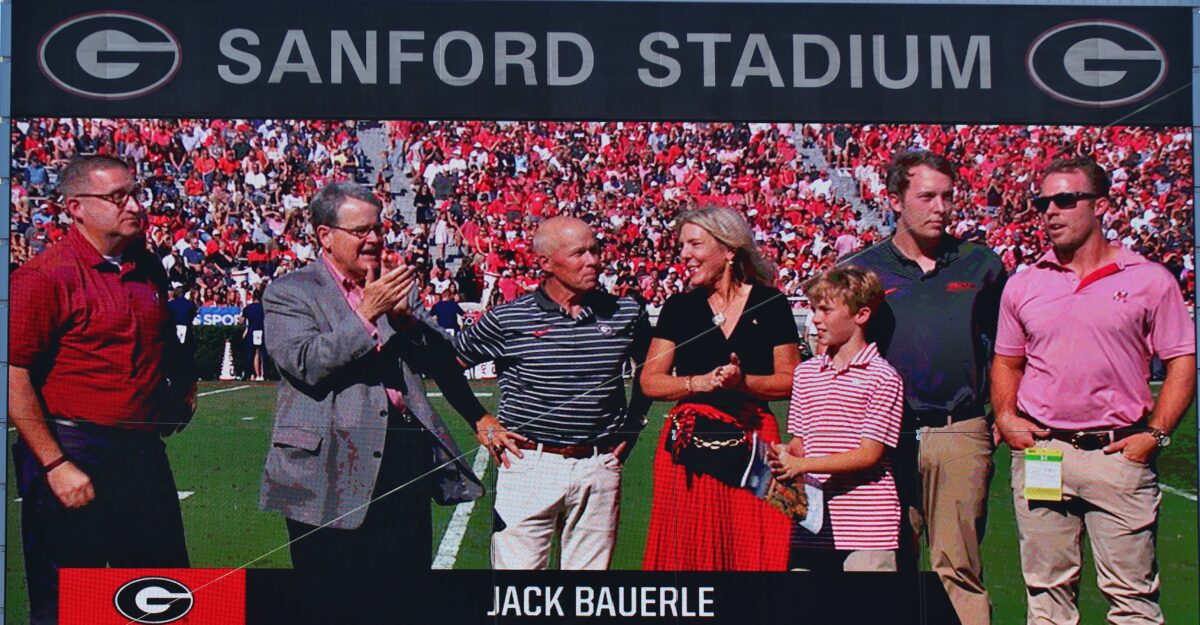 Over the course of six different decades, Jack Bauerle has made an immeasurable impact on the University of Georgia, the Bulldog Nation, the community of Athens, and the world of competitive swimming.
He's one of the most successful and decorated coaches in Bulldog and international swimming lore and amongst Georgia's greatest ever ambassadors.
His list of accomplishments is stellar and astonishing. Amongst the highlights, seven national championships as Georgia's head coach and 15 top-two finishes on an 18-year stretch from 1999-2016. His teams won over 100 consecutive home meets. In a career that spanned 44 years as Georgia's head coach (mostly with both programs), his swimmers amassed hundreds and hundreds of All-American, All-Southeastern Conference, Team USA, World Championship and Olympic accolades. They won Gold, Silver and Bronze Medals at the Olympics and World Championships. They won national and SEC championships. They set world, collegiate and conference records.
His proteges won numerous academic and community achievement awards. Between 1997 and 2001, three of his standouts, the late Lisa Coole (1997), Kristy Kowal (2000) and Kim Black (2001) were named the NCAA Woman of the Year. That's all schools for all sports. To that point, no school had ever had two student-athletes win one of the NCAA's most prestigious awards, much less three. From the same sport.
He is an incredible mentor, leader and role model.
Jack Bauerle and his swimmers have proudly honored the University of Georgia on the national and world stage.
As iconic as his career at Georgia is, Bauerle's incredible accomplishments for Team USA in dozens of international competitions is the stuff of legend. Most notably, he was the head coach of the American Women's Swimming Team at the 2008 Summer Olympic Games in Beijing, China, where Team USA collected the most Gold Medals of any nation.
"USA! UGA!"
That's been shouted on many a victory platform.
Georgia swimming under Bauerle has achieved every honor and accolade possible in the sport. But it only tells a small part of his story.
Whether he's playing tennis, cheering on whatever Bulldog team might be competing that day, walking with his wife Leigh Ann, spending time with sons John, Magill and Duke, or grabbing lunch with one of his thousands of friends from across town or around the world, he is a fixture in Athens. Jack knows everyone, everyone knows Jack.
While it's commonplace for us headquartered here in the Classic City to frequently see Jack around the various athletic grounds at Georgia, or playing tennis at Athens Country Club with the likes of Allen "Ace" Miller, Coach Jim Donnan and Gary Hill, or eating at one of his favorite Five Points lunch places, when he walks the streets of Sydney, Australia, where swimming is the nation's biggest sport, Jack is an international celebrity.
He loves sports, he loves people. Jack, like so many sports fans, is passionate and loyal. His mentors at Georgia, Dan Magill and Vince Dooley. He has done them, the Bulldog Nation, and our nation, so proud.
He's also a famous surfer, who could rival Duke Kahanamoku, braving some big waves with a steely nerve that could have taken down a mere mortal.
Tennis is his favorite sport to play. Just over 30 years ago, he blew out his Achilles while setting the Guiness Book of World's Records marks for longest tennis match ever played.
Talking sports with Jack is a favorite pastime. Amongst his favorite categories, old Georgia football games from the Dooley/Magill/Erk Russell/Larry Munson glory days (check), and classic baseball, NFL, basketball, tennis and golf (check). In particular, he loves talking about those favorite teams from his beloved home city of Philadelphia.
Whether it's Mike Schmidt, Dr. J (my favorite NBA player ever, which has led to some great conversations), "Concrete Charley" Chuck Bednarik, Harold Carmichael, Wilt Chamberlain or the Broad Street Bullies, Jack will spend however much time you have talking Philadelphia sports. That magical year of 1980 is particularly special. Georgia famously won the 1980 national championship on the gridiron, and for the Philadelphia Bulldog, the Phillies won the 1980 World Series, the Eagles made it to the Super Bowl, the 76ers had made the NBA Finals and the Flyers advanced to the NHL Finals.
When Jack calls, I always get a smile and perk up. The subject can be far ranging. Reviewing what's going on with the Bulldogs, particularly on the gridiron, is a common theme. If it's the Super Bowl, a playoff game or a memorable Wimbledon Final or World Series game, I love hearing his take. And usually know what to expect. But the random calls can be the most fun.
"Hey Jeff, you know how Bednarik got his nickname, because he sold concrete in the offseason. You know, for my money, and George Brett was great, but there's never been a better third baseman than Schmidt."
He's great to play the kind of sports list games I love to play. OK, let's go top five athletes in Boston, Detroit and Los Angeles history. OK, let's talk the best All-NBA team by decade…I go 1980s. Ok, top five Saturdays in Sanford Stadium.
One of my fondest memories with Jack came during the 2007 NCAA Tennis Championships, sitting with him, Georgia tennis legend George Bezecny and Coach Magill, The Greatest Bulldog Ever. What an honor.
He had been talking about retiring for a few years, but all those mornings getting up before 5 a.m. for countless practices, meets and trips both international and around the SEC, that was all he knew.
During the Covid shutdown, when Jack could actually slept past 6 a.m., he got to enjoy some of the things that so many take for granted. And now here we are. The former standout Bulldog swimmer from Philly, who became a head coach before he was 30 and coached for over 40 years, steps away from the pool deck.
What a career. What a Bulldog.
First class in every way.
And he never lost to Tech.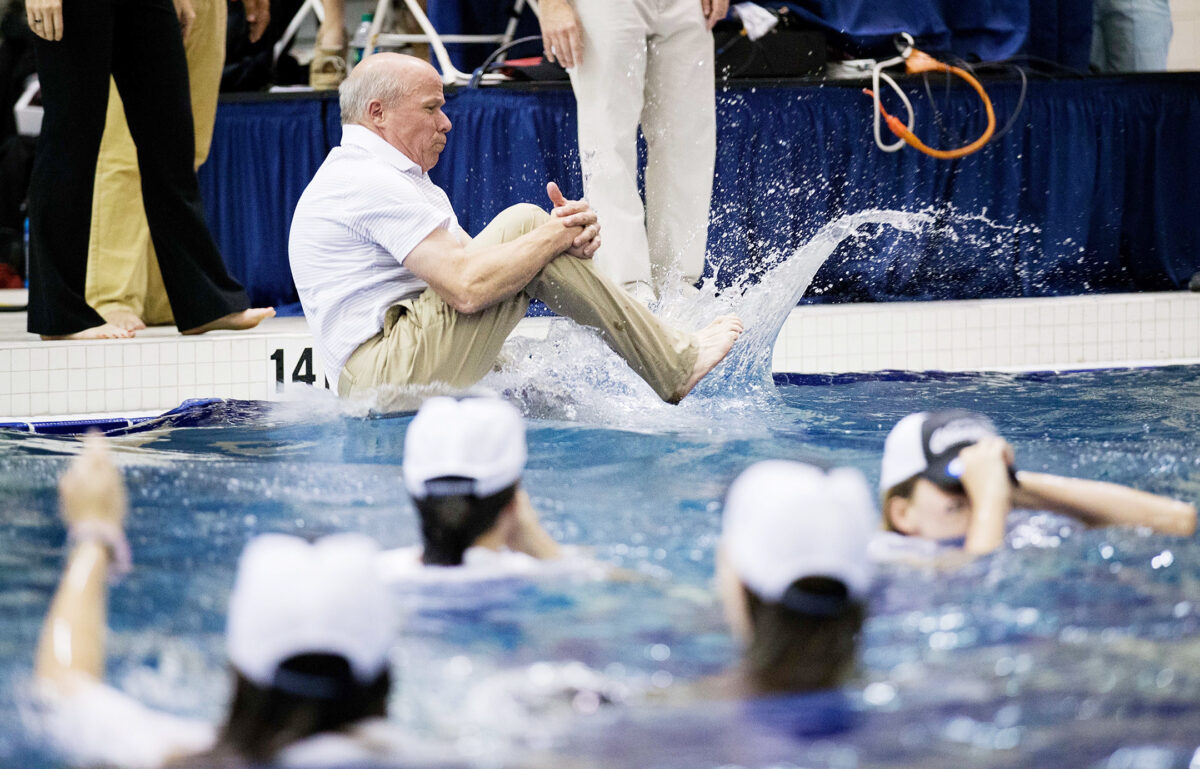 "I have had the great honor of working with Jack Bauerle since 1999, when I led the UGA Honors Program and so many of Jack's student-athletes were Honors Students and Foundation Fellows. Jack is an iconic figure at UGA and within the global swimming community, having won multiple national championships while coaching and mentoring many All-Americans and NCAA post-graduate scholars. His coaching record at Georgia and in the Olympics is unmatched in our athletic history and, on behalf of the entire University of Georgia community, I thank him for his profound contributions to our institution."
Jere W. Morehead, University of Georgia President
"It is a bittersweet moment in Georgia Athletics history. Jack has been the foundation of unparalleled success of our men's and women's swimming and diving program for a half a century. While we will miss him on the pool deck, we know that Jack will always be a part of our athletics family, and I look forward to working with him in different capacities as an involved alumnus. We wish him the very best in this next phase of his life."
Josh Brooks, J. Reid Parker Director of Athletics
"Jack was a trailblazer, a dreamer, a coach with passion. Even though we coached different sports, we shared ideas, recruiting strategies, disciplinary philosophies and most importantly, we shared our goal to win championships and make a difference in the lives of the athletes we coached. Jack reached a pinnacle of success that is accomplished by very few coaches."
Suzanne Yoculan Leebern, Hall of Fame University of Georgia Women's Gymnastics Coach
"First and foremost Jack is a great friend and supporter to all of us. His records and accomplishments both at UGA and in the Olympics are over the top amazing. His love for Georgia showed, as he always got the best out of his Student Athletes both in the classroom and in the pool. Jack is a coaching legend and I can assure you that there will never be another Jack Bauerle."
Jeff Wallace, Hall of Fame University of Georgia Women's Tennis Coach
"Jack was the absolute BEST at what he did … winning Championships, setting records, developing athletes, and graduating student athletes. We sometimes forget he was coaching both the men and women's teams at the same time which was amazing in itself. And if what he did here wasn't enough … he coached the Olympic team to Gold! And throughout his career he was an even better friend and supporter of us all."
Andy Landers, Hall of Fame University of Georgia Women's Basketball Coach
"Jack represents the very best in all of us. He has always been incredibly supportive, no matter the sport, and it's been so much fun to cheer his teams and swimmers on, whether it's at Georgia or in the Olympics. Jack is a great friend and role model, and continues to be an incredible ambassador for the University of Georgia."
Chris Haack, Hall of Fame University of Georgia Men's Golf Coach
"I can't say enough about Jack! A great friend since we met my freshman year at Georgia in 1971. I saw him start our women's swimming program and then take over the men's program and turn them both into perennial winners and national champions but even more importantly, a great mentor and example to so many. Jack has left a great legacy and UGA and our swimming programs that will last a long, long time."
Manny Diaz, Hall of Fame University of Georgia's Men's Tennis Coach
"Jack's impact on my life is too grand to put into only a few words, and I think that's the case for so many people. He has inspired me at numerous points in my life: first as a swimmer, then as an assistant coach, and finally, in my role as women's head coach. His guidance and motivation allowed me to achieve more than I could have ever imagined, and I am forever grateful to be one of the lucky ones to call him my coach."
Stefanie Williams Moreno, Current University of Georgia Women's Swimming Coach and All American Swimmer
"The impact Jack has had on the sport cannot be put into words. He came to the Classic City over 50 years ago, and dedicated his life to swimming and his swimmers. First, as an athlete, then a young college coach, then a multi-time national champion and Olympic coach – now, and forever, an absolute legend. Jack has coached, and more importantly, mentored literally countless numbers of student-athletes. He made them all faster in the pool, and better in the other game we play – life."
Chris Brearton, CEO MGM, Walk-On Swimmer
"Jack is a mentor, a father figure, an advocate, and a friend.
Jack's always known that if you surround yourself with good people and are kind to others, then good things will come. And of those good things are countless national titles, Olympic medals, and other awards and accolades. But throughout all of that, Jack never sought recognition.
Jack – Enjoy retirement, sic vos non vobis, and … Go Dawgs!"
Gunnar Bentz, All American and Olympic Gold Medalist
"Jack has touched my life in so many ways, both as a student-athlete and a coach. When I came to Georgia as a young swimmer from South Africa, Jack helped me find a new home and grow as a competitor. Years later, he gave me another great opportunity to join his coaching staff and learn all new lessons before having the honor to succeed him. It's been amazing to know him as both my coach and my friend."
Neil Versfeld, Current University of Georgia Men's Swimming Coach and All American Swimmer
"Jack Bauerle has had an immeasurable impact on my life. As a UGA freshman swimmer, Jack pulled me aside early in the year and he explained to me what I was capable of in my life: not only as a competitive athlete, but more importantly as a student academically and as a leader in the community.
Jack is a true leader, one that inspires, and motivates. He has elevated all those around him across his 50 years at UGA, his four Olympic teams and his 87 Olympians who represented over 20 countries, the 400+ Scholar All-Americans he inspired, and the beautiful family he has created."
Laura Adams, CEO Morgan Stanley Wealth Canada & Head of Canada Institutional Distribution, All American, NCAA Postgraduate Scholarship