[su_spacer size="20″]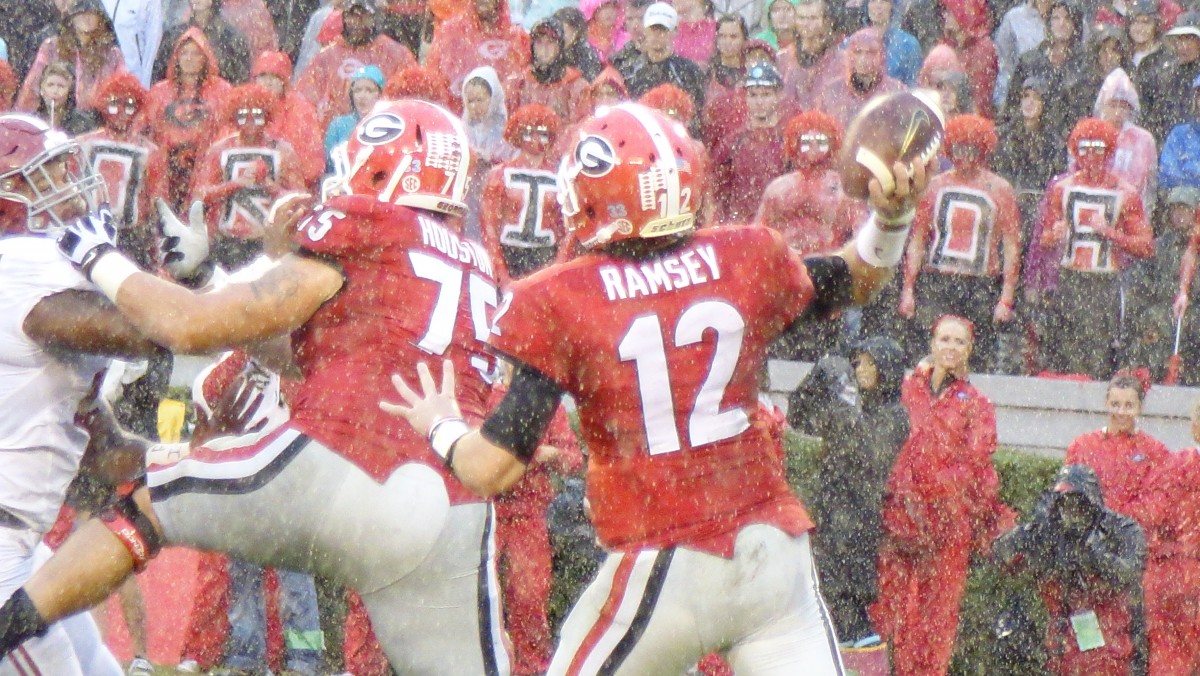 [su_spacer size="20″] There must be something about the Alabama Crimson Tide loving to play between the hedges of Sanford Stadium.
[su_spacer size="20″] Last time the Tide came to Athens, in 2008, Alabama romped to a 31-0 halftime lead and went on to hold off the Bulldogs 41-30. With three second quarter scores, the 13
th
-ranked Crimson Tide (4-1, 1-1 SEC) ran into a 24-3 lead at intermission on Saturday and, this time, didn't allow Georgia (4-1, 2-1) to rally, going on to pummel the 8
th
-ranked Bulldogs, 38-10.
[su_spacer size="20″]
[su_spacer size="20″] Hoping to stay unblemished on the season, things went downhill all game for Georgia, both offensively and defensively. So bad, that when the Tide's lead reached 31-3 early in the third quarter, many of the disappointed UGA faithful began streaming toward the exits.
A failure to move the ball and get into the end zone (no touchdown until Nick Chubb's 83-yard scoring run with just five seconds left in the third quarter) against an Alabama defense that was even better than advertised, an inability to keep the Tide offense from hitting big plays, a breakdown in the special teams and a slew of killing personal foul penalties … you name it and it was all disastrous for the Bulldogs on this rain-soaked afternoon
So while the reports of an Alabama demise – following the earlier upset loss to Ole Miss – was greatly exaggerated, the Bulldogs must now lick their many wounds and get ready to face a critical division game against Tennessee in Knoxville next weekend.
"The dam broke and unfortunately we just didn't have enough counterpunches to get back in it," said Georgia coach Mark Richt. "First, give Alabama credit for the job they did. I'm disappointed for us as a team, players and coaches, but I know our fans are sick about it and I don't blame them. It's no fun to have that kind of performance.
"We got whipped, we all know it and we've got to do something about it," said Richt. "We'll watch the film and face the truth and look at ways we can improve. We as coaches have to make decisions to do that. But it's a long season and we have to get ready for the next one. We've got to make a lot of corrections and get back on track."
"It's like we told the team, there's a lot of lessons to be learned tonight," said defensive coordinator Jeremy Pruitt. "The first one is, you don't win football teams based off emotion. You win football games based off execution and Alabama out-executed us tonight. That's plain and simple and when we go back we'll see it on the tape. And that's one thing we got to learn … we got to learn from it and get better from it. We've got a young football team, guys that are inexperienced and this is the first time they've got play in a game of this magnitude. We try to coach them you've got to treat all games the same," added Pruitt, "but you're talking about a lot of 18 and 19 year old kids and we've got to do a better job of reigning in their emotions so they can execute."
Alabama reached its 24-3 halftime advantage on three second-quarter haymakers, after the Bulldogs had tied the game at 3-3 early in the second quarter on Marshall Morgan's 27-yard field goal. They came on Derrick Henry's 30-yard touchdown run right up the Georgia gut, Minkah Fitzpatrick's block of Collin Barber's punt and subsequent score from the Bulldogs' 1-yard line, and Jake Coker's 45-yard scoring strike to a wide-open Calvin Ridley.
The Tide came out in the third quarter and got a pick six of a Brice Ramsey – who had relieved struggling starter Greyson Lambert – pass, with Eddie Jackson going 50 yards with the interception to push 'Bama's lead up to 31-3 and then added insult to injury by going on a short touchdown drive following a short Barber punt and still another personal foul call against the Bulldogs. This time, Coker faked a handoff into the line at the Georgia 2 and rolled left untouched for the score. With the extra point kick, that blinked the board to 38-3 with still 10:05 left in the third.
Richt said Ramsey started the second half in place of Lambert simply because the Bulldogs needed an offensive spark.
"It was a wet day and it's hard to handle that wet ball, but Brice has always thrown a wet ball pretty well," he said. "That was part of the thinking … it's tough to throw and catch in that kind of weather. And it's tough to mount a comeback in that kind of torrential downpour."
Chubb then provided one of the Bulldogs' few highlights of the day when he went right up the middle and hit the open field on his 83-yard scoring run, in the final seconds of the period.
While the Crimson Tide's balanced offensive attack clicked for 189 yards rushing and 190 passing, with Coker going 11-of-16 through the air and Henry running for 148 yards on 26 carries, about the Bulldogs' only positive on offense was Chubb's long scoring run, which enabled him to tie Herschel Walker's school record of 13 consecutive games with 100 yards rushing or more. Chubb finished with 146 yards on 20 carries. It was indeed a disastrous passing day for the Bulldogs' quarterbacks … starter Lambert going just 10-of-24 for just 86 yards with one interception and Ramsey completing 1-of-6  for 20 yards and two interceptions.
"It was a tough one," said Lambert. "My hat is off to their defense. They came ready to play, and we just did not execute … whether it was communication or X's and O's, we did not do our job."
"We aren't just going to tuck out tails because we lost this game," said Chubb. "The East is still open and we have plenty to play for. We have to keep our heads up and keep going."
With the Bulldogs' attack sputtering most of the night, the Georgia defense spent extra time on the field. Inside linebackers Tim Kimbrough and Jake Ganus led with 13 and 10 tackles, respectively, while tackle Sterling Bailey followed with nine stops.
"As a defense, we know that we did not play Georgia football today," said senior outside linebacker Jordan Jenkins, "and we have to work on that right away."
As mentioned, at least five personal foul penalties were most detrimental to the Bulldogs' chances and, for the game, Georgia was slapped with eight penalties for a total of 82 yards.
[su_spacer size="80″]