Almost five years ago, my best friend, Sara Hughes, started an unexpected battle against cancer. She was diagnosed with metastasized lung cancer that had spread to her pelvis. Spring of 2018, Sara was admitted to M.D. Anderson Hospital in Houston, Texas and underwent a full reconstruction of her pelvis. This is where the Bulldawg Bucket-list was created. Sara spent the summer of 2018 learning to walk again in hopes of achieving her goal of walking into Sanford Stadium unassisted on opening day of the Georgia football season. She fiercely tackled this goal remarking, "I did it proudly and confidently but if I was completely honest when I achieved that goal, I knew it was time for a bigger goal." She overcame any obstacle in her way and fulfilled her second and bigger goal of making it to every home game of the 2018 season. Two items on the Bulldawg Bucket-list had officially been checked off.
Flash forward to the 2021 Georgia Football season, Kirby asked the fans to be "ELITE," and Sara rose to the occasion by not letting her cancer interfere with her love for Georgia football. Consistent with her fighting attitude she stated "Everytime cancer tries to make a comeback and score, I've put my helmet and pads on and headed back on the field to work on the winning game plan." College Gameday was coming to Athens for the Arkansas game, and Sara set a new goal. She asked me to help her make this dream come true, and I was all in. We stayed up late Thursday night making signs and posted them all over social media trying to get the College Gameday hosts' attention. David Pollack got word of Sara's story and contacted her inviting her to meet him at College Gameday. The morning of the game we were up with our signs at Meyers Quad at 5:45 AM. Before sunrise the cloudy morning and red stadium lights created an eerie red fog over Meyers Quad that only intensified our excitement for the day. A crowd started forming around someone making their way to us. David Pollack walked out of the crowd and straight to Sara introducing himself. We were speechless to say the least. Sara gave Pollack one of her SaraSmile bracelets that he still wears to this day. We took a quick picture with David Pollack, and another Bulldawg Bucket-list item was checked off.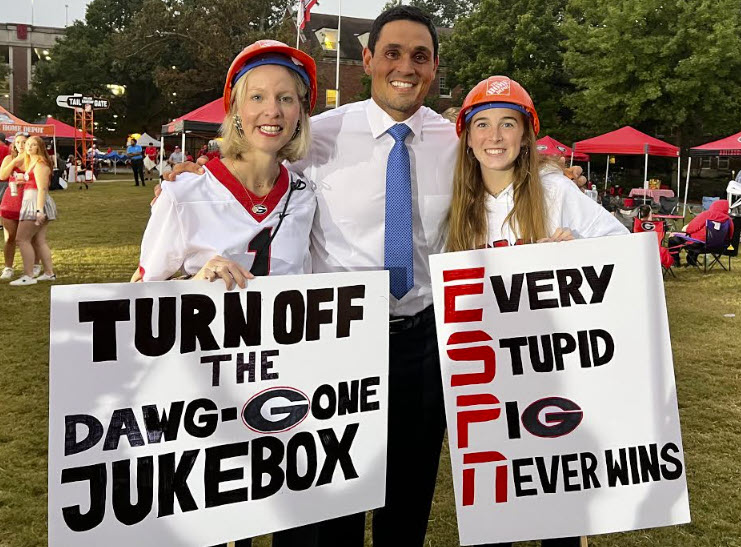 When the dawgs secured a spot in the National Championship game, Sara knew she had to be there. Going to the Natty was enough for her, but she was overjoyed when the team, "… went above and beyond to secure a win." The National Championship game was a great way to end the unforgettable season for Sara.
Sara mentioned to me at the beginning of this 2022 season that she wanted to add being a member of the Spike Squad to her Bulldawg Bucket-list. Sara has been hit with a few setbacks since the beginning of the season. She related to our starting quarterback stating, "Stetson, I know what it's like to throw an interception and feel defeated. I also know what it's like to have your team rally around you and believe in you like your teammates believed in you [last] season." Sara's team rallied to make this remarkable experience possible. When I told Sara we were going to be in the Spike Squad for the Georgia Tech game, I thought I would never see her smile bigger than she did in that moment. I was proved wrong on Saturday when I saw the smile on Sara's face as she was watching the dawgs run out of the tunnel with her spike pads on. Our amazing host and member of the Spike Squad, Emmeline West, took us through a full day of being part of the Spike Squad. The whole squad was so welcoming and accommodating for Sara and me. They helped us paint up, taught us the Spike Squad traditions, celebrated with us, and kept mentioning how appreciative they were to have us there. Towards the end of the first half of the game Sara looked at me with that bigger than life smile, and I knew this Bulldawg Bucket-list item had amounted to more than she could have ever imagined.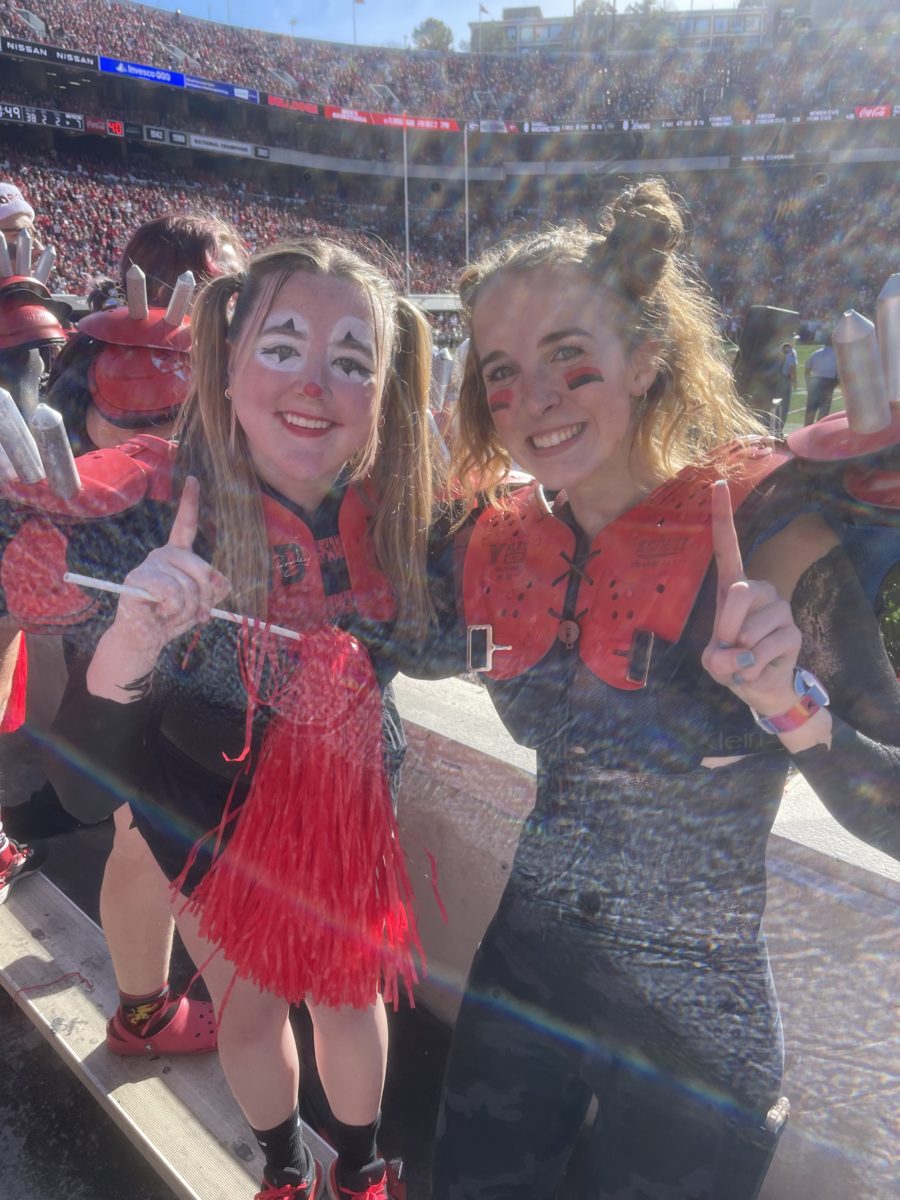 This memorable game would not have been possible without the incredible members of the Spike Squad. The Squad is trying to raise money to send members to away games. Please donate generously to their foundation because they deserve the world after the amazing day they created for Sara and me.