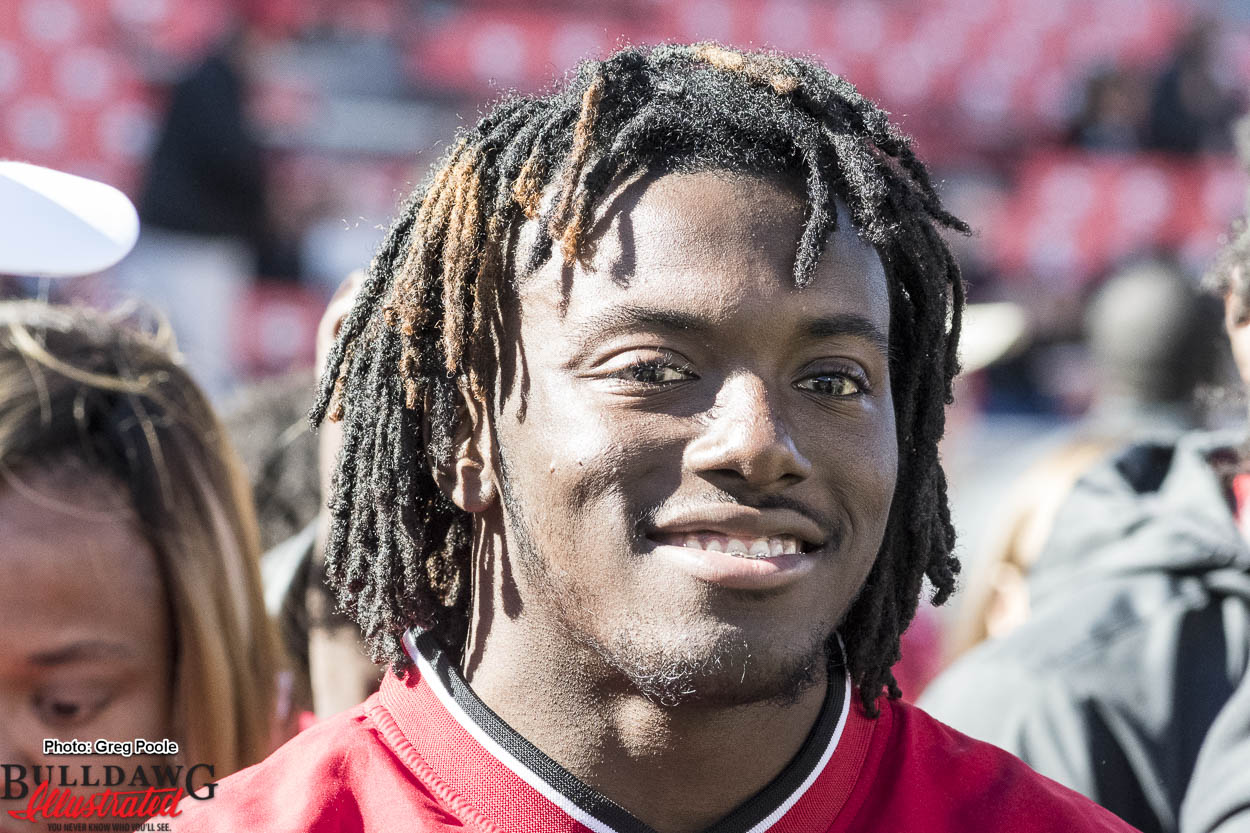 Christmas Comes Early for Dawgs
Thursday was a big day for the Savage '17 Dawgs! The addition of Jeremiah Holloman at WR and Malik Herring at DE is huge for the Dawgs. Holloman is the type of explosive athlete that UGA badly needs to add on the perimeter in this class. As an early enrollee, I fully expect him to spend a lot of time with Eason and Fromm in the offseason. He has all the tools to be an instant impact player for the Dawgs in 2017. Herring is another defensive lineman very similar to David Marshall in last year's class. At 6'3 265 pounds he is physical enough to set the edge in the running game and athletic enough to get after the passer.
By the way, how fantastic was that commitment video with Holloman & Herring and the cameos from Fromm and LeCounte!
Locking Down the Borders
According to the 247Sports Composite recruiting rankings the Bulldogs currently have commitments from 4 of the Top 10 players in the state of Georgia and 10 of the Top 20. With D'Angelo Gibbs, Aubrey Solomon, Xavier McKinney, Nate McBride and Markaviest Bryant still uncommitted and Jamyest Williams and Tray Bishop rumored to be wavering with their commitments, it would not be shocking to see the Dawgs end up signing 15 of the Top 20 players in the state of Georgia. That would make Savage '17 the Dawgs best ever recruiting class in the state and fulfill one of Coach Smart's primary goals – Keep Homegrown Talent!
Potential Explosive Offensive Players in 2017
I would argue that the Dawgs only had one explosive playmaker on offense in 2016 that will be returning in 2017 – Isaiah McKenzie. On the current roster, there are a couple more players that could fit that description as they continue to develop. For example, Isaac Nauta and Charlie Woerner are matchup nightmares at the tight end position and are big plays waiting to happen. Brian Herrien showed explosive ability on the perimeter with his speed as did Riley Ridley.
The one player on the current roster who I believe has the highest ceiling in terms of becoming an explosive playmaker is former 5-star recruit Terry Godwin. Godwin has the great hands, outstanding ball skills and is a very fluid athlete. However, in my opinion, his lack of strength has held him back. If he fully dedicates himself to the offseason S&C program and can add another 8-10 pounds of muscle onto his frame in the offseason, he could explode in a big way next year. Also, keep your eye out for Mecole Hardman on offense. More on Hardman next…
Mecole Hardman = Adoree Jackson
Adoree Jackson has been one of my favorite players to watch in college football the last three years. In his first season at USC, Jackson played a lot of snaps on defense primarily as a necessity because the Trojans didn't have any depth. However, he was mostly just an athlete out there on the field running around and completely reliant on his pure athletic ability to make plays. Each year Jackson has improved with his technique and had a huge junior season at corner this year. What makes Jackson unique is his ability with the ball in his hands. In his three years at Southern Cal, he has scored a total of 16 TD's and they have come as a receiver, running back, punt returner, kickoff returner and cornerback.
Mecole Hardman, much like Jackson, has that compact muscular frame and is a dynamic, fast twitch athlete. This year Hardman spent his true freshmen season learning to play CB. However, I fully expect the UGA staff to design a small package of plays to get the ball in his hands as a punt/kick returner and on offense as a receiver and/or running back in addition to a big role on defense. He is a special athlete and it will be a focus of the staff this offseason to find a way to get the most out of him for the next two/three years.