Han Vance on Georgia football: The University of Georgia and the University of Tennessee are now tied in football records between schools (23-23-2) and number of SEC championships won, a dozen each, adding an undeniable immediate edge in the strength of the series as a rivalry. The conference has gone divisional for a long time now, and the schools have vied for the SEC East against one another for plenty of years. Losing to Tennessee really stings, and the Bulldogs have defeated the Volunteers in two straight meetings, winning big before my very eyes Between the Hedges Saturday in Ol' Athens.
Florida rebounded (that's a you-are-a-basketball-school joke) for a late low-scoring defensive win at Miss State in Coach Dan Mullen's homecoming. Kentucky continues its lightly-publicized recent total domination of South Carolina. The Wildcats came in #17 in the country and played like a Top 10 team, they are 5-0, and have the excitable and exciting school TD leader Benny Snell Jr. at running back and get the Dogs in the Bluegrass. The Gators lay in wait at 4-1, having only lost to Kentucky.
Both beat then-ranked Miss State, for some needed reputation for the lesser half of the SEC, the top conference in the country. Bama, Georgia, LSU, Auburn are Top 10. Kentucky surging, Florida to-be ranked as I write this, and Georgia has not, let's face it, had a good go of it in Jacksonville. For all our confident feelings as a fanbase, so far Georgia is still a one-year wonder, having gone a shabby 1-of-4 in Cocktail Parties since (Floridian) Aaron Murray matriculated as the SEC's greatest statistical quarterback. He won three down there.
Dawgs are 5-0 and highly-regarded, but wholly untested.
Last week, I called for 40-30 Dawgs and it was 43-29 at Mizzou; this week, back in the Classic City, I liked Dawgs 40-10 and it was 38-12, so my feeling about the team coming into each of these two SEC East games has been close to exactly what happened. I liked UGA to cover at a South Carolina I openly didn't trust to have a big year, earlier. Picking cupcakes is lame by the way, it just doesn't much matter, unless an upset occurs of course.
Both games saw Georgia leading by less than two touchdowns late, a position that will get you beat if that trend continues because the other side will inevitably get hot. It worked twice consecutively here as the defending SEC champions put a couple late scores on the overmatched Vols to beat them going away. I was somewhat nervous a week earlier because the great Mizzou QB Lock could have gotten hot. I was by contrast, calmly joyously sweltering through the sweat of an Indian Summer day, while the CBS TV audience watched along with me. It was a good home rivalry win.
These Dawgs haven't played any good teams and get at LSU, in Florida, at Kentucky and host Auburn. Margin for error is actually greater at Georgia than at most premium programs slotted highly by the soon-to-be irrelevant polls. The CFP favors strength of schedule and Georgia repeating as SEC champions feels like the only path to the CFP, for me. A lone loss amongst these four tough games feels surmountable, should the Dawgs win the SEC in Atlanta again. With powers Ohio State, Notre Dame and Oklahoma projected to all possibly win out, looking over their schedules, it is going to be very tough to impossible (unless you are Bama, of course) to get in as an at-large this season. It has only happened once ever and is not a tenable trend for the survival of the current system. I intentionally held back mentioning Alabama and didn't even say Clemson, who both make the playoff annually.
Great teams will be left out, in the wildly unfair process. The least effective championship deciding method in any sport is what we have, yet college football remains my unwavering passion. I worry about the unfair happening to Georgia. The media darling Fighting Irish leaving one less slot for a conference champion, with five major conferences battling in a popularity contest for four slots, voted on by a group of (so-called) experts who sit in a room together and decide. UGA does not get the opportunity to defeat the Irish of this season unless in the CFP, after Georgia won an epic, 20-19 at Notre Dame in the CANINES vs CATHOLICS (I made the T-shirts) debut last year, a massive strength of schedule boost. Dawgs get a return visit from ND in 2019, a much prettier schedule that opens in Nashville.
The league has been a hard place to repeat, Bama getting there lately but not so often, and nobody else able to do it since the Tebow era. Florida is building. Watch Florida. I picked the hated Gators for second in the SEC East this season, and no fan should mark that one in the win column just yet.
Or maybe I'm just kidding myself, teasing my big travel piece because I'm going down there with my cool banker brother Johnny, an honored Georgia graduate and his (of UGA) lawyer Matt Mashburn. To party. I will be reporting on the wild scene for y'all in the manner of other travel/culture articles I have done for Bulldawg Illustrated set in Oxford, Memphis, Pasadena, Athens.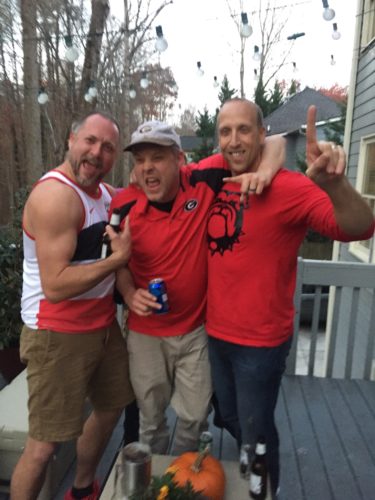 (Vance Boys, Marietta, Ga., circa 2017)
Kentucky honestly looks great, but the, um, Big Blue, are infamous for late season fades in football schedules. I recall them looking good in several years and ending up only losing a minor bowl game at year's end. My point circling back to UGA.
Being 5-0 is such fools gold. It may mean nothing, folks. Lots of teams are 5-0 and fade. A perfect third of a season, only, if the team were to play through the full fifteen possible games like last season, when the Dawgs went 13-2. Kirby has Georgia on a 19-2 run. Here's to 20.
Freshman Justin Fields of Cobb County saw extended action, rushing for two touchdowns. I expect to see a lot of him this week versus Vandy, a traditional spot where Kirby has played his backups more. If one can consider anything traditional, that is, over a short two-and-a-third year coaching era, at the old football school.
Many thanks to the Hilley clan for everything, Richard and I finally were in Athens together, he and his two siblings 5th-generation Georgia. Mom Cindy was back on her campus, she hung tough through the walking and the heat and makes a mean deviled egg, ah the unrivaled joys of North Campus tailgating life. While Richard's fun little sister Mary was in charge of our tailgate and transportation. Per usual, Merv Waldrop received me with grace and abundance, hugging the back of the man, his hiving tailgate so fittingly hugging the Old College, in the President's Garden.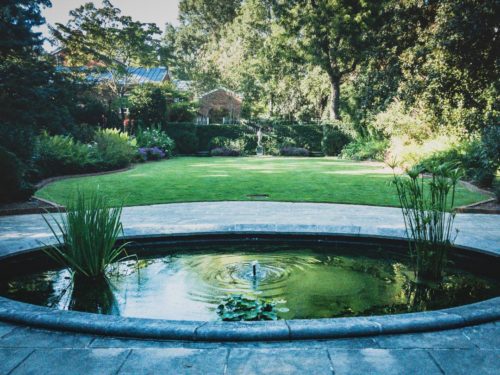 (Garden Club, Photo: Michael Santini)
That and the nearby, verdant Garden Club are my favorite parts of campus – historic Herty Field and the Chapel Bell, which rang into a long Athens night – falling between them. 1785 forever, baby!
Tennessee fought hard and lost to the better side, returning four former Georgia coaches on the Jeremy Pruitt staff were overall pleased with their efforts in defeat. They are hoping to be in rebuilding and went from shut out in the first half to scoring two touchdowns, on a staunch Mel Tucker defense that ultimately only yielded twelve points. Georgia is a championship caliber team.
Fromm finally found Isaac Nauta…on a fumble return touchdown to open the scoring in Athens. They actually did connect on a big third down later, after Fromm was stripped again, early, yet another key Georgia fumble recovery. Nauta's moves in the open field should be an eye opener for Fromm – throw him the rock, pretty please.
Georgia has no known offensive identity outside of total team production, rushing for over 250 yards with five rushing touchdowns. That feature back wish of mine just is not matriculating at Running Back U, D'Andre Swift scoring two touchdowns but getting only 50 yards on limited carries. Good to see senior Terry Godwin II rounding into form, as he will be needed by Fromm down the stretch. Fellow wide receiver Mecole Hardman Jr. failed to score a touchdown for the first time this football season, as Georgia's passing offense was a bit subpar. UGA's running back stable dominated with vast depth at the position, though no truly dominant lead horses.
It's Homecoming Week. Georgia is entering the meat of their schedule…after Vandy. UGA has now faced three teams from the state of Tennessee, and is undefeated in such obviously, with the only private school from the SEC, our semi-annual Homecoming opponent. if Vandy comes to Athens, it is Homecoming. So, cheers to my fellow alumni, blessed to be an alumnus of the birthplace of American public higher education. 1785 forever!