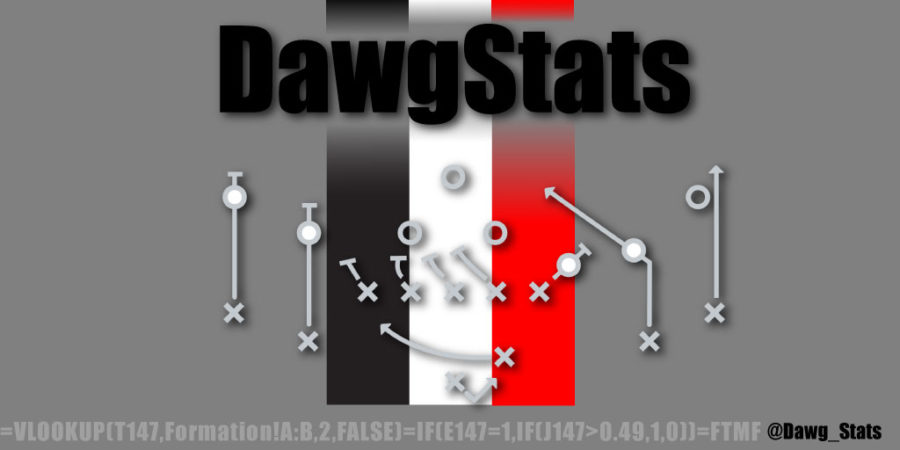 UGA couldn't ask for a better scenario to return to their winning ways than playing UK at home.
The Wildcats' SEC opponents have played above their season averages in several analytical categories, including Yards Per Play, and Success Rate. UK is 1-3 in SEC play and is allowing 25.3 Points Per Game.
(Success Rate is defined by gaining 50% of yards to gain on 1st, 70% on 2nd, and 100% of yards to gain on 3rd and 4th Downs)
Even after the loss on Saturday, UGA ranks 2nd in SEC in Overall in Success Rate, 1st in Rushing Success Rate, and 3rd in Passing Success Rate. Also, UGA ranks 1st and 3rd in Rushing and Passing YPA.
Let's look at each of UK's SEC Opponents results in these categories relative to their season Averages.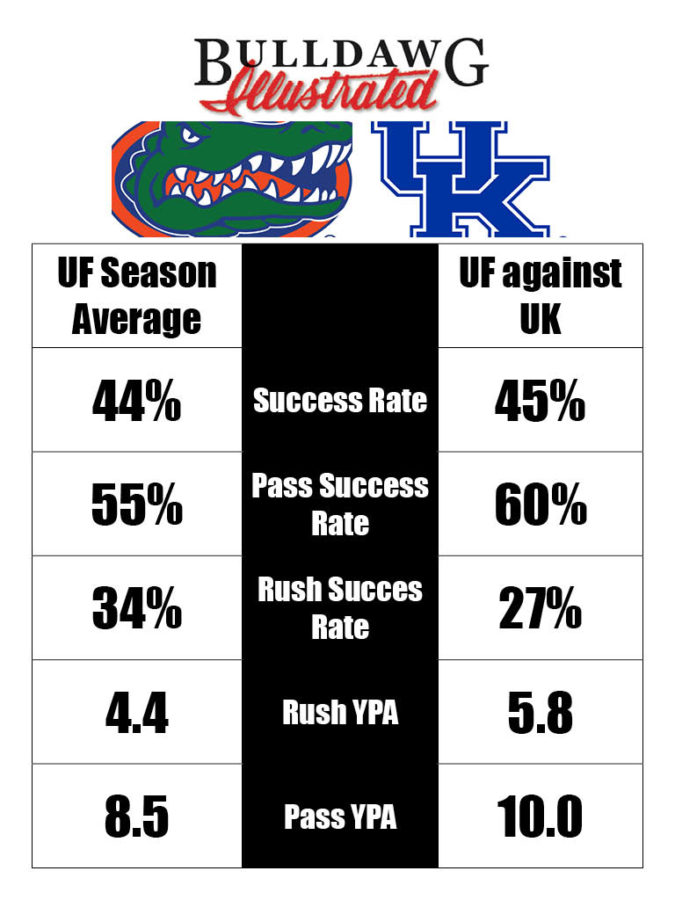 This game was a 19 point 4th Quarter comeback for the Gators after Kyle Trask came in for the injured Felipe Franks. Clearly, UF had their way at Kroger Field passing for 10 yards per attempt. The 4.4 YPA on the ground isn't that great – it is a mark for Florida. (Gators are 13th in conference in Rush YPA and last in Rush Success Rate)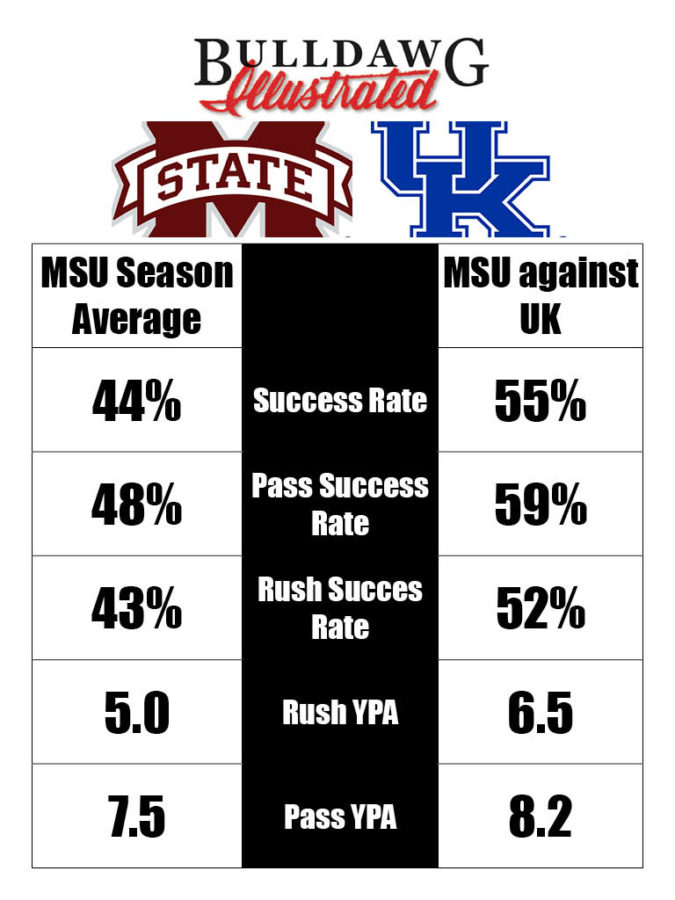 Again, another great offensive showing against the Wildcats, this time for the Bulldogs. Mississippi State not only had high per play averages, but extremely high success rate both passing and running the ball. Possibly a high water mark for these Bulldogs, as MSU hasn't seen much success since.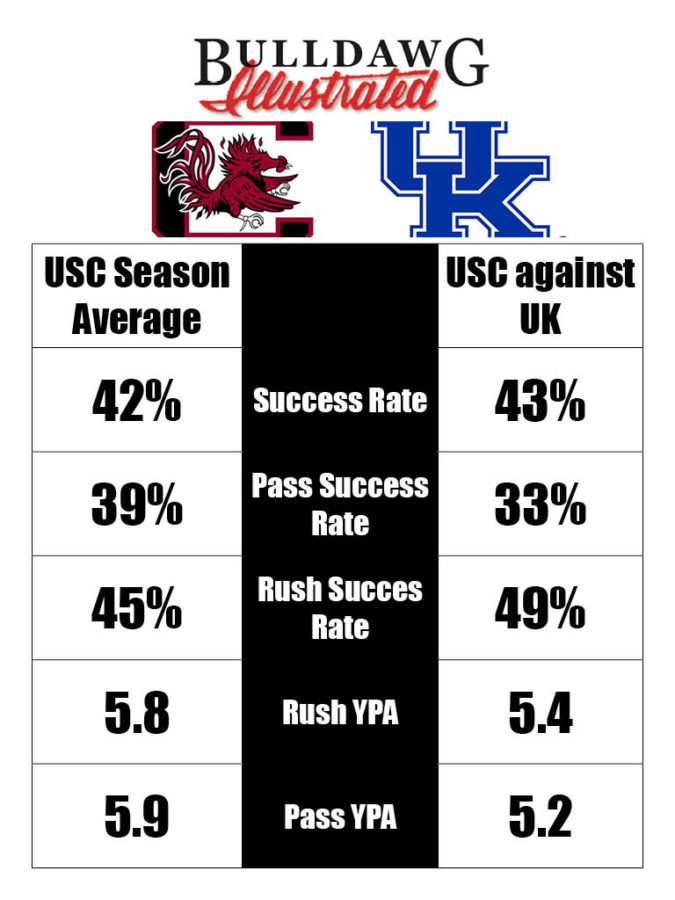 While the Gamecocks matched their averages against UK, USC rushed for over 247 yards in their victory over the Wildcats.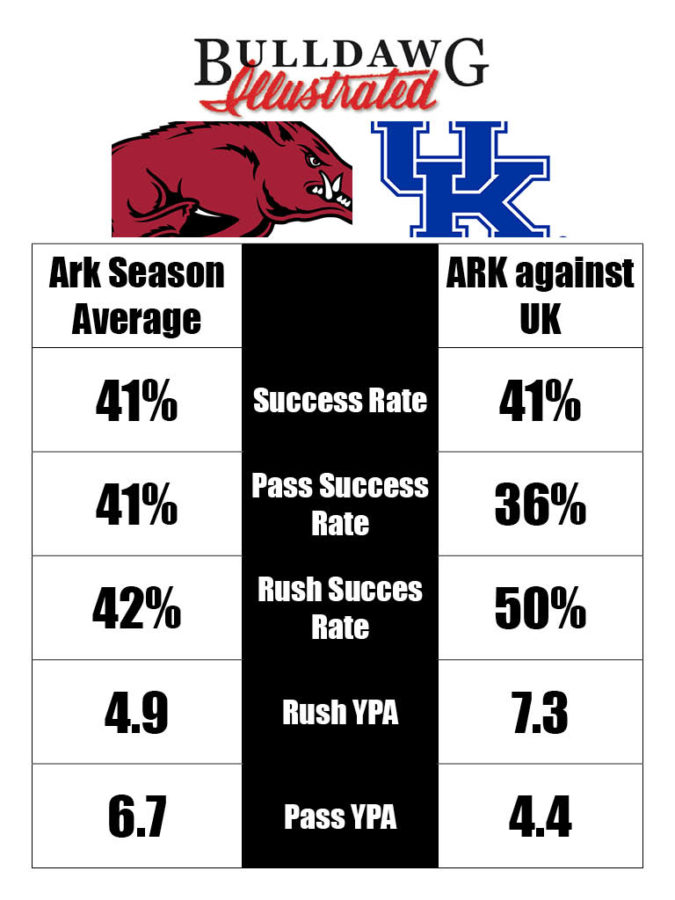 Kentucky was able to hold Arkansas below their passing season averages. Arkansas rushed the ball extremely well and with high success. Arkansas in 8th in SEC rushing YPA and 10 in Rush Success, bucked those ranks against UK.
Dawgs should be able to move the ball on the Wildcats and do so with efficiency and success.