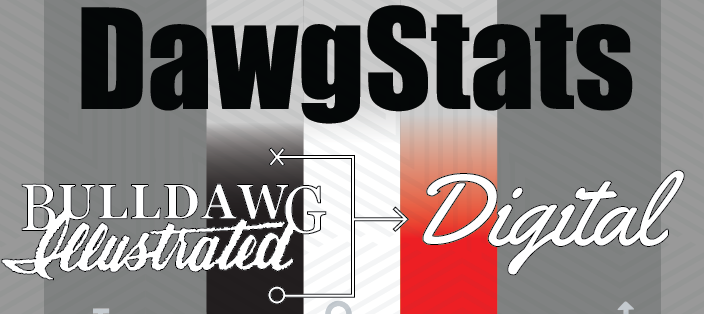 It's been a minute since my stats blog has graced your screens, so allow me to reintroduce myself to you guys. I am Bulldog fan, grad, and amateur stat head.  I got tired of fantasy football and turned my interest in stats into a  UGA number cruncher.  Here I am one crazy year later and I'm ready to share with you my research, what I've learned, and some metrics that you may not be following.  Last year, I tracked success rate and personnel groups.  This year, I hope to explain (and understand myself) expected points.  This is a generic term to quantify the value of plays, players, and explosiveness.  I wrote a blog back in February about EPA ('expected points added' used interchangeably with PPA.). Please read it again if you want, because this post (and my own understanding) is building off that. But, in essence, the higher the number, the higher efficiency – aka- more explosive.  
For this preseason, I am going to show you some of the returning offensive players in the conference and their EPA.  The quarterbacks get a lot of attention, and with UGA replacing an all timer in Jake Fromm, Bulldawg Nation, the media, and other fan bases have been fixated on the SEC East QBs.  Let's look at the raw numbers.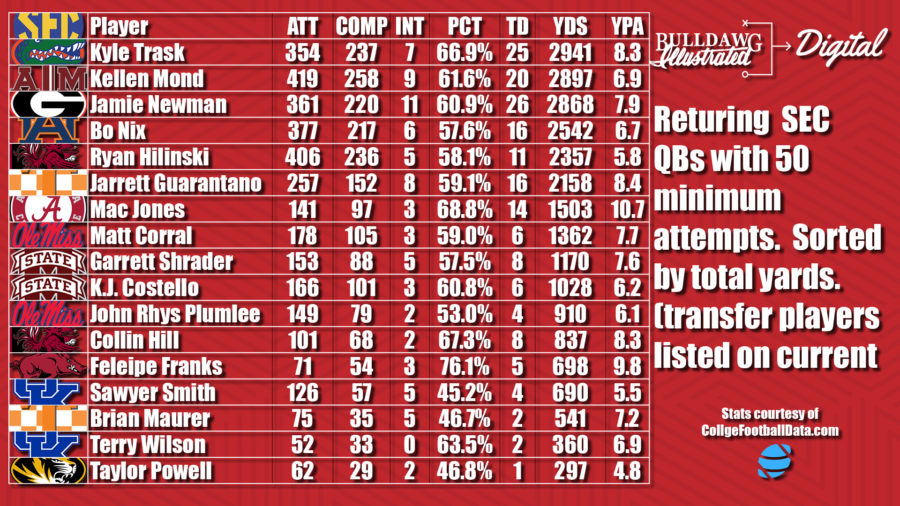 The usual suspects are there.  Florida and Trask return a lot of TDs, the most yards, and 2nd only to Mac Jones's short season's completion percentage and YPA.  But, those that are on the Newman hype train can see upside in his raw numbers.  Let's add some efficiency/EPA metrics.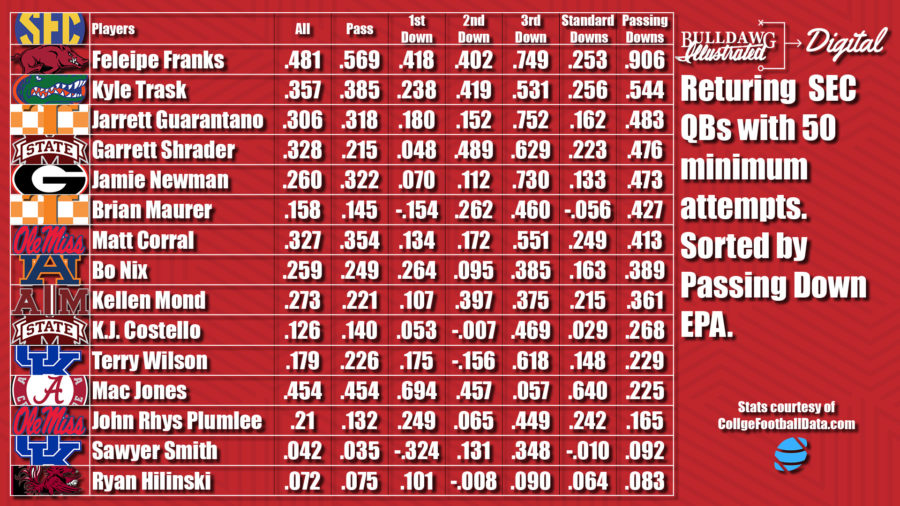 Well, that is a lot of numbers. This is sorted by Passing Down EPA (the last columm).  How efficient are the QBs when the offense is off schedule. Passing Downs are defined as 2nd downs with 7 or more yards to go or 3rd and 4th downs with 5 or more yards to go.  This chart shows this.  
Obviously, Franks barely made the 50 minimum, but I left him there.  Newman looks quite pedestrian in a lot of these categories.  Trask is solid across the board.  Newman is quite good on 3rd Down and is top third on passing downs.  Though, Newman's 1st and 2nd Down numbers… aren't great.  Also interesting are Mac Jones' numbers.  When the offense was on schedule and on early downs – he was outstanding.  But, on passing and 3rd downs, he was quite mediocre to bad.  
Still with me?  Last one for this post.  This chart are the QB's total EPA.  This is a sum of all their plays and their explosive/efficiency numbers.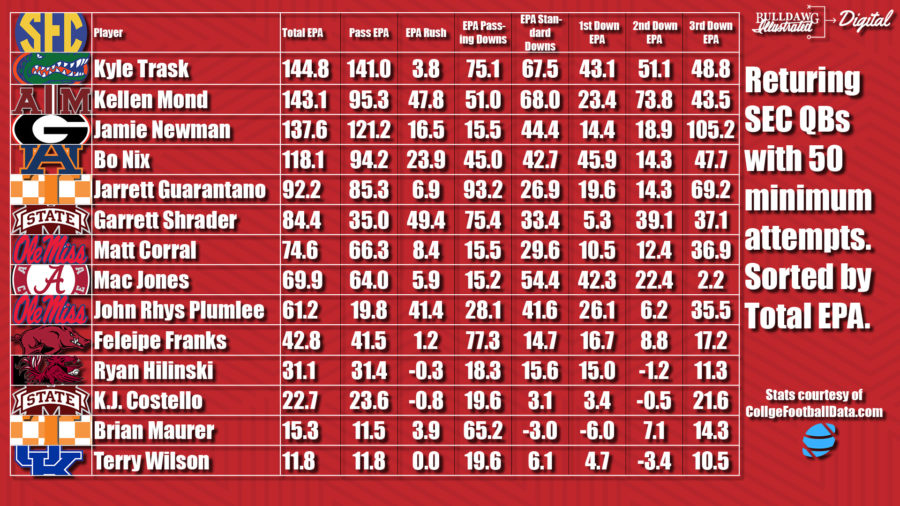 Now you can see the cream rising to top.  Again, all numbers indicate that Trask had a great season. His numbers pretty much spread evenly across the metrics, except for little to no rushing efficiency.  These numbers again point out Newman's lackluster numbers on early downs with a staggering total on 3rd Downs.  
A lot of media coverage pointed out that Trask was the SEC's best returning QB and nothing in these stats would prove otherwise.  There are several QBs in the league that should challenge him, but most need improvement in areas that Trask did well in.  Florida is losing a good deal of production from their skill positions, and reports from Gainesville that several veterans on offense have not reported to fall camp.  Kellen Mond and Bo Nix are also poised to challenge the league as it's best QB.  
I'll be cooking up some more numbers leading up to the delayed season.  Please follow me on Twitter @Dawg_Stats.  Also, I am a collaborator with some of the guys from DawgSports.com on a show called "The Battle Hymnal" where we deep dive into a lot of this stuff.  Please give us a look if you like stats.  A big shoutout to the guys at CollegeFootballData.com.  It's a free site that has a ton of stats. If you need some numbers, check it out.