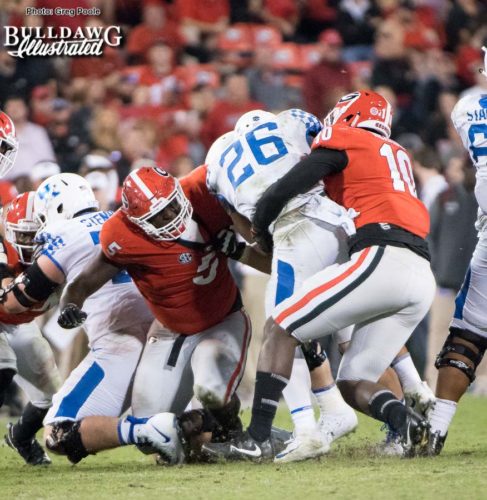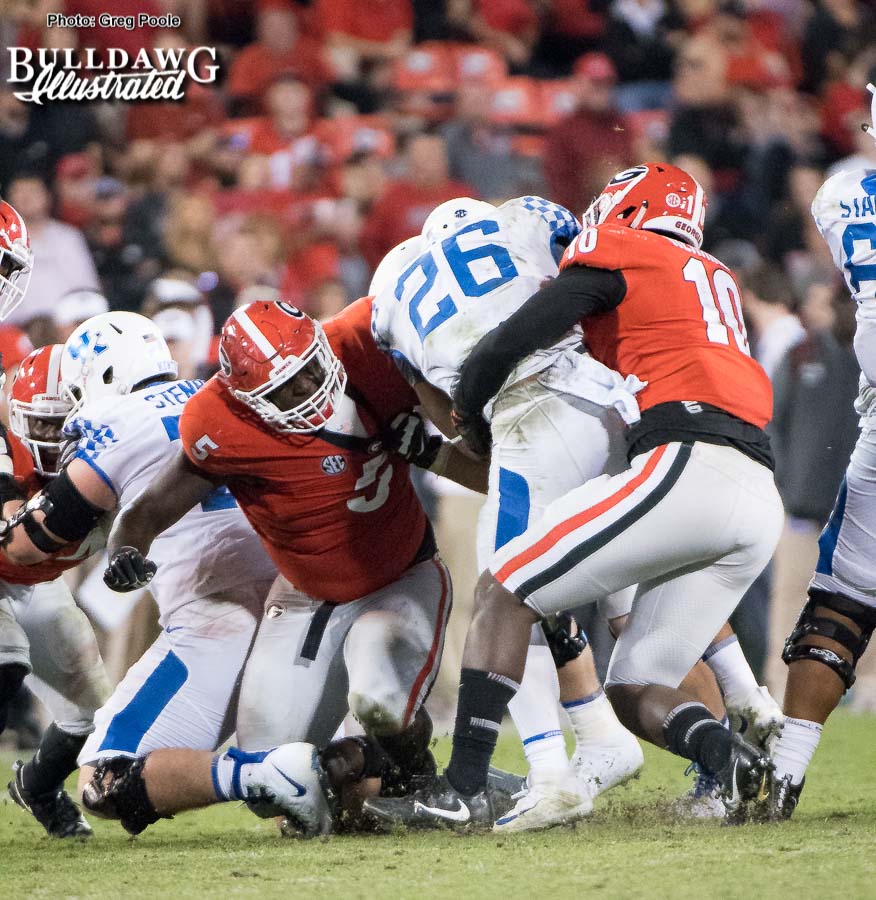 Han Vance on Georgia football: At #9 in the College Football Playoff rankings, the Kentucky "Mildcats" of college football are no joke this season. Number #6 Georgia (Note: I will use only the CFP rankings until the playoffs are settled, as they are the only ranking of football teams that matter) are in prime position to repeat as SEC East and SEC champions. In doing so with one loss, the Dawgs would make the College Football Playoff under projections I have seen played out.
Although, there is no guarantee. Could Bama lose to LSU and then take the slot that should go to the SEC champion? Yes! Notre Dame will be undefeated and has beaten Michigan. The Big 10 champion may be higher ranked than Georgia, based on Georgia's weakest out of conference schedule in many years before or after 2018. Clemson looks to me to be unscathed. Oklahoma has their best offense, lost a heartbreaker where they rallied, to a tough team, has the most efficient quarterback in the past 15 years by QBR (the mathematical quarterback rating system), after having the highest-rated passer and number one NFL pick last year. Think the Dawgs would outscore them, again? 1. Clemson (same as last year) 2. Notre Dame 3. Michigan-Ohio State winner 4. Oklahoma/Georgia/Bama — you see, of these final three teams, and there are other CFP contenders out there, only Georgia has been beaten badly. That's not how I project them to be ranked at end by the way, just a nightmare scenario where Georgia ends up #5. Saban will lobby on TV, like he does, if they lose. It has always worked when he has done so.
It would be much worse to me than getting in and losing. Blow this system up: I honestly do want to know if UCF could rise up again and beat the big boys, like they did a healing Auburn in Atlanta at the Peach Bowl, after Auburn had handily beaten eventual #1 Alabama and #2 Georgia when healthy and only lost when their best player (SEC Offensive Player of the Year Kerryon Johnson) was injured and used mainly as a decoy. UCF have actually been an underdog in big bowls twice and went 2-0 there. Considering the shabby system in place, a baby step up from the BCS, my dream of a goal for Georgia was to win the SEC again this season. National championships are still somewhat mythical due to the popularity contest still in place; replacing a terrible system with a bad system was stupid.
Georgia has the youngest team in the SEC, dominated by the play of the sophomores. When and if Georgia loses again, the storyline will be: wait for next year. Like always. This year, it would be accurate and any that said that last year do not know how to evaluate the impact of college football roster upheaval. Upperclass-dominated teams are way more likely to win more in college, by percentages. Georgia is underclass-dominated this season. WR Terry Godwin II, who has been hurt and rounded into game shape slowly; good blocker Kendall Baker and straight-up stud center Lamont Gaillard, will leave the offense, as seniors, around for the run. That's a bunch of returning two-deepers – almost like the defense coming into last season. End Jonathon Ledbetter, linebackers Natrez Patrick and Juwan Taylor, all-world college corner Deandre Baker, and sack specialist D'Andre Walker depart the defense as seniors. That's a bunch of returning two-deepers there also – almost like the defense coming into last season. This team will mature through experience.
I like to get ahead of stories before the rest of the media, but the present is now.
Today's the day. Win, Dawgs!
Legend Merry Waldrop, awesome dude Travis Carter and yours truly are back together – The Boys are Back – and heading to Lexington (it's Friday a.m. as I craft this) in a couple of hours, and my reds are in the dry cycle, in Atlanta. Winner of Georgia-Kentucky goes to Atlanta. Oh, Atlanta. Scene of so much Georgia tragedy that it is nearly, literally Shakespearean. Gone with the wind, you know. Would have surely killed Larry Munson if he were still around to talk about it on-air. (Keep your eyes peeled for my cultural travel report, to come.)
Let me throw a dark horse MVP who could break out this game: Godwin. He won't be watched well, because JJ emerged as Georgia's long-and-tall weapon and Mecole scored so many touchdowns early in the season. He will get plenty of single coverage, with their lesser corners. It is too late for eyes-everywhere Stoops to read this and realize: Godwin may be Georgia's best receiver.
Jake Fromm will be a key again, and if the solid sophomore stays on percentage (67% completions) Georgia wins. Fromm is 19-3 as a starter, 20-3 in games he played the most snaps at QB. His regular season struggles have been on the road against highly-ranked league teams. Another step for Jake to take, he meets every challenge head-on and is the ultimate leader UGA needs in there. Justin Fields should see action this week, too, although the road environment is tough for young passers.
Run defense and power running will be an emphasis for both teams today (you are getting this on game day), and some Kentuckians are calling this the game of the century. They have beaten Georgia only a dozen times over a century, Transcendent talent Benny Snell Jr. set the Kentucky school career touchdown mark in his first two seasons and is the best runner in the SEC. Swift/Holyfield has settled in as Georgia's two-headed monster. Each has one career 100-yard game, none on the road. While Snell is the first UK runner to net back-to-back 1,000-yard seasons.
QB Terry Wilson is scrappy and athletic and was once an Oregon Duck. WR/ATH Lynn Bowden is their extremely dangerous big play guy. He should expect a quiet day with Deandre.
Lou Groza Award semi-finalist Rodrigo Blankenship missed three kicks all of last season and two this season so far, and came on the scene in a major way in the Bulldogs last trip to the Bluegrass. I threw him in here in the Kentucky team talk, because the little kicker out of Marietta may have to win it.
Their defense is stone cold scary, led by two seniors that have built for this moment: future pro linebacker Josh Allen will be first-team All-SEC. Safety Mike Edwards led all SEC defensive backs in tackles the last two seasons and could have clearly gone pro early.
Stoops is happy. He won't be, though, if the Georgia team finds a way to score enough. Call it 27-17 Dawgs. Just find a way to escape with the win, if it is closer than that.