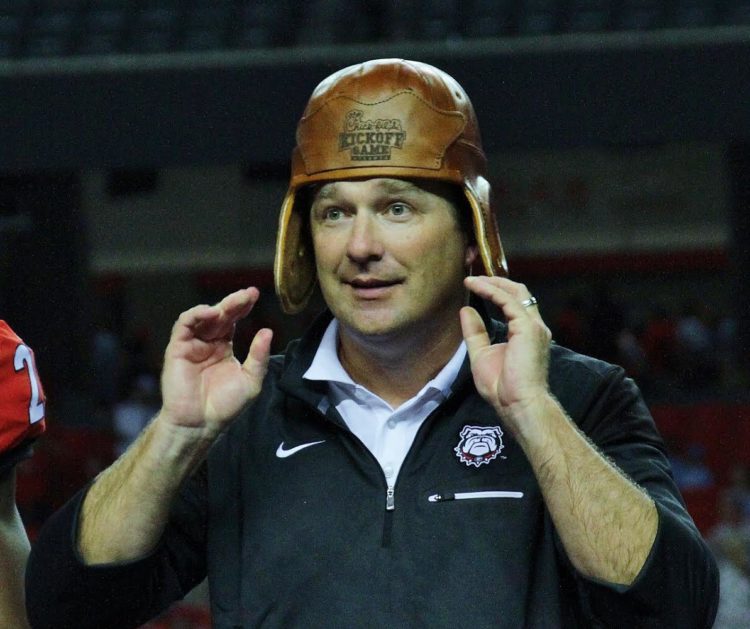 I took the Labor Day weekend off, so most of you have already read post game analysis elsewhere. But here are some random thoughts:
If there is one thing I don't subscribe to, it's SEC pride.
I could care less what a bunch of Yankees think about our Conference. I know the SEC is the best. You know the SEC is the best. The American people know the SEC is the best.
There might be circumstances where I pull for certain teams. LSU losing to Wisconsin cost me some cash in a parlay (I hit Alabama and UMass). Or if a SEC team is playing Ohio State for the National Title, I'll be going with the SEC.
Generally, I say the hell with everyone else. Why would I want any other school in the SEC to win a National Title or have happiness? The schools that have won one have theirs, and I don't want another team adding to it unless Georgia gets theirs first.
It's about 7:00 p.m. Monday night, and I want Ole Miss to lose to Florida State and lose bad. I was hoping App State would beat Tennessee. Last season I pulled for Clemson in the National Championship Game.
I have schadenfreude for the other teams and I'm not afraid to admit it. It is impossible for every team to lose every game, but I want Auburn, Tennessee, Florida, Alabama, and South Carolina to lose as much as possible.
Truthfully, to take this to a little more sadistic place, I want them all to feel my pain as a Georgia fan. I don't want other teams to be awful (because that would be impossible for all teams to be 0-12), but not great. To be so painfully close to greatness but never get there. I want them to experience our pain.
So, for someone depraved like me, this was the perfect weekend.
Aside from Georgia, Alabama, and maybe Texas A&M, what SEC teams and their fans feel good about their seasons right now?
Tennessee got a scare and doesn't look like they've taken the next steps. Well, I guess they won a close game, so there is an improvement from last year. Florida struggled with UMass, and Arkansas struggled with Louisiana Tech. LSU lost. Kentucky? LOL. Vanderbilt and South Carolina are going to be in rough shape. Did I miss anyone?
Yes, Auburn. Auburn doesn't have a clue what they are doing on offense, and had to settle for a moral victory.
Nationally, Oklahoma, Notre Dame, UCLA, TCU, Clemson, and Stanford either lost or didn't have great performances. Their fans, along with many of the aforementioned SEC schools, are either disappointed or relieved after the first weekend. Not joyous.
Nationally, Michigan, Ohio State, and Louisville should be pleased with how their weekends turned out. In the SEC, Alabama looked awesome. I didn't see any of the Texas A&M game, but that was a good win against a good opponent. The 12th Man should be happy. Then of course you have the Dawgs.
NOTE: It's halftime of Ole Miss/FSU, and I'd say Ole Miss can be pretty happy too.
As a Georgia fan, we went to bed Saturday night with the satisfaction of a victory over a good team. No major injuries that we know of, our freshman quarterback looked great, and Nick Chubb, despite my fears and skepticism, was somehow just as good as he was 11 months ago.
I thought we would have a pretty good season, but lose Saturday night. And my prediction looked like it was going to come to fruition in the third quarter. Which leads me to my next thought:
I am going to say something and I truly believe it, and I don't mean to be petty:
That was a game we would have lost if Mark Richt was still coaching.
I don't mean that to say we would have lost because Mark Richt sucked or could never win a big game. That narrative was one I never bought into. Georgia won plenty of big games. But think to the big games Georgia has won on the big stages recently. When we win, we come out and play well from the start of the game and win it in a competitive game.
All too often recently, when Georgia was faced with adversity or had to come back from a deficit, we'd just wilt away. It was like the Bulldawg Nation, including the folks standing on the sideline wearing Nike, would collectively think/say, "Here we go again". This wasn't always the case for Georgia, and it the only recent exceptions I can think of are Georgia Tech and Auburn in 2013.
"Here we go again" was something I thought when the opening second half kickoff was taken to the house and on the ensuing possession a touchdown that had UNC go up 24-14. You're lying if you didn't think it too.
You know who didn't think it? Kirby Smart, his staff and the guys in red on the sideline. We scored 19 unanswered in the last quarter and half. That was different than what we're used to seeing.
I don't say that to bury the previous coaching staff. I was tickled to see Coach Richt and his staff hang 70 in a big win (I did think, though, why didn't we ever get that? But that is another post for another day…).
Something is different. And it is glorious.
We turn our attention to Nicholls State this weekend in a nice exhibition game. Lots of players will get some game reps. Hopefully no one gets hurt because starting with a road trip against Missouri in a couple of weeks, we need something pleasant now. Because life is about to get a lot more difficult for several weeks.
Go Dawgs!