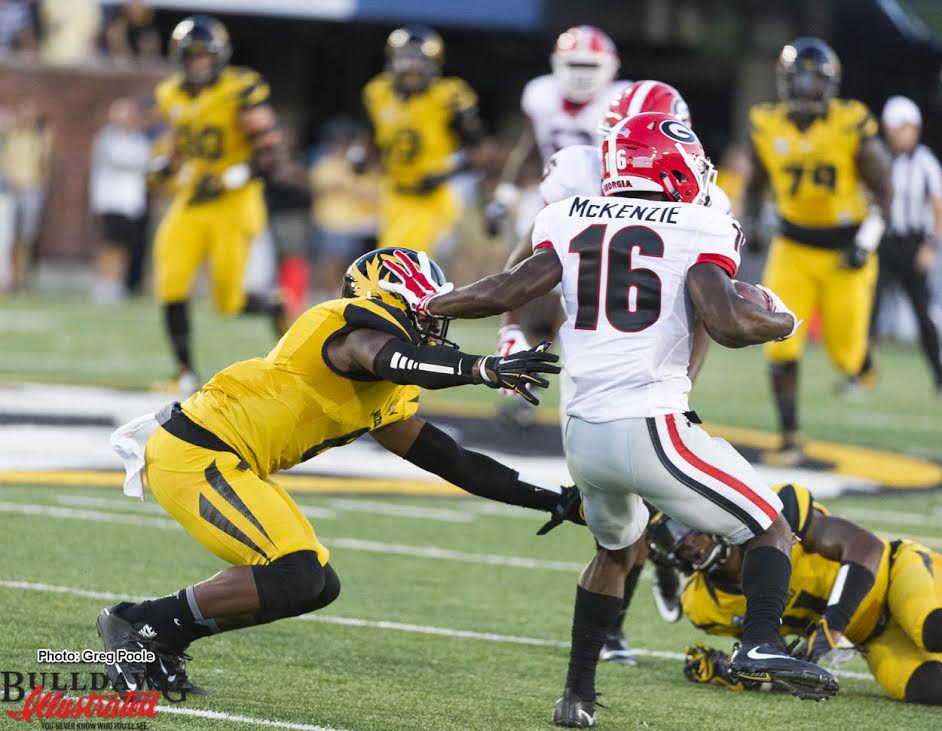 Talk about your dramatics.
As the late Larry Munson would say, "We were dead and gone."
Trailing the Missouri Tigers 27-21 with 3:32 left to play Saturday night in Columbia, Mo., freshman  quarterback Jacob Eason put the official stamp on his college football coming-out party by directing the Georgia Bulldogs on an 80-yard against-the-clock march that resulted in a 4th-and-10, 20-yard game-tying touchdown pass to junior receiver Isaiah McKenzie. McKenzie, enjoying a banner night against the Tiger secondary, beat Missouri senior cornerback Aarion Penton straight down the middle, pulling in Eason's perfectly thrown pass as he crossed the goal line.
With the game now tied at 27-27 with 1:29 remaining freshman place-kicker William Ham — who had misfired on field goals of 23 and 38 yards — split the uprights with the eventual game-winning PAT to boost the Bulldogs into their only lead of the second half at 28-27.
When junior safety Dominique Sanders stripped Mizzou receiver J'Mon Moore of the ball following a pass completion from quarterback Drew Lock and sophomore corner Juwuan Briscoe recovered his second fumble of the game, Eason then took a knee in the final minute and Georgia first-year head coach Kirby Smart had  his first SEC victory and the Bulldogs had a 3-0 season record heading to Ole Miss next Saturday.
"It was an emotional, great game," said an obviously-spent Smart. "Our kids just never quit, they fought hard all the way. We took a punch there at the start of the second half (Eason's only pass interception that led to the Tigers going ahead 27-21) but just like we did in the North Carolina game, we never quit and fought back," Smart reiterated. "I thought Jacob played awesome. He's a competitive kid … he's obviously got things to improve on but overall did a great job tonight.
"We need to get him looking in the right places," added Smart. "There are a lot of times where he is throwing the ball to the wrong place. Even that last drive a couple times, Isaiah (McKenzie) was tired or winded. We have to get him out of there, and Jacob kept throwing fade balls to him. We just need to do a better job of helping the receivers out by playing more guys, but the other guys need to earn it by what they do in practice."
"I still can't believe it happened," said the Bulldog hero McKenzie. "I still can't believe that it's over and we won. But it feels good to help the team out and come out on top."
Of his game-tying touchdown reception, McKenzie said, "I saw that the linebackers were down the middle. I had to get the corner to the middle of the field and once they called hike I said 'I got to get to the middle before he does. Before he beats me there.' That's what I did. He  (Eason) threw a good pass and I had to adjust and come down with it and secure it. That put us on top."
The winning scoring drive, which produced Georgia's only touchdown of the second half, wouldn't have been possible had it not been for a leaping interception of Lock by senior safety Quincy Mauger at the edge of the Bulldog end zone … Mauger getting one foot in bounds with the ball in his grasp on a play that had to be reviewed. Lock threw the pass from the Georgia 18 and had not Mauger fashioned his huge play, the Tigers (1-2, 0-1) could have put the Bulldogs away for good with a field goal that would have boosted their lead to 30-21.
On the gut-wrenching march, which came after the Georgia defense forced a Missouri punt into the Bulldog end zone, Eason first completed a 17-yard pass to Jeb Blazevich and a 6-yard pass to McKenzie. Then the Bulldogs got the break they needed when Eason lofted a long pass down the left sideline and the Tigers roughed up intended receiver Reggie Davis on an obvious pass interference call. That placed the ball at the Missouri 35-yard line, from where Sony Michel ripped off a big 15-yard gainer to the Tiger 20. After three consecutive incompletions thrown by Eason, things indeed looked dire for Georgia but with a fourth-and-10 staring the Bulldogs in the face and 1:36 left on the clock, Smart signaled for his final timeout and the cool freshman Eason and McKenzie hooked up on their magnificent 20-yard touchdown pass that stunned the home-standing Missouri faithful at Faurot Field.
The 6-6, 242-pound Eason, though having several overthrows and underthrows against the fierce Missouri pass rush, completed 29-of-55 attempts (with several dropped passes) for 308 yards and three touchdowns while going the distance at QB. It was the most pass attempts for a Georgia quarterback since 2000 when Cory Phillips was 36-of-62 against Georgia Tech. Eason did throw a costly interception at the start of the third quarter, which led to the Tigers' lone score of the half.
Little McKenzie was brilliant on this evening, recording a career-high 10 catches for 122 yards and two touchdowns, including of course the monumental game-tying score with the 1:29 to play.
And Georgia needed every big play from Eason and McKenzie on a night when the Bulldogs' offensive line again couldn't create space for Nick Chubb and the running attack. Georgia finished with just 101 yards on the ground as Chubb was held below the century mark for a second consecutive game, ending the night with 63 yards on 19 carries. Michel rushed nine times for 37 yards including his 15-yard dash on the final drive and McKenzie used his quickness to add 19 rushing yards on just two carries to his receiving total.
Eason directed touchdown drives of 75, 61 and 74 yards as the Bulldogs moved to a 21-20 halftime lead, thus overcoming a 10-0 deficit in the first quarter … the second 10-point deficit Georgia has erased in the young season. The scores came on a 6-yard run by McKenzie,  a 2-yard pass from Eason to Christian Payne which was set up by Eason's 21-yard strike to Terry Godwin and then a 20-yard TD pass from Eason to McKenzie.
In the see-saw half, the Tigers cashed points via Drew Lock's 15-yard pass to Jason Reese, Tucker McCann 33 and 46-yard field goals and then a 79-yard touchdown strike from Lock to J'Mon Moore.
Defensively, the Bulldogs allowed Lock to throw for 376 yards and three touchdowns in the Tigers' hurry-up offense but also picked off the Missouri quarterback three times … Mauger having two of the interceptions and Briscoe having the other pick to go with his two fumble recoveries.
Georgia, having pulled out what was surely a last-gasp, spine-tingling victory in an unfriendly environment, will now encounter an Ole Miss team that blew a three-touchdown lead Saturday in a 48-43 loss to No. 1-ranked Alabama. The kickoff is set for 12 noon ET Saturday in Oxford, Miss.