I don't know how convinced Missouri fans were of a victory before the game started, but when their team scored the game's first touchdown, the crowd became a collection of believers. Like converts at a mass political rally, the black and gold clad patrons adopted the slogans and fervent attitudes of a cadre and marched to a cadence of M I Z – Z O U as their team set the pace with a Georgia team that, for the second straight week, could not sustain a running attack. Although the crowd was capable of spontaneous cheering efforts, Missouri seems sorely lacking in its variety of cheers. Additionally, there is something amateurish about having the stadium PA announcer participate in the M I Z – Z O U call and response cheer after every, single, first-down.


The atmosphere at a Missouri home game is different in another way, as well. Those folks are way too nice. If their cheering has a stilted, almost scripted feeling about it, the "We Are Nice" thingy is overtly planned and the message delivered to fans via "Be Nice" reminder placards strategically placed around the stadium and parking lots. Obviously, these folks have not been in the SEC long enough to understand conference traditions. With opposing fans going out of their way to be friendly and cordial, I could not escape the feeling of waiting for the "real" SEC attitude to burst forth when you least expect it. Thanks for the pleasant trip Missouri fans – it is a refreshing change – one that is sure to go away in a few years.


Speaking of the M I Z – Z O U cheers, Georgia's players sure heard them. When the game dramatically ended and those robotic cheers were silenced by a Georgia touchdown and an M I Z – Z O U turnover, the Dawgs on the field turned to the black and gold crowd with a reaction to the night's roaring. Many simply held a finger to their lips in a shhhhhhhhhh! posture while others cupped their hands to their ears and shouted, "I can't hear you now." A couple of players even stood on the bench while facing the crowd to be sure that the locals got the message.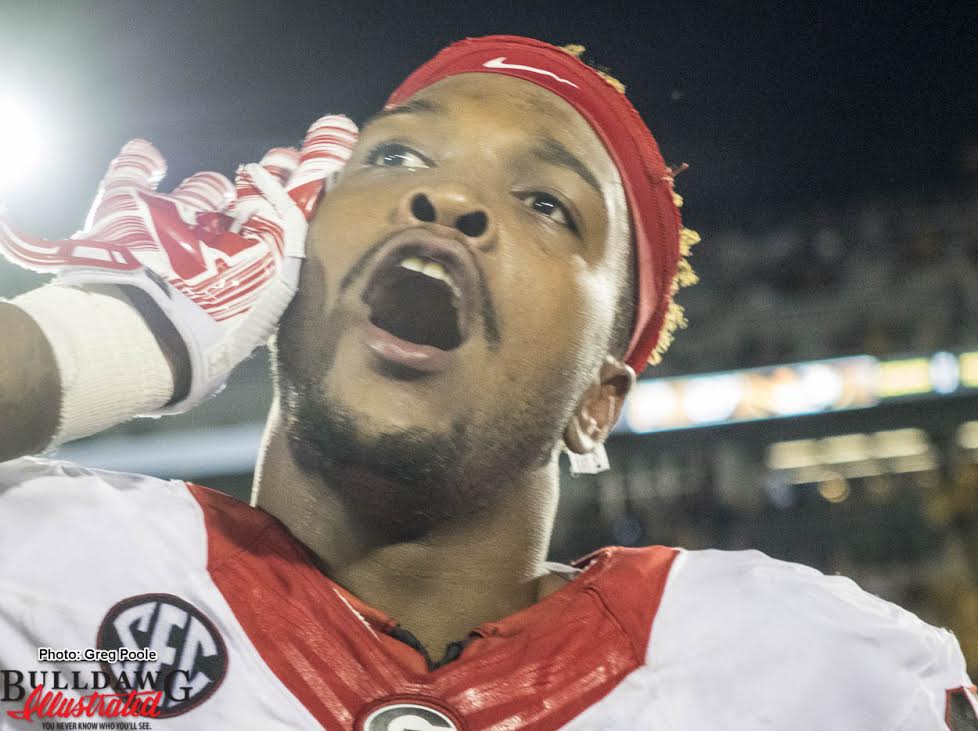 There was good news and bad news in Columbia. First the bad: For a team who wants its identity to revolve around a powerful running game, Georgia has a long way to go. One does not have to look far to find the problem with the Dawgs' ground game. It begins and ends with the offensive line. Admittedly, Missouri has a capable defensive line, and every team has learned that the way to make Georgia uncomfortable on offense to force them to throw by "stacking the box" (selling out to stop the run). Even so, Missouri was able to get penetration with its enormous tackles and disrupt Georgia's bread and butter inside running game. The problem of offensive line size and depth will take time, development and recruiting for change to take hold – there are no quick fixes.


Georgia's offensive line may not be blowing people off the line of scrimmage in the ground game, but the air attack is developing swiftly. Jacob Eason has solidified his position as the starting quarterback with his performance against the Tigers. Look for Coach Chaney to continue to utilize the passing game and add more plays to Eason arsenal. Georgia must stop opponents from cheating defenders toward the line of scrimmage to stop the run, and the way to do that is by making them pay for their sell out is the passing game. Eason is very close to having enough fluency with the playbook to do just that.


These Dawgs don't quit. They are young and the make mistakes, but they do not quit. Coach Smart and his staff are building the core of the program, and one thing has been firmly established – tenacity. Sure, mistakes are being made, but I do not see any finger-pointing or bad attitudes. Leadership is taking hold, as well. Here is an example: As the defensive unit took the field during the waning minutes of the fourth quarter Brandon Kublanow scoured the benches and chairs for anyone sitting down and strongly encouraged them to get on their feet and give their unwavering attention to the game. It was comical how quickly some of the young pups sprang to their feet as a result of the prodding from a grizzled vet like Kubs.


There is a long way to go in 2016 but the Kirby Smart regime is developing its identity for now and the future. Someone remarked, jokingly, to me after the game, 'Georgia may be the worst 3-0 team in the country.' but they are 3-0. The 2016 Dawgs are improving each week as young players develop and gain valuable playing time, but, make no mistake, there is still a long way to go. Ole Miss is better than any of the first three opponents, and Georgia's staff has a huge challenge ahead. That said, this team has proven that they can find a little something extra in crunch time. Few mistakes and strong running game are going to be necessary if the Dawgs are to keep this game close enough for there to be a crunch time at the end. From what I've seen on the sidelines, I will not bet against them doing just that.