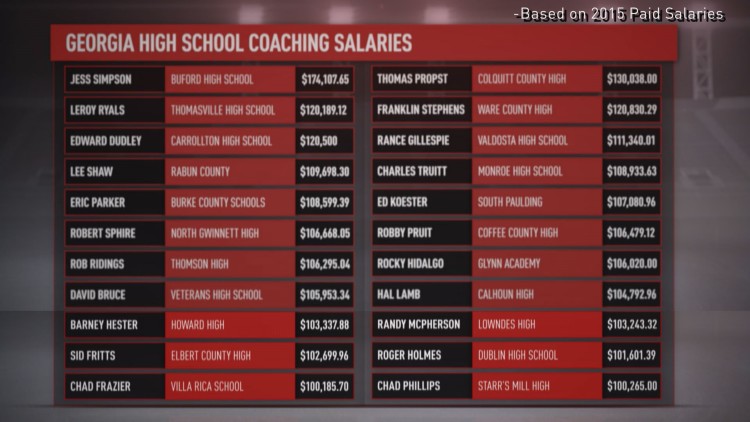 News outlets are discovering that high school coach's salaries are rising. According to a report by First Coast News (Jacksonville), "At least 22 school districts around Georgia paid their head football coaches six figures in 2015."


The FCN report focuses on Glynn Academy (Brunswick). As is typical with this type of news story, the author attempts to make an issue of coaching salaries as they compare to those of other teachers/administrators. Glynn Academy's athletic director (Steve Waters) does a good job of deflecting the implied criticism of Glynn's head coach's contract. Rocky Hidalgo (Glynn's coach) was head football coach at Walton (Marietta) previously and according to the article received a $28k raise when he accepted the Glynn position.


[su_quote style="modern-light" cite="" url=""] "We certainly spent a lot of time paying attention to what other people were paying because at the end of the day you want to be able to hire the best candidate. We wanted a coach that can create a winning environment and it showed this year."

Glynn County Schools pay the entirety of Hidalgo's contract, including a salary for teaching ($70,870.00); working an extra 50 days ($18,650.00); and a supplement for coaching football ($16,500.00). Per a Glynn County Schools spokesperson, the annual base salary for teaching is determined by years of credible service and degree level. Hidalgo teaches two classes per day on a block schedule. Hidalgo makes $106,020 a year.

The highest paid coach in Georgia is Jess Simpson of Buford High School ($174,107.65). Simpson has a record of 138-8 as Buford's head coach and has multiple Georgia state titles.

The second highest paid coach is Colquitt County High's Thomas Propst ($130,038.00). Both teach classes and neither serve as athletic director.
[/su_quote]

One of the interesting things about the chart at the top of the page is the wide range of classifications represented by six-figure coaching salaries, from AAA to AAAAAA. Football is big business in Georgia – at every level.