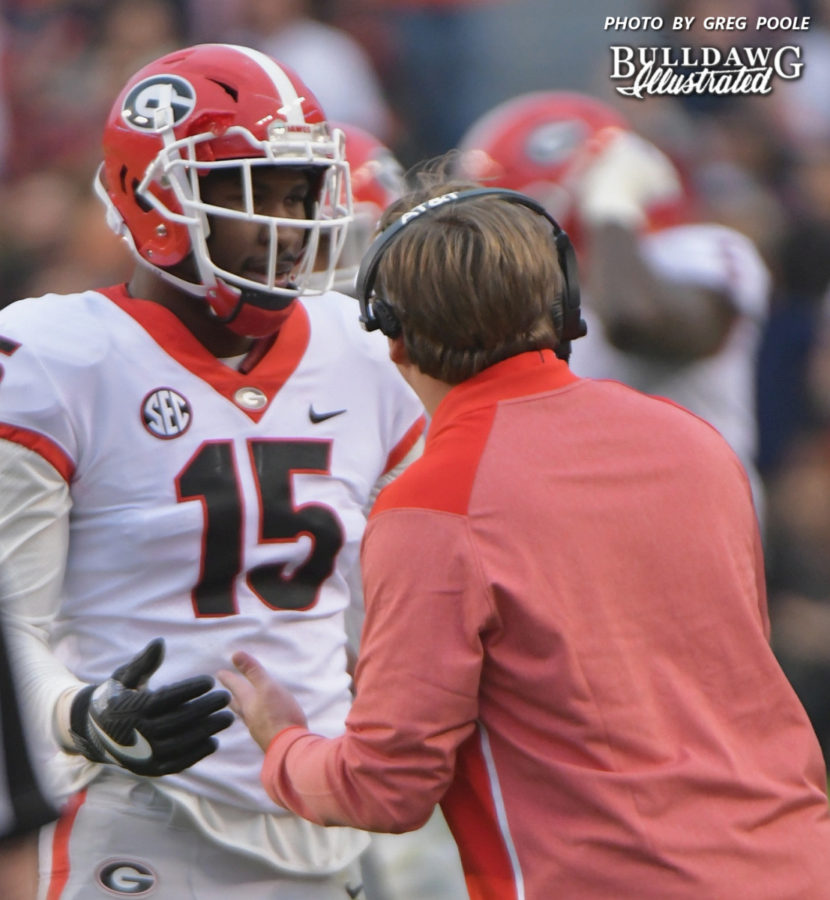 AUBURN, Ala. – In the somber Georgia interview room, after the top-ranked Bulldogs were routed by 10th-ranked Auburn to the tune of 40-17 Saturday at Jordan-Hare Stadium, there were no excuses.
The Bulldogs, after rolling to an early 7-0 on the Tigers, were outplayed all over the field the rest of the afternoon and early evening as Auburn moved into a 16-7 halftime advantage and then went on to add insult to injury in the final two quarters, pushing its lead out to 40-10 before Georgia finally converted a second touchdown with just 2:19 remaining on a 14-yard pass from Jake Fromm to Riley Ridley.
Georgia committed 75 yards of inexplicable penalties to certainly aid the Tigers'cause throughout but a Bulldog team that was No. 2 in the nation in total defense couldn't stop the Auburn running game and couldn't stop the Tiger passing game either. Auburn totaled 488 yards of offense, 237 on the ground and 251 through the air.
And you know that Georgia running game that was leading the SEC with some 280 yards per game? Well, it was literally skunked by the Tigers' defensive front, being held to a meager 46 yards net rushing. When Nick Chubb can only run for 27 yards on 11 carries and Sony Michel could net only 21 on nine attempts, it doesn't have to be said how badly Georgia's offensive line was getting whipped in the trenches.
Head coach Kirby Smart, whose team will try to rebound in its final regular season games with Kentucky and Georgia Tech before then playing in the SEC title game Dec. 2 in Atlanta, said the Bulldogs were simply out-executed on both sides of the line of scrimmage.
"The lessons we learned is that they have a good football team," Smart said. "They whipped us up front, they whipped us on the back end, and they whipped us on the edges. They were more physical than us on both lines of scrimmages. We did some dumb things, and we helped them. You can't help good football teams. We gave them two or three extra possessions, which you can't do."
"We made uncharacteristic mistakes," added Smart. Indeed, the Bulldogs did. Every time it seemed Georgia would get something going, here came the yellow flag as the Bulldogs committed personal fouls, interference on an Auburn fair catch attempt, roughing the kicker, etc. For Georgia, there would be no continuity in any facet of the game this night.
"We've got to make sure every kid on the team has the discipline it takes to win," said Smart. "And that discipline is what we didn't have here tonight."
"Auburn was just more physical than we were tonight," said senior tailback Michel. "We made mistakes and we've got to go back to practice this week and correct all the bad things we did tonight. But there will be no quit in this team. We still have a lot to play for."
"I know we won't quit," said senior wide receiver Javon Wims, who snared three of Fromm's passes for 96 yards. "We're a family and we will fight back."
Fromm did complete 13 passes for 184 yards and the late touchdown to Ridley but then, with the Auburn faithful turning up the volume each time Georgia had the ball, the freshman quarterback threw the ball 28 times and was sacked four times by the Tiger rush, while being put under constant pressure the entire game.
Sophomore Mecole Hardman was one of the highlights for the Bulldogs in defeat as he finished with 203 all-purpose yards including 142 on kickoff returns, 43 on punt returns plus 7 on the ground and 11 receiving. In the first half alone, he had 162 return yards. But even Hardman had his bad moments also as in the second half, he fumbled the ball away on a punt return, which led to a Tiger touchdown and a 23-7 deficit at the time.
Also all but lost in the one-sided whipping were good efforts by Georgia junior linebacker Roquan Smith (12 total tackles) and redshirt sophomore safety J.R. Reed, who followed closely with 11 stops.
"It's life," Smart said, commenting on moving on from the loss. "Life's that way. Life's going to knock you down and you've got to get up and go fight. These guys have to understand that. They've got to be able to get up and go fight. It's going to be like that all their life. They're going to have situations they don't like, or don't do well, and they're going to come back and fight."
While the Bulldogs, sure to tumble down the Top 10 rankings this coming week, will take a 9-1 season mark and 6-1 SEC ledger against Kentucky next weekend in Athens, Gus Malzahn's Tigers go to 8-2 and also 6-1 in the league and are pointing to a Nov. 25 West Division showdown with state rival Alabama in two weeks.
---
Recent Articles by Murray Poole


[pt_view id="2fb799183g"]