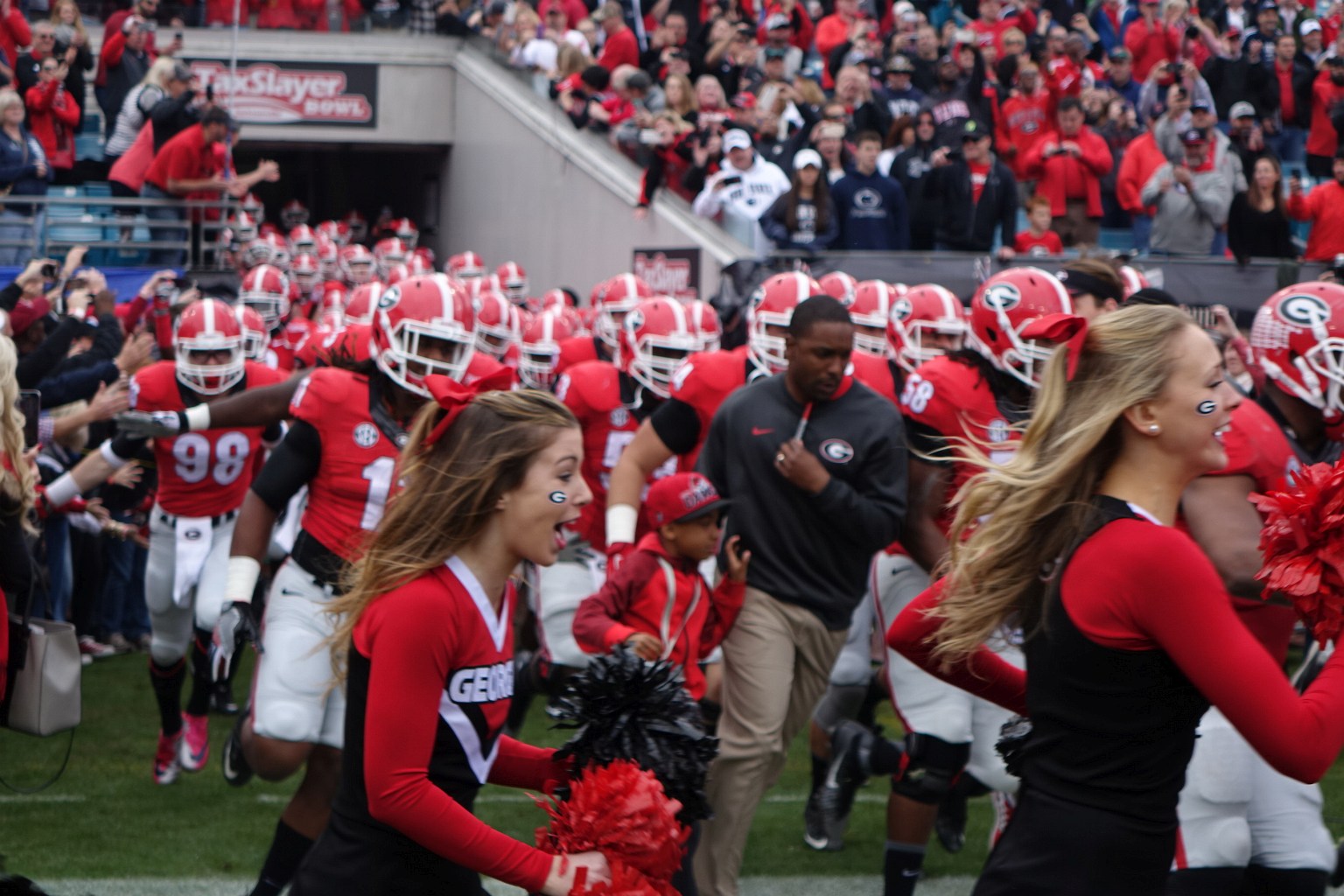 JACKSONVILLE, Fla. – Georgia's seniors have capped their playing career with a coveted 40 victories, Bryan McClendon will forever be 1-0 as head coach of the Bulldogs and Georgia's 2015 football team has achieved a 10-3 season … all this thanks to a 24-17 TaxSlayer Bowl win over the Penn State Nittany Lions here Saturday at EverBank Field.
Now, let the Kirby Smart era begin at the University of Georgia.

In a game that the Bulldogs seemed on the verge of dominating – after building a 24-3 lead in the third quarter – James Franklin's Penn State team fought back behind the play of back-up redshirt freshman quarterback Trace McSorley to make a contest of it. The Nittany Lions struck for a pair of fourth-quarter touchdowns to trim Georgia's lead to one score before running out of time in the final seconds with the ball at the Bulldogs' 39-yard line.
Smart, arriving in Jacksonville on Friday to observe his new team first-hand after guiding the Alabama defense in the 38-0 semi-final playoff win over Michigan State, surely saw some things he liked from the Georgia defense in this game but, likewise, saw some areas in which improvement is needed. Such as the Bulldogs' No. 1-ranked pass defense which surrendered 281 yards through the air to starting quarterback Chris Hackendale – who left the game in the second quarter with a shoulder injury – and the backup McSorley. For the game, the heretofore struggling Nittany Lion offense totaled 401 yards against Georgia.
Smart also witnessed a Georgia offense that ran hot and cold in this football game. The Bulldogs built up a 17-3 halftime lead but could muster only one additional touchdown over the final two quarters, due in part to a number of lost-yardage plays that stymied would-be scoring drives. For the game though, the Georgia offense did achieve good balance, running for 166 yards while also throwing for 161.
The Bulldogs' hero for the day was a mere freshman, wide receiver Terry Godwin, who threw a 44-yard second-quarter touchdown pass to senior wideout Malcolm Mitchell out of the "Wild Dawg" formation and then came back just 24 seconds before halftime to pull in a 17-yard scoring pass from quarterback Greyson Lambert. Godwin, named the game's Most Valuable Player, became the first non-quarterback to throw a TD pass for the Bulldogs since running back Thomas Brown (Georgia running backs coach who is joining Mark Richt in Miami) tossed a nine-yard strike to Joe Tereshinski (QB) versus Florida in 2005 here in Jacksonville at EverBank Field, then Alltel Stadium.
Georgia's other score in the first half was a first-quarter 44-yard field goal by Marshall Morgan, who had to yield extra-point duties to Patrick Beless in the second quarter after Morgan injured an ankle on a kickoff. Then, in the second half, the only UGA score was a stirring 21-yard touchdown run by Sony Michel, in which he dragged 258-pound Penn State defensive end Garrett Sickels the last few yards into the end zone.
The Nittany Lions then made things interesting in the final quarter by getting 17-yard and 20-yard touchdown passes from McSorley to Geno Lewis and DaeSean Hamilton, respectively.
"I'm proud and happy to receive the MVP award," said the seemingly always-smiling Godwin. "It was pretty exciting to throw my first touchdown. We worked on it in practice all week and I was glad they had the confidence in me to do that. As the play developed, I saw their safety bite over a little and I just wanted to make sure I got it there on time to Malcolm."
"I think everyone kind of expected a close game like this," said the Bulldogs' MVP for the season, senior linebacker Jake Ganus, who rendered six tackles on the afternoon including one tackle-for-loss. "Things were kind of going that way at the end but we knew we were going to find a way to win. The quarterback (McSorley) who came in for Hackenberg was a little more mobile and we had to adjust some things but overall, I think we did a pretty good job."
"Everybody was saying Georgia doesn't have a chance, Georgia doesn't have a chance, but coaches don't go out there on the field to play," said a jubilant senior outside linebacker, Jordan Jenkins. "Coaches can draw up a game plan but at the end of the day, they're not the ones out there fighting and everything. We knew with all the hard work and practice we put it, we would pull together and win this game."
Acting offensive coordinator John Lilly, coaching in  his final game for the Bulldogs, said it wasn't a case of the Bulldog offense growing conservative after building the 24-3 lead.
"We really didn't," he said. "We had a couple of plays we were going to take shots on and one, we got a bad look on and ended up taking a sack and obviously got behind the chains there. That's what really got us. Early in the game, we had a couple of drives and got behind the chains on first down and we knew that was a possibility because they are an outstanding defense forcing negative plays. But we made our defense play too many plays as the day went on but I was really, really proud of our kids. They did a great job of hitting an explosive play there with Terry's throw, and then the one-minute drive there before the half I don't know what it was but all week we kind of felt like we were going to need a one-minute drive somewhere in this game and it's going to make the difference. And at the end of the day it did, to get that touchdown right before the half."
Lilly said the scenario in this game was a bit different than when he called the Georgia plays in last year's Belk Bowl win over Louisville, when freshman tailback Nick Chubb rambled for 266 yards.
"Obviously, that was different," smiled Lilly. "I asked him (the injured Chubb) in pre-game if he was sure he didn't have a couple of carries in him when he was out there. I wanted to send him in there to get dressed but, you know, I think it made it harder when Brendan (Douglas) went down, when Quayvon (Hicks) went down but because then you really had just two guys (Sony Michel, Keith Marshall) there who were also nicked up a bit but I thought they ran it really well most of the day … made some key runs in some long yardage situations and made some explosive plays when we thought we could."
McClendon, heading for the South Carolina coaching staff Monday after successfully becoming Georgia's only interim head coach in a bowl game, was elated and yes, relieved, over the team's winning performance in the TaxSlayer Bowl.
"I'll say this," McClendon started his post-game press conference. "Just like I told the team the very first time I had a meeting with them, I told them, I said, 'Going to be a lot of stuff written about me, a lot of stuff written about who stays, who left, who is coming in, quite frankly, but in my opinion, not enough written on the individuals that make this team up. That's what's made it special.
"These guys have done a job, in my opinion, second to none, in regards to being able to block out so much stuff and really realize exactly what football is for, to be honest with you," he said. "I think football was made for men to understand that they need to work hard and work hard for each other and put other individuals over themselves. That's what these guys did. But I couldn't be more proud of these guys. I really can't. I'm proud of these guys," said McClendon.
McClendon says leaving the school he played and coached for all these years, to become co-offensive coordinator for Will Muschamp's South Carolina Gamecocks, is "bittersweet" to say the least.
"This business is about people and relationships, that's what it's made up of," he said. "You build relationships with so many people. I mean, I've spent more time with Terry Godwin than I have with my own kids throughout the season. That's the God's honest truth.
"You pour so much into these kids' lives," McClendon continued. "That's what makes the decisions hard when it comes to the business side of it. That's why it's been very easy for me to be able to keep that part away from it and just focus on guys like Terry, other guys that make up this team. But it is, it's good. The bottom line is this, just like I tell these players, the University of Georgia has been playing football a long, long time before Bryan McClendon or Terry Godwin or whoever it may be. It's more than likely going to keep on way after I'm dead and gone.
"It's a lot bigger than me, you know. We've been able to keep it about the G and these guys."
Individual statistics-wise, sophomore tailback Michel actually ran for 100 yards on the day but due to 15 yards in losses behind the line, finished with 85 net yards on 20 carries. Marshall capped a courageous career in the red and black by running for 62 yards on 14 carries including several key first-down runs when the Bulldogs were attempting to protect their one-touchdown lead at the end. Senior wide receiver Mitchell made his final game at Georgia a big one by snaring five passes for 114 yards including the touchdown catch from Godwin. Lambert completed 10-of-20 pass attempts for 115 yards and the TD toss to Godwin while backup Brice Ramsey played in the second quarter and completed one of the two passes he attempted.
Defensively, sophomore cornerback Aaron Davis paced the Bulldogs with eight total tackles while Malkom Parrish, Leonard Floyd and Ganus followed with six stops each.
Interim defensive coordinator Kevin Sherrer was most proud of his unit's effort and credited his make-shift coaching staff for their contributions in practice and the game this week. Sherrer, who along with defensive line coach Tracy Rocker is being retained by Smart on the new staff, said Smart pretty much has zeroed in on his coaches to fill the staff vacancies and will be announcing the new Georgia hires following Alabama's Jan. 11 national championship game against Clemson.
---
---