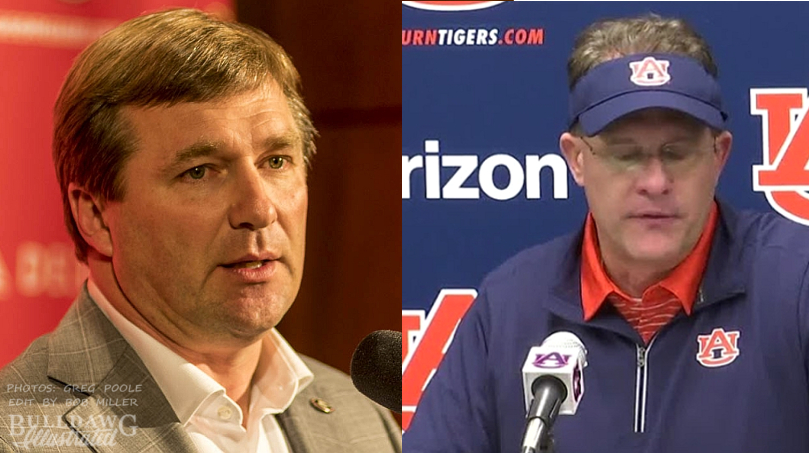 Kirby Smart and Gus Malzahn took questions on an SEC Championship Game teleconference Sunday afternoon and, as expected, the Georgia and Auburn head coaches talked about the proper preparation for Saturday's clash in Atlanta's Mercedes-Benz Stadium while also dishing out praise for their upcoming opponent.

The Bulldogs, of course, are SEC East Division champions and are coming off Saturday's 38-7 smashing of state rival Georgia Tech. They will enter the championship game with an 11-1 season record, the only setback being the 40-17 rout at the hands of Auburn back on Nov. 11. The Tigers, after the 26-14 win over top-ranked Alabama Saturday, enter the game as West Division champs and stand 10-2 on the season.
Here are answers that Smart gave to members of the participating media:
** That the Bulldogs have a great group of seniors that have done a good job setting the rest of the team in the right direction this season. That the SEC Championship Game is one of the greatest football games there is, being played in one of the best venues at Mercedes-Benz.
** That Malzahn has done a great job of regrouping his team after the losses to Clemson and LSU and he doesn't see any advantages or disadvantages in the two teams having already played once this year, that the Bulldogs and Tigers know each other pretty well.
** That there's a big difference than when he coached at Alabama in 2011 and the Tide and LSU clashed two times that season. The two teams then knew for more than a month out they would be meeting again but, with the Georgia-Auburn matchup, the Bulldogs just learned their title game opponent a week in advance and "you can't reinvent the wheel in a week."
** That Georgia's players who played against North Carolina last year in the Chick-fil-A Kickoff Classic in the Georgia Dome got some good experience on playing a game indoors but the Bulldogs' new players this season will only get to experience the new Mercedes-Benz Stadium when the team gets a practice in the facility Friday afternoon and "that's not much more than a walk-through."
** That the Bulldogs did tackle better in the win over Georgia Tech than in the previous outings against Auburn and Kentucky but tackling the Jackets' backs in the triple-option attack was more sideline to sideline on the pitchouts and QB keepers, rather than out in space as against a non-option team.
** That as defensive coordinator at Alabama, he faced many good Auburn teams but "this is one of the best Auburn teams I've seen, both offensively and defensively." And if Georgia is to play better against the Tigers this time, it will come down to improving fundamentally, play better defensively at getting off blocks and offensively, simply blocking the Tigers better and getting better protection. "We have to play with more discipline and poise. You can't give a good team like Auburn any extra help."
** That he knew back in the preseason the Bulldogs were capable of having a season like this. "I knew we had a good team and had a good two-deep. I envisioned we could do this and have a good season. There's no such thing as us being on track for anything (after last season's 8-5 finish). Each team is independent of the last one. We want to improve in every way in every year."
** Playing Auburn a second time this season does give the two teams some familiarity with the other's schemes and tendencies. "Looking back, we can see what worked and didn't work and pull these things out and have a little carryover with the team. But again, it's not about the game before but it's about motivation with this game coming up. The kids realize they can go out and erase some of the things they didn't do well before and so on."
** That Auburn defensive end Jeff Holland is a great pass rusher with great speed and ability, a player that Smart recruited out of high school and that he's gotten better with each game this season. "But I thought Andrew (freshman tackle Thomas) got better against him as the game went along (in first meeting)."
** That the Bulldawg Nation can play a big role for the team at Mercedes-Benz Saturday. "We're excited to be playing in our home state in a brand new place that is the Mecca for college football right now. It's right in our backyard and our fan base has got an opportunity to impact this game. We certainly need them to do that like they've done for us all year."
And some key points made by Auburn's Malzahn:
** That the Tigers handled adversity well Saturday night in the big win over Alabama but "now we have the challenge of playing a talented Georgia team for the second time in four weeks. Georgia's one of the most talented teams in college football."
** That he's not sure about the playing status of standout running back Kerryon Johnson, after the Auburn junior sustained an injured shoulder in the Alabama game. "We'll be checking on him daily, it's really hard to say right now."
** That big Tiger running back Kamryn Pettway, who has missed much of this season with injury, won't be returning for the championship game. "It's still a fracture and he won't play."
** That after the disappointing loss to LSU, the Tigers' senior leadership stepped up and helped the team to regroup (and Auburn has run the table since that loss).
** That Georgia running backs Nick Chubb and Sony Michel are among the nation's best and freshman quarterback Jake Fromm is really playing efficiently but that the Auburn defense played one of its best games ever when the Tigers beat the Bulldogs back on Nov. 11.
** That the Bulldogs might have the crowd advantage in Mercedes-Benz Saturday night since the Georgia fan base has known for some time their team would be playing in the SEC Championship Game and has had ample time to round up tickets.
To listen to Kirby Smart's portion of the teleconference, click on the embedded SoundCloud player below:
---
Recent Articles by Murray Poole


[pt_view id="2fb799183g"]