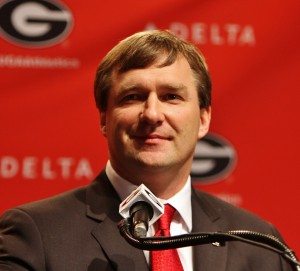 ATHENS—-Incoming University of Georgia head football coach Kirby Smart has filled three more positions on his new Bulldog staff.
Jim Coley, former offensive coordinator at Miami, will coach wide receivers; Dell McGee, recently interim head coach at Georgia Southern and successful high school coach in Columbus, will coach the running backs; and Marshall Malchow, director of player personnel at the University of Washington, will lead the recruiting department at UGA.
Coley served as offensive coordinator and quarterbacks coach at Miami from 2013-15; offensive coordinator and tight ends coach at Florida State from 2010-12; and tight ends coach and recruiting coordinator at FSU in 2008 and 2009. A native of Miami, he served as an offensive assistant with the Miami Dolphins in 2005 and 2006.
McGee led the Eagles to victory over Bowling Green as interim head coach in the GoDaddy Bowl. He served as running backs coach the past two seasons including 2015 when the Eagles led the nation in rushing offense. He was the head coach at Columbus-Carver High School from 2005-2012 and led the team to the 2007 Class AAA state championship.
A native of Augusta, Malchow joined the Washington staff in 2014 as director of player personnel and began overseeing all aspects of football recruiting in 2015. He initially joined Chris Petersen's staff at Boise State in 2012 as assistant director of player personnel before serving one season at Louisville as director of on-campus recruiting. As an undergraduate at the University of Alabama, he served as a recruiting specialist in the player personnel department.