Running back Sony Michel has been seen working with the wide receiver group during practice, and on Thursday, there were a couple of new faces during the media viewing period working with the wide receiver group, running backs Brian Herrien and D'Andre Swift.


So that begs the question… how much could we see Georgia running backs like Sony and Swift in the slot at receiver?


It was not unexpected that we could see Sony Michel have more of a role as a receiver in this year's offense. The senior is a gifted pass catcher and is dangerous in open space. In three years at Georgia, Michel has hauled in 55 receptions for 525 yards and 5 touchdowns in addition to carrying the ball 434 times for 2,386 yards and 17 touchdowns.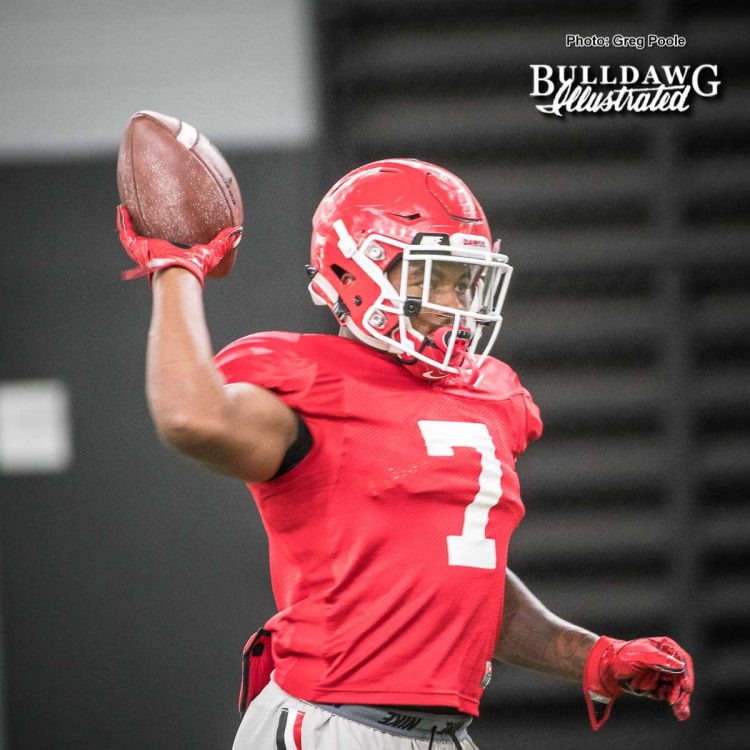 But I don't think we have enough information to put a percentage on it, and in his interview video down below, Sony didn't know how much of an uptick in receptions he could see either. Regardless, it does look like it is going to be a part of the offense that Jim Chaney utilizes in 2017. Seeing other backs that have similar skills sets to Michel also working out of the slot with the wide receiver group further drives this home. If the Bulldogs are going to run packages where Sony splits out or lines up in the slot on occasion, then they need to have depth behind Michel to be able to still run those plays when he has to go out for a breather or in case a guy goes down with an injury.


Freshman D'Andre Swift is definitely a good candidate to come in when Michel goes out. Coming from St. Joseph's Prep High School, Swift is not only known as a dangerous threat as a runner when he gets the handoff from the quarterback but equally so as a receiver. Just take a look at his highlights.




And from Wednesday's post-practice interview, at the 3:42 mark, Sony talks about working to hone his receiving skils in practice along with Swift.


---
Recent Articles by Bob Miller


[pt_view id="83405b425p"]